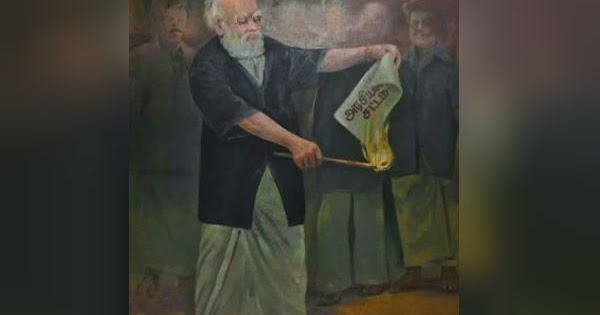 Constitution Burning Movement was one of the landmark movements led by Thanthai Periyar in Tamil Nadu. It was so unique that we have never heard of any such movements in any part of the world in which a country's constitution was being burnt in protest. So it would be appropriate for us to look into the causes and the context in which the movement was carried out.
Periyar's experiences during his stint at the Congress Party helped him form an opinion on the freedom struggle in general. He was at Erode when he came into public life and later he became the Chairperson of the Provincial Congress Committee. He realized that Indian freedom struggle was an attempt by the Brahmins to re-establish their lost supremacy. Hence, getting independence at that juncture would be against Sudhras and Panchamas, who had, at last, began to experience some sort of equality under the British rule. He told this in different words on the eve of Independence, viz., the rule was being transferred from the British to Brahmin Robbers. (It sounds lyrical in Tamil 'Vellakkaran kita irunthu parpana kollakkaran kita poguthu').
Periyar's fears became true immediately after the Independence. On September 30, 1947, an emergency law was passed by the Central Government which repealed all the previous laws related to communal reservations in the Central Sector jobs. This might have been the first shock to Periyar, because he viewed reservation as a first step in the long struggle against caste. He saw it as an opportunity for the oppressed strata to attain empowerment.
The concept of reservation had a long history. Justice Party Regime introduced the Communal Reservation in 1921 in Madras Province. Although it was confirmed in 1922, the scheme was fully implemented only in 1929. Later, the Central Government also enacted a similar law, i.e., 'The Chennai Provincial Non-Brahmin Communal Rights Act' in 1935 to provide for communal reservations in Central sector jobs, such as postal service, the railways in Tamil Nadu. The above act had been in force since 1936. All these were gone within a month and a half of so-called Independence!
The next shock followed after the enactment of the Constitution. Madras High Court and the Supreme Court declared that communal rights in Tamil Nadu were invalid under the Constitution of India.
In protest, Periyar thought to lead a struggle against Northern domination and Brahmin-Baniya Rule in Delhi. He commenced this struggle as an agitation in front of Arya Bhavan and Mission Chand Chellaram Clothings in Chennai. In continuance, he led a similar struggle in December as well.
The constitution was amended for the first time as a consequence of huge protests in Tamil Nadu in the aftermath of Communal Rights Conference led by Periyar. Meanwhile, the Central Government had started imposing Hindi. Periyar opposed this strongly and carried out the struggle of erasing Hindi name boards in August 1952, 1953 and 1954.
At this juncture, Rajaji's Government introduced New Education Policy. A law brought in that respect stipulated that every school student should do the work of their caste after noon time. Periyar termed it as Kula Kalvi Thittam (Hereditary Education Scheme) and condemned it as an attempt by Rajaji to impose the Aryan culture. He was angry that the old Varnashrama principle was being brought back. He accused that the State was aspiring to establish Varnashrama in a democratic way and as a sign of protest against Hinduism and Northern domination, he led a struggle to demolish Vinayaka idols. Interestingly, Periyar announced this struggle on Buddha Purnima. Simultaneously, Lord Ram's image was burnt in a struggle held along with the agitation against Hindi imposition.
In 1952, Periyar wrote in an editorial, "I will not hesitate to burn the constitution, if attempts on imposing Hindi and creating Varnashrama society continue."
One year later, on a debate in parliament, Dr.Ambedkar declared "I may have written the constitution. But I will also be the first person to burn it."
On what basis the Constitution would be burnt? Periyar suggested that the parts of the Constitution that protect the caste system should be burnt. Periyar's opposition to the Constitution of India stemmed especially from the fact that the section on "customs" was strongly enshrined in the constitution.
Periyar had been witnessing this from the beginning. In 1929, while speaking at the Adi Dravidar Conference held at Napier Park, Chennai, he stated as follows:
"Brahmins have been justifying their oppression in so many ways. So far they oppressed us in the name of god, in the name of religion, in the name of Vedas. Now they are introducing something new that is 'custom'. We should be aware of this!"
In 1931, during the All India Congress Conference held at Karachi, Motilal Nehru Committee presented its famous report on fundamental rights. The Civil Rights Plan put forth by this committee emphasized on religious neutrality rather than secularism. It suggested that the customs and languages of every individual would be preserved. Periyar claimed that this was an attempt to maintain untouchability by law. He was also skeptical that this was to give prominence to Hinduism in the name of religious neutrality. In 'Kudiarasu', he wrote a three-week long editorial against this under the title 'Karachi Conference'.
Periyar was not satisfied with this. He convened a conference at Virudhunagar in August 1931 itself and passed resolutions against Karachi Scheme.
As far as Periyar is concerned, the custom is the most dangerous term. He feared that the oppressors will establish caste hegemony by using this very term. This is what exactly happening today. In an attempt to bring equality in temples, Tamil Nadu Government enacted a law few years ago, which paved the way for all the people, irrespective of caste, to become priests. After a very long battle, the Supreme Court stroke out the law by stating this:
'Customs cannot be changed so this law is not valid'.
Even in the 'Privy Council', they had obtained a judgment regarding customs, which states that the customs in force were stronger than the written laws.
Article 13 of the Constitution describes the term law. It says that customs are also having legal force similar to parliamentary laws. Similarly, Section 372 states that 'everything that is already in place will be deemed to be in effect unless it is replaced by a particularly authorized body'.
Periyar felt that this would lead to a situation where caste customs would also be protected in the name of the law. Further, he considered that the Article 25 which protects one's religious rights would also protect the caste system.
The Constitution of India provides room for amendments. However, the only way to bring any change in it is to follow Article 368. This article states that "Amendment can only be made by a two-third majority of the members of the Legislative Assembly."
Periyar wondered how South India could bring in any change to the Constitution since it had got only 120 members which roughly translate into one in five or one in four.
Periyar announced the burning of the constitution in 1952. Several events since then have led to the loss of faith in the regime and the constitution. Emanuel Sekaran was assassinated in September 1957 for asserting his right to equality, i.e., talked to a caste Hindu by sitting in front of him. This incident shook his mind very much. In an interview given to the 'Indian Express' on 02.11.1957, he said, 'I will fight in streets myself if they don't take right action'.
With all this in mind, Periyar convened a big conference at Thanjavur on November 3rd, 1957. Over 3 lakh people had participated in the Conference. In this meeting, Periyar was given silver in proportion to his weight.
(to be continued)
(Speech by Kolathur Mani, President of Dravidar Viduthalai Kazhagam, on Constitution Burning Memorial Day)
Translated by Arul Selvan
---
You can send your articles to This email address is being protected from spambots. You need JavaScript enabled to view it.
---