• Periyar being in Congress, voiced out about communism.
• Periyar, who favoured the Justice party, opposed all the zamindars and landlords who were deputed as leaders in the party.
• Periyar was against the opening of separate well for untouchables and expressed that untouchables should be allowed to draw water from common wells.
• Periyar started a revolutionist English magazine called 'Revolt' where only 2% of the people know to read other than Brahmins. Periyar chose November 7 to start this magazine to commemorate the Russian revolution.
Part 1 - Periyar's Atheism Meant For A Social Change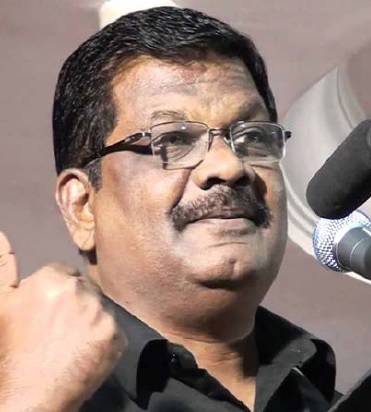 MCPI(U) Marxist party has given a controversial statement that Marxists in Tamil Nadu did not perceive Periyarism properly. Following this, the party has announced its policies, and it cites that "the party has felt the complete need of Periyar and Ambedkar significantly in the present where caste and religious divisions are strengthening." This symposium was organized based on this. The discourse of Kolathur Mani is as follows:
Later, while speaking about China, Periyar spoke on a topic, 'the state of china'. He stated that "the lives of poor people would be rejuvenated, and the world will get its freedom only if we terminate capitalist authoritarianism." This speech was in August 1925. This is the period of time where he continued to be in Congress amidst perplexity.
"It is just that rich have acquired wealth by disrupting the lives of country's mediocre, poor and labour class people." This was also spoken in the year 1925. He spoke this when he was a member of Congress, and he had felt remorse for being in Congress.
On the other side, Periyar felt that Congress was not ready to accept the caste wise reservation as a principle, which favours labour class people to take part in Government Administration. During that period, Justice Party was the ruling party, not Congress, to implement caste wise reservation, but they were not at all ready to accept this as one of their principles and implement it when they came into rule. Considering this, Periyar came out of Congress.
In 1927, he stressed his opinion on Indian labourers in the strike that happened in Coimbatore. It was the strike of textile workers. Rathina Sababathi Mudhaliyar was a member of the legislative assembly and friend of Periyar. RS Puram in Coimbatore bears the acronym of his name. The strike took place under his leadership. Periyar's speech in that strike must be quoted because he had come out of Congress then and started the self-respect movement. The self-respect movement was started at the end of 1925, and he spoke in 1927.
Periyar expressed his stance that "abolishing Brahminism and Brahminical dominance at its roots which preaches superiority by birth is as important as abolishing the dominance of wealthy people and the philosophy of patronizing the rich people".
Periyar stated that he had faint power to do this, but he continued that "despite analyzing its immediate need, we should concentrate on putting an end to patronizing rich people as soon as abolishing superiority by birth. Only then it would be a good public service is my perception, and that is nature. And by abolishing these two, the authority and tyranny of the government would come to an end naturally. The dominance of government will not come to an end if these two prevails. It will lead to rich becoming richer and the upper class gaining more dominance over the poor, and it will also end up in class arrogance along with cash dominance".
Periyar said, "there is a need to destroy these two; I'm trying to destroy one of these as far as I'm able to." This the perception of Periyar as told by him. "capitalist should bear in their minds that an uprising is to be unfolded in a trice in our country," and I will tell the opinion of Periyar in this stage.
Though the self-respect movement prioritized the abolition of caste and voiced out for women rights, Periyar did have this thought. Attracted to this, many joined hands with Periyar like Jeevanandham.
Jeeva ran an ashram called Gandhi ashram. They have started a reading circle in Gandhi Ashram. They dug a well called Gandhi well. Congress procured some money called the Harijan fund and used it to build separate temples and dug wells for oppressed people in their residential area. They invited Periyar to open them.
Periyar said that he would come to inaugurate the reading room as it would be useful to all the people, but he regrated inaugurating the well. He also stated that they should be allowed to fetch water from common wells; instead, these separate wells would keep them other side of the fence permanently. So, he told the people that even though you die of thirst, don't draw water from separate wells rather, we will struggle to draw water from common wells.
He was questioning the existence of such wells. He also told that, "When I was the president of Congress, they sent rupees 48,000 from Harijan fund to build separate wells for oppressed class but didn't accept that and resent it to them. Rupees 48,000 was a huge amount in the 1920s. I told them that I would use that fund for some other purpose, but they didn't agree."

Periyar put forth a question to Congress, that why don't you fight against authoritarian class people here when you can fight against British dominance.
After listening to all these speeches of Periyar, Jeevanandham joined with Periyar. Following this, Periyar started an English magazine in 1928 to propagate his thoughts, and he stated two reasons.
He said, "our thoughts are reaching people only in Tamil speaking areas, especially Madras province. But our ideologies are gaining attention to all the people through words. I am starting an English magazine so that it would reach people living in other states and the British government which rules us."
Only 7% of people were literate then. 3 would be brahmins out of them, and 1.5% belongs to upper class and literate other than these class would account for only 1.5 or 2%. And so, people who bought and read English magazine were probably less, but still, he started that magazine.
He named that magazine as 'Revolt', which means 'Puratchi' in Tamil. He did not only name it as revolt, but he started that magazine on 7th November 1928, commemorating the day of the Russian revolution.
Next year, he wrote in headlines that "we started on the reminiscence of the Russian revolution, and we have completed a year." He has this thought process since 1928.
Periyar began to commence few conferences like conferences without Zamindars and conferences without money lenders. He organized these conference to instigate them to rise up against authority. Conference without Zamindars took place in Salem. In that conference, he stated that three fourth of the land belonged to Zamindars in this district.
"Affluent people will buy the votes of poor people, and they would start ruling us. We can find government administration and government-affiliated administrations in Chennai as examples for this. The first minister of Chennai province was a Zamindar". We should not forget that Popilli Raja was there, and Periyar endorsed him then.
Periyar supported the justice party. He was talking about the chief minister of the justice party. "the first minister of Chennai province is a Zamindar, the councillor of Chennai province was a money lender". Raja sir Muthaiya was there with them. He also belonged to the justice party, he was a supporter of Periyar, but still, Periyar questioned that how these people came to power?
"He was a Zamindar, so, and he was a moneylender, so they came to power by lending money. Their true talents and abilities will be unfurled soon. Only Zamindars or money lenders, or affluent people are in power in other districts too. And all the people have to understand that they are in power only because of their wealth but not because of their wit," said Periyar.
(to be continued)
- Kolathur Mani, the leader of Dravidar Viduthalai Kazhagam
Translated by Maruvarthini P.
---
You can send your articles to This email address is being protected from spambots. You need JavaScript enabled to view it.
---