The Indian economy contracted by 23.4 per cent in the first quarter of fiscal 2020-21 and by 7.5 per cent in the second quarter. India's recession has been officially confirmed as economic growth has been negative for two consecutive quarters. Rajiv Kumar, the vice-chairman of the Niti Aayog, termed the speed of India's economic recovery as a "pleasant surprise". But globally, India's economic recovery is at a very slow pace compared to other countries.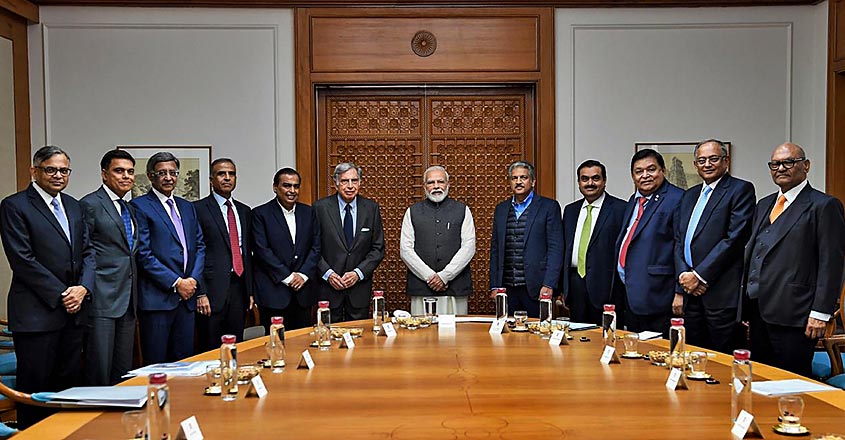 Micro and small enterprises are bearing the brunt of the recession. Big companies recouped profits by retrenching workers, wages and working costs. Banks are also expected to regain profits. The Indian stock markets have touched a new high. Net profit of listed companies, which got reduced to 74.7 per cent in the first quarter, now soared in multiples to 263 per cent in the second quarter. The market capitalization of companies listed on the Mumbai Stock Exchange has increased by Rs 6 lakh crore. Net profit of Nifty-50 companies rose to Rs. 1,04,200 crore. Adani Group's profit increased by 32 per cent. Having taken over six airports, Adani Portsand Special Economic Zone (APSEZ) emerged as the 14th highly competitive globaltransportation and transportation infrastructure sector.
As the incomes of large numbers of people have plummeted, they have been forced to tighten their belts and purse strings and reduce their consumption. Adding to the woes, petrol and diesel prices are soaring. Even the postal banks did not show any mercy to the people and made it mandatory to have a minimum balance of Rs.500 in savings accounts by December 11.
The Finance Minister has announced the release of the third fiscal stimulus (Atmanirbar Bharat 3.0), which will provide Rs 1.46 lakh crore incentives to attract global manufacturers, incentives plus income tax relief to real estate companies and incentives to the export sector and nothing to the poor sections. The government is neglectful of the nationwide workers' struggle led by trade unions and the ongoing peasant struggles. Its growing concern towards the big corporate can be seen in its plan to decriminalize provisions of Limited Liability Partnership (LLP) Act to ease the business of corporates in the coming winter session. Niti Aayog member Ramesh Chand said that farmers protesting against the new agricultural laws did not fully or correctly understand it! How long the members of aristocracy would proclaim farmers as ignorant! The Prime Minister, who has time to speak in Mann Ki Baat, has no guts to face the peasants or workers who organized peaceful protests in Delhi. If investors want credible returns, India is the place to be, says Modi, but he is least concerned about the income decline of the people. The anti-people, corporate-loyal BJP government, must be defeated by mass struggles.
As if the government has generously splurged fiscal stimulus to boost the economy, the former RBI governor Bimal Jalan asked the govt not to give any more stimulus as it would increase the fiscal deficit. Following such would only contract the Indian economy further without recovery.
The construction sector, the one which provides a large number of employments, has been hit hard by rising cement prices. Cartel among the cement manufacturers is manipulating and reducing cement production below its level to keep the cement prices higher. The President of The Builders Association of India has written a letter to Prime Minister Narendra Modi urging him to set up a Cement Regulatory Commission to curb the cartelization and undue profiteering persisting in the cement manufacturing industry. Writing a letter to N. Modi is no different from writing it to trash.
The Dept of Investment and Public Asset Management (DIPAM) entered into an agreement with the World Bank to seek advisory services on the monetisation of non-core assets in India. All assets including roads, land, buildings, ports, railways, railway stations, pipelines, towers owned by telecommunications companies are all identified for monetisation. It looks like they won't even leave a single pin.
The Dept of Investment and Public Asset Management Secretary Tuhin Kanta Pandey's only worry is how to increase the market value of PSUs and sell them off. The BJP Govt is harassing public sector companies to pay higher dividends. According to the Finance Minister, the sale of government shares will be accelerated, and reforms will continue at a faster pace!
The Swadeshi howling BJP leadership is going to merge Lakshmi Vilas bank with a Singapore private bank.
The RBI's working group has given a dangerous advice to allow private corporations, businesses groups to run banks, a move that would cede the entire financial powers to big corporates. Raghuram Rajan and Viral Acharya have warned that such a move would be a "disaster".
The same working group has recommended that the Banks Regulation Act be amended to allow non-banking financial institutions to start banking services and to allow payment banks with 3 years of experience to operate as banks. It also recommended that promoter shareholding in the banks be increased to 26 per cent, juxtapose to the RBI's recommendation to lower it to 15 per cent.
RBI Governor Shaktikant Das says the RBI has taken steps to usher in the next phase of reforms to accelerate the pace of liberalization in the financial sector. The four major themes of reforms are: 1. Liberalization of financial markets and facilitation of market regulation, 2. Internationalisation of financial markets, 3. User protection on the "buy-side" and 4. Ensuring recovery and security.
The Securities and Exchange Board of India (SEBI) has upped the foreign investment limit for a finance house from the current $ 300 million to $ 600 million. The BJP government has accelerated liberal reforms in all sectors, regardless of the prevalent recession!
Inflation:
Consumer price inflation increased to 7.61 per cent in October, which is a 1.28 per cent increase from the previous month. Food inflation soared by 11.07%. Prices of vegetables (22.51%), pulses (18.34%), eggs (15.17%), oil and fat (15.17%); and fish and meat (18.70%) increased. In Tamilnadu, inflation is recorded at 8.04%. Retail inflation for industrial workers increased to 5.91%.
Indian economy in the second quarter (2020-21):
GDP contracted by 7.5 per cent in the second quarter (July-September) of the fiscal year 2020-21. The amount of gross value added has fallen by 7 percent.
The agricultural sector showed a 3.4 per cent growth, the manufacturing sector grew by 0.6 per cent, and the electricity sector rose by 4.4 per cent. Growth of the Mining sector fell by 9.1 percent, the construction sector was reduced by 8.6 percent and the sector of trade, hotels, transport and information fell by 15.6 percent. Finance, real estate and services sector fell by 8.1 percent and public management and defence down by 12.2 percent.
Private consumption expenditure declined by 4.1 per cent in the second quarter of this fiscal compared to the second quarter of last fiscal. Government consumption spending fell 17.6 percent. Gross fixed capital formation increased only by 0.34 percent in the second quarter.
Half-yearly growth (April-September):
In the first half-year of 2020-21 from April-September, GDP contracted by 15.7 per cent. The agricultural sector grew by 3.4 per cent. Growth in all other sectors declined. Mining sector fell by 17.2 percent, the manufacturing sector contracted by 19.4 percent and the electricity sector contracted by 1.4 percent. The construction sector also fell by 30.2 per cent and the sector of trade, hotels, transport and communications contracted by 31.5 per cent. Finance real estate and services sector down by 6.8 percent and public management and defense sector contracted by 11.3 percent.
During the first half of this financial year, private consumption expenditure declined by 3.7 per cent compared to the first half of last fiscal. Government consumption expenditure increased only by 13.7 per cent. Gross fixed capital formation decreased by 15 percent in the first half-year.
Industrial growth in September:
According to the Index of Industrial Production released by the Ministry of Statistics, the output of the primary sectors fell by 0.2 percent.
The mining sector grew by 1.4 per cent and the electricity sector raised by 4.9 per cent. The manufacturing sector contracted by 0.6 percent. In the user-based category, production of non-durable consumer goods increased by 4.1 per cent, construction goods increased by 0.7 per cent, and durable consumer goods rose by 2.8 per cent. Production of capital goods fell by 3.3 per cent, primary goods were down by 1.5 per cent and intermediate goods decreased by 1.4 per cent.
Industrial growth in October:
The combined output index (base: 2011-12 = 100) of the eight major industries released by the Department of Industry and internal trade and Development fell by 2.5 percent in October. Coal production increased by 11.6 per cent and fertilizer production increased by 6.3 per cent. Electricity generation increased by 10.5 per cent and cement production increased by 2.8 per cent. Crude oil production declined by 6.2 per cent, and natural gas production fell by 8.6 per cent. Petroleum refining production fell by 17.0 per cent, and steel production declined by 2.7 per cent.
The rupee appreciated by 11 paise to 73.77 against the US dollar as dollar inflows facilitated by the US federal reserve's easy monetary policy spilled over 60,000 crores into Indian stock markets. Neo-liberalism left the rupee value to oscillate and hang up on the vagaries of foreign investors. In India, as foreign investment is mostly seen in the service sector, there is no prospect of improving India's domestic productivity through these. BJP government's Make-in-India program has only weakened the domestic manufacturing sector. Foreign investment only incurs losses to the people of India.
The incumbent Minister of State for Finance and Corporate Affairs, Anurag Thakur, has made a disgraceful assertion. He was removed by order of Supreme Court from the post of Chairman of the Board of Control for Cricket in India. He was sacked from the cricket board in 2017 for obstructing the implementation of Judge Lotha's recommendations to reform the management of the cricket board. But he is not barred from contesting the Lok Sabha elections and if he has become the Minister of Finance for Corporate Affairs, imagine how the Ministry of Finance would work and for whom it would.
Anurag Thakur said sports betting was to be legalized in India. Nilesh Shah, a part-time member of the Prime Minister's Economic Advisory Council, said that there was a "natural instinct" among Indians to engage in gambling and that gambling should be legalized in India as in many other parts of the world, thereby generating revenue. Can counterfeit money be legalized by claiming that it is a natural instinct among Indians to like counterfeit money? Would it be fair if social crimes are legalized? If the government wants to increase revenue, it has to bring in property taxes and inheritance taxes, as is the case in developed capitalist countries. Corporate tax has to be hiked. According to a recent study, India loses Rs 75,000 crore a year in tax revenue due to tax evasion by multinational corporations. Instead of all these what they suggest is gambling to boost revenue. What a Finance Minister and an Economic Advisory Council India has got!
All this shows, the BJP government as a broker has handed over all resources of the country to the Indian and foreign corporates for gambling. All this undoubtedly confirms that the parliament, the finance ministry, the central bank, the SEBI and the stock market are all nothing but corporate casinos.
The stock market in itself is a gambling game with certain unethical norms, and it makes sense to ask why betting should only be banned in sports while it is legal in the stock market. In a fair society, the stock market must also be declared illegal. Countries like Cuba do not have stock markets. The stock market functions as a legal entity for the capital accumulation of the capitalists. None of the investors investing in the stock market are concerned about the growth of the economy. And it has nothing to do with patriotism. As of now, investors of all affiliations are expected to be 'patriotic' only to the federal reserve. They invest only for making a profit out of arbitrage, upon market fluctuations. There are no regulatory laws requiring listed companies to pay dividends to retail investors on a periodical basis. That is why companies are able to make huge profits. The big capitalists' own money is the least part of the total capital circulating in the stock markets. Capitalists extract profit by exploiting the unpaid labor of workers from the capital, not his own but raised and accumulated from other people's money. It is noteworthy that monopoly corporations such as Google and Facebook have been able to expand their companies around the world to this extent by adopting a strategy of not paying cash dividends to retail investors, but only share dividends. A welfare state should ban stock exchanges and raise capital for state-owned enterprises through a state-controlled cooperative system. That alone will prevent the amassing of wealth in the hands of a few individuals and even out the economic inequalities of society.
- Samantha K.S.
---
You can send your articles to This email address is being protected from spambots. You need JavaScript enabled to view it.
---