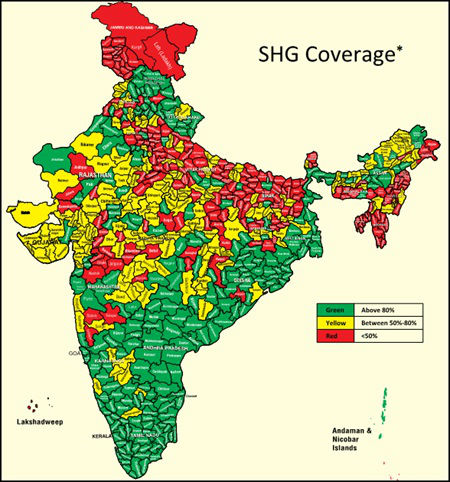 Daylight robbery of corporates:
The Union government by the year 2013 took a policy decision of privatizing the Banking sector. To take advantage out of this, hitherto existing nonprofit based microfinance companies like SKS, Bandhan, Ujjivan, etc. converted themselves into Profit based small finance banks after getting due approval from the Reserve Bank of India. From then onwards, the International Finance companies which previously invested in the Private sector and public sector companies of our country have started to aggressively invest in Microfinance companies. Through this, the microfinance companies started to amass huge investments along with an increase in their scope of activities and are converting themselves into huge finance companies.
For example, in the SKS microfinance company belonging to our country, which is nothing but the second-largest microfinance company in Asia, an International Finance Corporation the Quantum Group Fund has invested up to 26% of share capital. In addition to this, Infosys founder Narayanamoorthy has invested 28.12 Crores, JPMorgan, Morgan Stanley, Reliance and Birla sons are other stock market speculating companies which have invested to the tune of Rs.300 Crores. Subsequently, this company has grown with an ability to provide loans up to Rs.11000crores covering 46 Lakh beneficiaries spread over one lakh villages! (refer: The Times of India business/Jul 29, 2010 and http://www.vccircle.com/news/micro-finance/2010/03/26)
The microfinance companies which have received foreign investments by retaining the rural areas with a considerable amount of cash crop cultivation activities and villages with significant cash flow are now spreading their net of credit aiming to catch petty traders of urban areas like petty shop hawkers, Tea shop owners, etc. Eventually, the microfinance schemes introduced by the State and Central governments for the eradication of poverty have been transformed as mere schemes promoting usurious activities and conventional money lending microfinance institutions.
Outraged by this atrocity on people by the microfinance companies, Bangladesh based Mohammed Younus who is called the father of microfinance schemes exploded, "microfinance companies are for the eradication of local level money lenders and not for the transformation of microfinance companies into money lending companies". The steps taken by our Union government has eroded to such a level that even a visionary has no other option but to express his anguish.
Partners of Plunder!
The World Bank and International Financial Institutions are hands in glove in hatching this plan of plunder named as microfinance scheme! The Indian Institutions like NABARD and SIDBI are nothing but masquerading middlemen whereas the Union Government is the one that caters the legal recognition!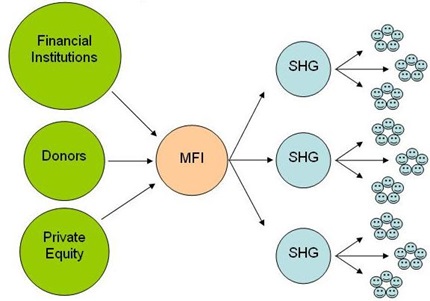 The World Bank for propelling the growth of Microfinance institution has chalked a plan named as "Long-term and Obligatory micro finance extension scheme" and provided a loan of Rs.2686 Crores. Out of this SIDBI would have to invest its share as 23%. The SIDBI has the role to amalgamate these two funds and distribute them to microfinance institutions for a lower rate of interest and also it has the obligation to systematically execute the plan! The mutual contract between the above-said institutions stipulates that for an interest rate of 0.75% the received loan has to be repaid within thirty-five years. Similarly, with the Asian Development Bank and the German Development Bank, the SIDBI has signed various bilateral financial contracts!
Besides this, the Union Government on 2011, has allotted Rs.30, 000 Crores for the National Rural Livelihood Mission which was termed as world's biggest ever poverty eradication program, in which the World Bank has contributed up to Rs.6, 600 Crores as financial aid! As per the mission's objective for uplifting rural women, they would be trained to transform as self-employed citizens and for that, in the place of microfinance companies, the voluntary organizations would play the role of training institution, which raised the enthusiasm of World Bank, since it greatly resembled its policy of proliferation of voluntary organization functioning in the place of elected governments in all spheres of civil life. The self-proclaiming "patriots" of the Modi government without any sense of shame to dance to the tunes of Imperialistic financial hegemonists, has named this scheme as "Deendayal Antyodaya Yojana".
The worldwide rate of repayment of microfinance loans is 95% and whereas its profit rate is calculated as 30.9% in the African countries which are slightly higher than the profit rate of 30.2% in the Asian countries according to the data from 10, 000 such microfinance companies across the globe. In addition to this processing fee, service tax, fine for delay in the payment of installments, the interim loan is all nothing but other names of interest rate which windfalls the cumulative rate of interest for the loans received from microfinance companies to loot up to 60% of interest rate! The extraordinary rate of interests and returns reaped by the microfinance companies and their gigantic growth rate creates a strong impulse to the international financial institutions to invest in them. The erstwhile chief minister of Tamilnadu Ms. Jayalalitha was called ironically as 'Revolutionary leader' ('Puratchi Thalaivi' in Tamil language) but the fact is that she in her enter tenure vehemently crushed all types of democratic dissent in each and every instance with an earnest fascist conviction! Likewise, the schemes for exploiting poor people are named as a scheme for 'poverty eradication", "self-upliftment of women" to subterfuge before the eyes of people!
The network of Alliance:
In the simple outward appearance of any microfinance company, thirty years of worldwide meticulous plan for its construction regarding the operation of them can be known by hindsight. In the western nations (similar to our UPSC and TNPSC coaching and training centers) lot of special training centers meeting the global standard thrive to impart training in modus operandi of starting a microfinance company, approaching people, management of money, installment collecting methods, the methodology of building a relationship with banks, financial institutions, and government institutions, the methodology of banking management, etc.,
These training centers receive patronage from Moody's, Bill Gates, Rock Feller, Wal-Mart, MetLife, Inter-American Development Bank, European reconstruction and development Bank, etc…Apart from this lot of brokerage firms like ACCION, Women's World Bank [WWB], etc. for creating bonds between microfinance companies and financial institutions and vice versa are also existing independently. They have also various means of close relationships with Indian ruling classes, politicians, and bureaucracy.
ELA BHATT Joy Keeru (Kenya)
The first woman member of planning commission Ms.Ela Bhatt from the state of Gujarat who was the recipient of Padmasri, Padmavibushan, Magsaysay award, was one of the founding members of Women's World Bank. She was also nominated by President of India as Member of Parliament and besides this, she is also holding a lot of responsible posts in the various fora created by the Central government. Since she acts as a ray of hope for various voluntary organizations across the country, she also has become a symbol of hope to Hillary Clinton!
An American institution named ACCION is running training centers for providing administrative training for microfinance companies across India in nine regions and even uses Tamil, Malayalam like regional languages in their training programs. The significance of the above American institution lies in the fact that it can even arrange financial investors for investing in those microfinance companies.
In the chaotic picture of operations regarding microfinance companies and their global presence, if we start from the village level collection personnel of the microfinance company by the gradual ascending mobility of our vision in this picture, we can see the head of the company-his US-based Banking management degree or training-International financial institutions-World Bank. Then in the same picture, on descending our view we can find the Union government, -Reserve Bank of India, -SIDBI, NABARD banks –small finance banks and at last we climb down to 26% interest charging branches of a microfinance company in the rural area itself! But in this whole picture either in ascending or descending view, onerous responsibility is only on the shoulders of poor people to get loans and repay them with due interest in the stipulated time period!
Routed State structure:
The New economic policy aggressively implemented by the Central and state governments for nearly three decades, has led to the entire devastation of the Agrarian sector which provided the livelihood to the majority of our nation's people. As a result of this, the small poor peasants and agricultural workers make their livelihood take the course of migration and took refuge in Tirupur, Coimbatore, Kerala, Mumbai, Andrapradesh, etc., and toil from 12 to 14 hours per day. Due to the skyrocketing of essential commodity prices along with the increasing expenditures of education and healthcare and necessities like water, electricity, etc., the downtrodden people though after toiling with their entire family labor can hardly meet them with their hard-earned wages itself! They are always in the state of hand to mouth existence only and so they are always left with no other option except borrowing money in the form of loans.
The desperate condition of working people enabled the money lenders to lend money at exorbitant interest rates. Now in the garb of microfinance companies, the same money lending activity has been regulated commercially satisfying the requirements of corporate investors so that poor people of this nation can be plundered legally.
Based on the new economic policy followed by the successive governments that came to power, slashing of subsidies for the purchase of seeds, fertilizers, and pesticides, ruining our food crop cultivation for the promotion of export-based cultivation of agricultural produce are all encouraged exclusively to satisfy the profit greed of the same International financial institutions which are now actively investing in the microfinance companies! Because of this above-mentioned policy, the indebted small peasants lost their cultivable land and the agricultural laborers lost their agricultural employment and hence they both were driven out of the villages!
The very same World Bank which contributes generously for the poverty eradication programs has already forced the Central governments to liberalize the international trade reducing to ruins the small scale indigenous production of basic essential commodities like a pen, pencil, matchbox, handicrafts, handloom, textile, etc., along with the liberalized import of foreign commodities!
The Modi government which came to power by avowing that the farmers income would be doubled, and rural poverty would be abolished is now admitting the multinational corporations to indulge in retail business sounding a death knell to the livelihood of Crores of retail traders spread across the whole nation! Moreover, this government is enacting laws for the privatization of not only public sector banks but also rural banks and co-operative banks!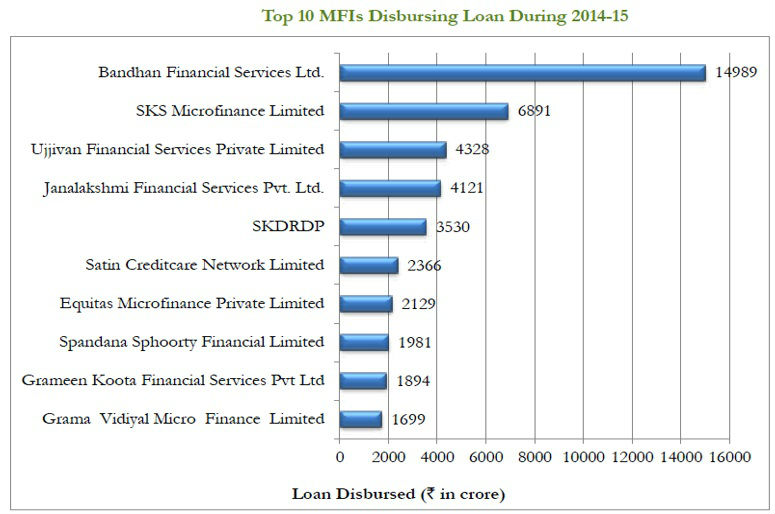 By depriving and devastating the livelihoods of the working people the same anti-people criminals of this nation are now busy in distributing loans to the downtrodden people through microfinance company amounting to a paltry sum of Rs.5000 or Rs.10, 000 and disparaging them to stand on their own feet...
From the "Integrated rural development scheme "propounded by Joy Keeru an economics professor of Nairobi University in Kenya during the 1980s to contemporary schemes like "Deen Dayal Antyodaya Yojana" along with Tamil Nadu governments "New Life" ('Pudu Vaazhvu' in the Tamil language) and "Let us Live" ('Vaazhndu Kaattuvom' in the Tamil language) schemes, instead of eradicating poverty of poor people increased their misery by trapping them in an insurmountable lifelong indebtedness net on one hand whereas on other hand they make the bureaucrats and criminal politicians to lead a lavish life.
At last, the microfinance companies stand as symbols of disgrace for the ruling state structure which cannot recover our people from poverty and to lead them a free and independent life. Moreover, they stand as symbols of incompetency of capitalism which lost its credibility to rule the country and its people.
Capitalism has degraded to such a level that for its survival it is exploiting the labor which is remaining as an only remnant property of expropriated poor people in the form of an exorbitant interest! Thus, its failure to rule is obviously exposed before the eyes of people.
In the first paragraph of this essay in the course of conversation that happened in tea shop one villager in a ridiculing tone, "all of a sudden if all the money lending microfinance companies and their agents appeared before us and ask their money at the same time, what shall we do?" For that, a wise old man who hardly participated in any conversation and was always noteworthy for his views replied, "there is no other way for us than to commit mass suicide by drinking pesticides or else we ought to drive away from them employing our unity"!
What shall be done?
The readers have to make a decision!
Written by: Theni Maran (this article was first published in 'Vinavu' Tamil website)
Translated by: Mani
References:
1. http://blogs.worldbank.org/endpovertyinsouthasia/
2. The Times of India business TNN | Jul 29, 2010,
3. http://www.vccircle.com/news/micro-finance/2010/03/26
4. Whatever happened to microfinance? C.P.chandrasekhar/Jayati Ghosh
5. Status_of_Microfinance_in_India_2012-13 /NABARD
6. RBI guideline to mfi, s/www.rbi.org.in
7. Microfinance: Getting Money to the Poor or Making Money Out Of the Poor? joy mueni maina kiiru
8. Document of The World Bank
9. Report No: ICR00003711
10. Implementation Completion And Results Report