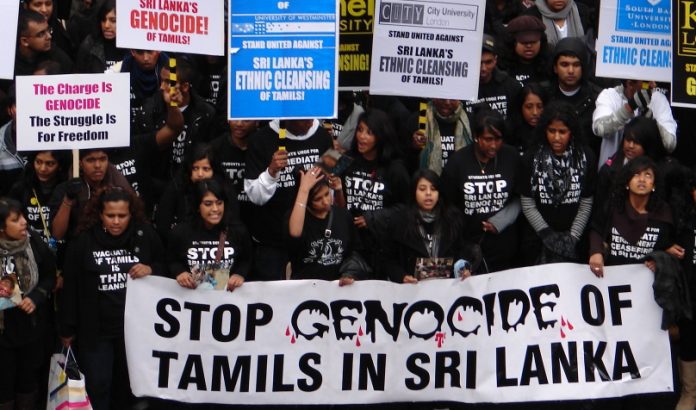 World population is nothing but the number of people living on the earth in a particular period of time. World population in 2009 was 7,024,000,000, i.e., seven billion, tells the report released by United Nations Organization. The sum of the world population was 7,716,834,712 at 4 pm on 11.07.2019.
It has increased to 700 million in the past ten years. It is expected that it will increase around 8 to 10.5 billion in 2050. After the 1990s, world birthrate was 173 million per year. It has decreased to 140 million in the years of 2010. Birth rates were reduced to 30 billion in world population.
In 1991, due to prevailed unrest circumstances in north and east province, the population census was not undertaken in Sri Lanka. It was taken later only in 18 districts of the country out of 25 in 2001 after 20 years. The sum of 2012 population census includes the northern and eastern part and the whole of Sri Lanka which was taken after 31 years.
In the years of 2012, the population was about 2,02,63,723. In this, 1,51,73,820 were Sinhalese and 31,13,247 were Tamilians. 18,69,820 were Moors, and 33,061 belong to Burgher's community. 40,189 were Malai people. This also finds that 997,754 were seen in the northern part of Sri Lanka and out of this, 934,392 were Tamilians. 21,860 Sinhalese, 32,659 Muslims were living in the five districts of Northern Province of Sri Lanka. The reason for the fall in the population of Tamilians was due to the migration and loss of life because of war and planned ethnic cleansing.
The population of Tamil Muslims in the other places was more than that of Buddhist Sinhalese who lived in Ambara district of Sri Lanka. As per statistics, the population of Sinhalese in 1963 was 61,996, and in 1981, it was 146,943, and in 2001 it rose to 236,583 or made to be raised.
In Ambara district of Sri Lanka, the sum of the Muslim population was 97,621 and sum of Hindus population was 50,497 in 1963. The population of Muslims was 161,568 in 1981 and 264,620 in 2001. The population of Tamilians was 79,257 in 1981 and 109,903 in 2001.
As per the population census of 2012, totally 648,057 people are living in Ambara district which encloses circumference of 4,415 sq.km, 20 nation's secretariat divisions, and 503 Gram Sevaks.
This sum encloses 251,018 Sinhalese, 282,484 Muslims and 112,750 Tamilians. Majority of the Muslim population lives in the district of Ambara, or Muslim population has increased in Ambara especially in the areas of Trincomalee district which was just 75,000 in 1981 and 2007, it has increased to 151,000.
Tamilians population falls to 6%, and the Muslim population raises to 5%. The Muslim population has increased at a greater extent in Thirumalai district, and its evident to be interpreted in 50% of today's population. The reasons for this increase in number are planned ethnic cleansing, land encroachment and immigrants.
If northeast was divided, Sinhala dominance would multiply. If Northeast was not linked, Tamilians would lose the Eastern province. Only 60% of Tamil people, 35% of Muslims and 5% of Sinhalese were in the East in 1881. But the Muslim population had increased to 39% from 35% in 1946.
Tamil population was decreased from 60% to 54%, and there are no differences in the population of Sinhala people. They remained at 5%. But at the beginning of 1946, the population of Sinhala people began to boom.
In 1981, Tamil and Muslim population decreased to 42% and 32%. But the Sinhalese population rose from 5% to 25%. Tamilians population is decreasing day by day, and so it is significant to unify Northeast for Tamilians.
Planned Tamil ethnic cleansing is happening swiftly in the Northeast by destroying land, language, identities, and traditions to increase the Sinhala dominance day by day.
Sri Lanka's racial confliction started a rivalry from 1916 to 1948. Since from the beginning of 1948 to 1954, so many struggles were undertaken to gain political power, and this conflict began to emerge as a political problem in 1955. S.W.R.D. Bandaranaike assumed power on 12th, April 1956 with the slogan 'Sinhala only'.
After this, the theory of Sri Lankan nation was deteriorated, and this problem evolved as a magnificent mishap in 1958, 1972, 1983 and 2009. Even today, genocide, ethnic cleansing, depredation crisis and betrayal continue. Sri Lankan government would have stopped the war against LTTE (Liberation Tigers of Tamil Eelam), but it has not stopped its agitation against Tamil ethnicity till now.
The talk about Tamil ethnicity destruction which happened in Northeast areas in 2009 is still echoing in international politics and human rights commission. In order to destroy the lives of almost 3 lakh Tamil people, Sri Lankan government planned an operation called 'war against terrorism' which was also passively embraced by some other countries of the world. This was planned to sweep off Tamilian's genuine struggle for their basic rights. In this, more than one and a half lakh Tamils, including children and aged people were ruthlessly killed.
The ethnic cleansing was targeted on displacement, economic hindrance; women and especially killing pregnant women was one type of ethnic cleansing.
Pregnant women were killed in Nazi camps of Hitler during the Second World War, and after this, they were killed in the ethnic cleansing undertaken by Sinhala Buddhist racist government. Innumerable Tamil women were sexually assaulted; boys and girls were tortured and brutally killed. Sufferings of many people in prisons cannot even be described in words.
More than 20,000 men were not with their family now. (These men are made to lost, kidnapped and some are in prison as political prisoners) and so there can be seen more livelihood regression in some of the women-led families. They are between 25 to 40 years of age and windows.
They are living with awful memory of the brutal killing of their husbands and living with that grief. Men are attacked and jailed, and this is also a type of ethnic cleansing.
The United Nations have failed to save Tamils from genocide. This led to the brutal killing, which made people handicaps, orphans, mentally challenged and more than 90,000 women were wartime widows. Women are living in sorrow as they cannot find out any trace of their lost father, husband and children.
The native place of Tamils, especially Northeast, was changed into an army camp in which Sinhalese soldiers were deployed in the ratio of 5:1, i.e., one Sinhala soldier for five Tamils.
They are functioning continuously to uproot and destroy Tamil ethnicity with a vengeance. This plan of action of ethnic cleansing is being performed with the great support of Tamil political leaders with the intention to disrupt Tamil speaking people's intensity without any extravagance.
Series of actions were taken against the rights and desires of Tamils. In order to destroy an ethnicity, livelihood of that ethnic group should be shattered. Like the destruction of all other ethnicities in the world, they are also being destroyed by grabbing their career opportunities, habitat, art, education, traditions, Tamil language, and native land etc. The race will go extinct if all of these are destroyed.
Restrictions are imposed that people belonging to a particular race cannot even give birth to a child. This is also one type of genocide.
Medicines are imported to Sri Lanka from countries like India, Pakistan, Bangladesh and its known that several questions are raised about the quality of these medicines. In this situation, 22 companies are involved in preparing medicines in Sri Lanka, and birth control pills which are banned in Sri Lanka are available and being sold effortlessly in an ordinary medical shop in the north specifically in Jaffna.
Certain medicines manufactured in India are sold in some medical shops of Jaffna from 3000 to 4000 rupees. Certain pills can even kill five-month fetus which may lead to excessive blood loss for mother, and sometimes there is a possibility of death too, says a physician from Bodhana Vaithiya Salai in 2013. It's saddening that this is continuing still.
From the information given by the family health board of health ministry, fairly 6000 defective births are happening in Sri Lanka per year. In this, 68% of children die within a week. 500 to 600 children die within a year. 1,700 die in the womb of mother itself.
Illegal abortion centers are also functioning in Mannar, Vavuniya, Jaffna. 30,000 to 50,000 have to be spent if gone there. Many people are consuming this pill as it's sold for very less amount. People affected by this come to Yazh Bodhana Vaithiya Salai. At least five to ten people per month usually come here for treatment.
In Jaffna, nearly 60% of medical shops are not registered. Regional Health Medical division statistics say that only 16 pharmacies have been registered out of 34 in the city.
Most of the unregistered pharmacies are in the northeast region. This is due to the political dominance of parliament members, members of Mahajan sabha and politicians of the northern province.
More than this, few medical clinics and private hospitals owned by the Physicians are performing the duties undertaken by the government, which is nothing but Tamil ethnic cleansing. Some stooge physicians of government in the government hospitals are catalyzing the government's ulterior goals.
Removal of embryo or fetus from the mother's womb is the linguistic definition for abortion. Premature removal of fetus before the completion of the pregnancy period is abortion in scientific terms. As per medical science, serious fetal impairments can be identified within 15 to 20 weeks.
As per the specialist doctors, most of the babies are not born alive, and women are made to continue with their pregnancy despite knowing this. In fact, abortion in Sri Lanka is illegal. In Sri Lanka, under criminal law, abortion can be permitted only if the mother's life is at risk.
As per the legal norms of Sri Lanka, three years imprisonment or penalty else, both jail and penalty can be imposed for those who abort voluntarily.
Right now, suggestions by a group of doctors is tabled to permit abortion in the cases of sexual abuse, teenage pregnancy as a result of rape or sexual abuse and fetal deformities. This was agreed by the government in principle. But these suggestions are shelved due to strong opposition received from various quarters. The reality on the ground suggests diametrically opposite situation.
Wikki leaks unfolded the truth about the report filed by American external affairs in 2017 which states that Tamil women are forcefully pushed to abort their child if they are suspected to be in relation with Liberation Tigers of Tamil Eelam. International Crisis Group Research Report states that the safety of people and Tamil women living in the army cantonment area is a big question mark.
The international crisis group submitted a 49 pages research report for the year (2011-2012) which reveals that northeastern Tamil women are forced to undergo abortion under threat. The basis for this consolidated report is the reports of Human Rights organizations in north province with irrefutable evidences.
It states that forced abortion perpetrated for nearly 50 women from the villages Umayalpuram and Malayalpuram in Kilinochchi district in 2013.
It was accused that tubal ligation surgery (birth control surgery) was perpetrated without the knowledge of these women. These innocent women were called to the clinic for nutrition and healthcare, but they were treated for birth control in Veravil primary health care center.
In 2013, three women from a village in northern province were called by the officers to Veravil government hospital to vaccinate their children. But they were fraudulently injected long term contraceptive injection.
Those women were threatened that they would face consequences if they did not undergo birth control measures. These types of forced contraceptive methods are still being committed by the Sri Lankan government's axially army group and the stooge physicians.
The victims in Kilinochi district are now made to write consent letter mentioning they were willingly undergoing abortion. Concerned women and their husband need to give their acceptance in written form as per law. But when they underwent operation, none of this was followed.
Manjula Sathishkumar was subjected to forced, illegal birth control and the poor lady died on 30th of Karthigai month in 2013 as a result. Followed by the tragedy, her husband hanged himself to death. But the government agencies reported it as death due to Pneumonia. None in the neighborhood is willing to reveal the truth due to threat of life.
Health minister of North province, Sathyalingam says that compulsory contraception undertaken during former president Mahindra Rajapaksa's period continues to happen under their good governance too. Sivajilingam, a member of legislative assembly from north in the 65th sitting of the house states, 'It's agreed that illegal birth control practices that happened in 2013 was implemented by the central government through a charitable trust and proved injustice'. He also mentioned that in 2006, when he went to Kilinochchi area to collect witness regarding this illegal birth control practice he was threatened by Sri Lankan naval force.
The affected women said that Health and family welfare department officers are making them sign in the letter of assent as they willingly underwent birth control treatment by coercion of army forces. Compulsory contraceptive practices and attempt to get the letter of assent after this illegal action is happening continuously.
The elected Tamil representatives of council, assembly and parliament forgot that their main duty is to protect their people and voice out people's rights. But instead of being people's representative, they join hands with the government clandestinely.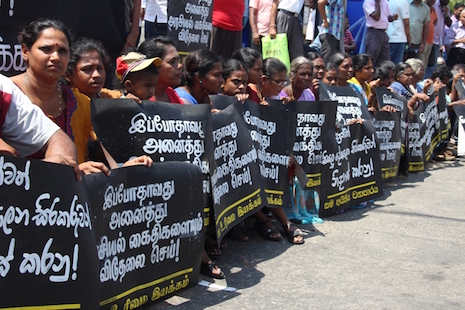 We need to teach lesson to these people who aid the ethnic cleansing and scripting history of perfidy in the forthcoming elections, by summarily rejecting them.
Let's stop the Human Rights violation against Tamils and declare it as Genocide and war crime. Every one of us must voice out for this cause.
Neither caste nor religion is responsible for current ethnic issues in Sri Lanka. On February 2016, Governor of North province, Reginald Cooray, said that inter-caste marriages could bring peace and he insisted on three things, i.e. inter-caste, inter-religion and interracial marriage relationships. But this miscegenation proposed by the Governor is just yet another way of ethnic cleansing.
This ethnical cleansing is proposed in the name of peace. There is nothing wrong in accepting interracial marriages that take place naturally on its own course. But planned miscegenation can be considered only as ethnic cleansing.
In 2018, a government servant's wife in Yazh district aged 25 went to her mother's house in Karkuli, Vavunia district for her first delivery. Though she was ready for normal delivery, she was compelled to undergo C- section in the nearby popular private hospital. Through caesarean, she gave birth to a boy baby.
A few days after, she experienced severe stomach pain, and when she went to a hospital in Jaffna, she came to know that her uterus was disintegrated and there are only least possibilities for childbirth in future. Flabbergasted she went to the hospital where she gave birth to the baby to enquire what happened during her delivery. The doctor through his political power, threatened her life and also called the military officials and told them that her husband belonged to Liberation Tamil Tigers movement and made them to undergo investigations conducted by Military Intelligence department. The lady mentioned she ultimately silenced herself since the child might lose his father.
In May 2019, Doctor Ziabudheen Mohammed Saif was accused of performing birth control treatment to 4000 Hindu and Buddhist women while they underwent C- section in the Karunakal hospital, Trincomalee, without their knowledge.
In social media, a message that in order to prevent the birth of the next children to these Hindu and Buddhist women, the doctor acted as a stooge to affluent Arabs spread and 150 women lodged complaints against this doctor in three days.
It should be noted that Sri Lankan health minister Rajitha Senaratne ordered to form a special investigation council for this matter. The concept of 'we are two - for us two' is followed to a larger extent among Tamil society. Several people who get pregnant at a very young age and old age end up in abortion. Last year, Family welfare department of health ministry stated that there are about 1000 abortions happening in Sri Lanka per day.
Abortion cannot be justified with lame reasons like poverty, inability nurture, untimely pregnancy, unexpected pregnancy etc., But the other community still gives birth to four children on an average. Geetanjali Mabirkama, director and specialist of family planning bureau, said in 2018 that more attention to be given on family planning as the population of Sri Lanka is increasing rapidly.
It should be said that women's part in the Eelam National Liberation Struggle is considerably more. Traditionally women of Tamil society are locked inside the home but it was quite a revolution to find armed women, and Tamil diaspora across the globe felt proud about Srilankan women.
Militant women with multifaceted dynamics are living with difficulties which cannot even be expressed openly. Men are murdered, massacred; women are raped to pollute their ethnicity are planned activities which take place continuously. Sinhala Buddhist leaders think that if the identity of Tamil ethnicity is lost, they will lose the strength to ask for their rights and privilege.
Ethnical massacre, reduction and cleansing are undertaken historically and culturally. In 1990's Hill region Tamil women were forcefully subjected to birth control operation, and after the war, Tamil women are made to undergo abortion and contraceptive treatments even though when there is no need for such treatment in the aftermath of war. Illegal birth control treatments are taking place among the people of the northeast tribal area, and Tamil ethnicity was being targeted by government and other institutions in the name of family planning. It is said that these practices are still ongoing, and prizes were awarded to the doctors who do more birth control operations. To control the population of the country, several family welfare policies were implemented in the past 50 years, and the birth rate was reduced to a greater extent.
Several birth control measures like Contraceptive injection, contraceptive pills, vaginal ring, Intrauterine device (IUD), emergency birth control pills, contraceptive patch, permanent contraceptive methods, permanent contraceptives for men and women are designed by government and being implemented native areas of Tamils.
Women who underwent abortion would have to face so many obstacles in the latter pregnancy. Series of abortion will lead to the chance of causing infectious diseases which would affect pregnancy.
Sometimes a fallopian tube may get blocked due to a series of abortions. This blockage would prevent the fusion of sperm with egg. One should have detailed knowledge about contraceptives before using it. The awareness about this among the people is inadequate.
Doctor's suggestion for the contraceptive method is more important than an individual's decision. The ethnic reduction was performed by doctors, and the misery is, the doctors who are trusted by the innocent people play an important role in executing this ulterior agenda of the government.
The population of Tamil people reduced from 45% in 1963 to 38% in 2018. Once Tamils were the largest population and now are pushed to second position. At present, Tamils population growth rate is 1.5% per year, and Muslims growth rate is 2% per year. If this situation continues, there are chances to the fall of the Tamil population to 35% in the near future.
Human life is being killed during every abortion. Abortion is equal to human carnage. But a large number of people does abortion without any conscience of killing a life. Family welfare department of health ministry says that 77% of abortions happening in Sri Lanka are unexpected pregnancies. What is true here? The occurrence of illegal abortion is the prevailing truth here. There is no place for harmony without truth and justice.
Racial destruction does not only involve shooting with guns and killing people as Hitler did. There are numerous techniques for destroying a race. Abortion and forced contraceptives starkly violate the Human Rights and Humanitarian Law. In the guise of providing basic health care facilities to needy people, the act of the Sri Lankan government using healthcare as an opportunity to compelled contraceptive treatments is morally condemnable!
To boost the economic growth in the northeast areas of Sri Lanka women should be given technological training, skill development in the industry sector, self-employment opportunities, and marketing skills etc. These acquired skills would create opportunities for enhancing their livelihood and this will lead to the elevated living standard of their families. As the government did not aid them in any of the above, more than 1, 00,000 women per year from Sri Lanka are going to foreign countries for housemaid jobs as per the statistics of the central bank.
Among them, most of them are Tamil women. They are going to Middle East countries like Saudi Arabia, Qatar, Bahrain, and Oman for housemaid jobs. It is not an exaggeration to state that, this is one of the techniques of government to control and reduce racial spreading.
So many techniques are undertaken like this in world history to pollute ethnicity. Japanese did this to china. It was even followed during the war of Yugoslavia. This method was implemented brutally in several African countries.
The intention is to destroy the identities of targeted ethnicity and make them extinct. Ethnic cleansing was implemented in the name of war. No other race has the rights to tell that Tamils should not protect their identity, purity and distinctiveness.
Tamil Women in the north are admitted into Sri Lankan army, and Tamil women were forced to marry army men in the districts of Kilinochchi and Mullaitheevu. In addition to this, Tamil women were sexually harassed and raped by army men. But victims are reluctant in revealing their sufferings fearing humiliation and embarrassment.
Women are being affected socially and psychologically. Many of them are still in the dangerous state of an emotional breakdown, and they are not yet out of the tragedy that happened to them. Psychological counselling is important to strengthen them.
Education, technical education and rehabilitation should be arranged to bring them back to normal life. Special attention must be given to child and mother healthcare. The field of medical science should realize the need for research regarding this issue.
Social organizations, non-governmental organizations and political parties which work for people's welfare should create awareness about ethnical cleansing and reduction among people and provide suggestions for good mental health.
***
Written byNijathadan Nilavan
Translated by Maruvarthini P
(This article was originally published in a Tamil Magazine 'Maanudam' - Feb 2020 Issue)
---
You can send your articles to This email address is being protected from spambots. You need JavaScript enabled to view it.
---