Arputham Ammal, the 65-year-old mother of one of the three on death row in the Rajiv Gandhi assassination case, opens her heart.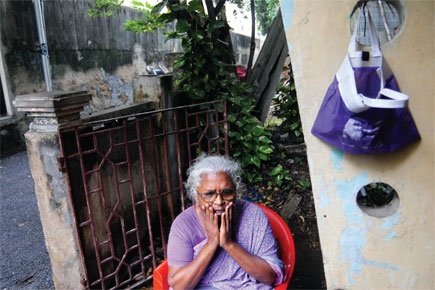 On 26 August, Vellore Central Prison in Tamil Nadu announced that Perarivalan, Santhan and Murugan, the three who are to hang in the Rajiv Gandhi assassination case, will be executed on 9 September. Arputham Ammal, 65-year-old mother of Perarivalan, received a letter from the jail authorities to come on 9 September to collect the body of her son. For the first time since her ordeal began 20 years ago, she felt utterly crushed. Arputham Ammal, who has been visiting her son in jail every Thursday for 20 years and who Justice VR Krishna Iyer calls the greatest mother he has ever seen in his life, opens her heart
At midnight on 11 June 1991, 20 days after the assassination of Rajiv Gandhi, policemen barged into our house in Jolarpettai. A photograph of LTTE leader Prabhakaran sat on top of the TV. They examined it. From a set of letters, they picked a few sent by Bhagyanathan, brother of Nalini, one of the prime accused in the assassination case and now serving a life term. My husband wrote poems printed at Bhagyanathan's press and the letters were about publishing. They said they were taking the letters with them. Just before they left, they asked where Arivu (as Perarivalan is known) was. He was in Chennai at the time, doing his diploma in electronics. We promised to produce him. They gave us the address of Malligai building in Adyar, which was the headquarters of the Special Investigation Team. The next day, I went to Chennai to bring Arivu.
He was staying in the office of the Dravida Kazhakam (DK) party and was surprised to hear about the raid. We were followers of Periyar, [EV Ramaswamy, called Thanthai Periyar (noble father), is the founder of the Dravidian movement in Tamil Nadu. Dravida Kazhakam, founded by him, is the mother party from which the DMK and AIADMK were born], and active in DK. People at the DK office suggested that Arivu present himself at the CBI office the next morning, and that they would get him released by the evening. We went out to buy something and when we returned to the office, the police were waiting along with my husband, who they had picked up from home. They took Arivu and promised to release him the next day. That was the last day I saw my son free. It has been 20 years now.
The next day, we went to the Malligai building but were not allowed to meet him. They said the interrogation was not over. His arrest was recorded on 18 June though he had been picked up on 11 June; he had been detained unlawfully for a week. As I waited outside, I had no idea my son was being tortured inside at that very moment. We went again the next day. The cops got furious and asked me to get a lawyer. I didn't understand what wrong my son had done and why I needed a lawyer. After a week, we came to know from the newspapers that Arivu had been booked for the assassination of the former Prime Minister.
We didn't know the first thing about what to do. The police, the law, the courts, all this was new to us. A lawyer, who was also a DK activist, told us that Arivu had been booked under TADA [the infamous Terrorist and Disruptive Activities (Prevention) Act], and that under this law, we had no rights at all. His confession statement was forced out of him through torture. He was produced in the TADA special court in Chengalpettu. When we went to see him, his face was masked like a criminal's. I couldn't bear to see that. I cried and burst out at the cops outside. They told me to go to the SIT headquarters the next day to meet him. We went and were finally allowed to enter. I saw my son. I touched his hands. I couldn't ask anything, not a single word would come out of my mouth.
Till the day we handed over Arivu to the police, I was just like any other ordinary woman bound to her family. I was at home most of the time. I cooked food for my husband and children. I never went out alone and was always accompanied by my husband. Everything changed with his arrest. I started travelling for assistance. I hardly stayed at home. Most of the time, I was travelling to Chennai to meet lawyers. I went to Kerala all alone to meet Justice VR Krishna Iyer [a former stalwart judge of the Supreme Court of India, he is an active campaigner against capital punishment]. Everything became familiar to me—courts, police stations, jail, everything. My husband has ailments like diabetes and high blood pressure. Since I was always out, I couldn't cook or take care of him. He shifted to my elder daughter's place. I went to the TADA court every day of the trial, but I was not allowed to get in. I was informed that even my lawyer could be denied permission. That is what TADA means.
After that meeting in the SIT headquarters, the next time I saw my son was in Chengalpettu jail. It was after a very long time. During the trial itself, he was given the uniform of a convicted prisoner. I could not control my tears when I saw him in his white shirt and white shorts. It was changed only after my lawyer filed a petition. For each and everything, I had to go to court. Initially, in the meeting room of the jail, there was a fibre glass partition between the prisoner and the visitor. We were provided with headphones to talk. It was inaudible.
I desperately wanted to touch his hands, but I could only touch the glass. I do not know whether you have a son or daughter. Only a mother will know this pain. We again approached the court to remove the glass partition. They made a small hole in it, a very small one. I could only touch the tip of his finger. We again filed a petition. It was granted and the glass removed.
I can't explain my agony during the trial. For eight years, I could not see my son face to face. He was in solitary confinement. He was only allowed to talk to us through a small window at the top of his cell. I had to look up to see him but it was very difficult to see his face. Often I was denied permission to get in. I waited for hours and hours in front of the gate. Sometimes I cried loudly, sometimes I shouted at them. In the past 20 years, I have never asked my son while meeting him whether he has eaten anything. I wouldn't dare. Each time I ate, my stomach burned thinking of what my son would be eating.
Arivu's elder sister works in the rural development department and his younger sister is a lecturer in Annamalai University. Their salary was our only source of support while fighting the case. Each judgment—by the TADA court, later by the Supreme Court and the rejection of the mercy petition by the President—was to me like my own execution. After the President rejected the mercy petition, I couldn't sleep or eat. I desperately wanted to save my son. I didn't know how. But somehow, I had this belief that he would not be executed.
The day the date of execution was announced, I was in Delhi attending the release of the Hindi translation of Arivu's book, Thuooku Kotadieliranthu Oor Muriyeetu Madal (An Appeal from Death Row). By noon, I sensed something was wrong. People were going out of the hall and talking in hushed voices over the phone. They looked gloomy. They were hiding something. When I asked them what was wrong, they forced me to have lunch and to rest in the hotel room. Finally, an activist of the People's Movement Against Death Penalty gave me the news. I was numb for a moment and then started shouting at them—what had they been doing till the [execution] date was announced? I rushed back to Chennai.
Though we have got a stay on the date of execution, I have to take this battle forward, till my son is able to walk out of the gate of Vellore jail. Isn't living 11 years on death row enough punishment for the crime of handing over a battery?
(As told to Shahina KK)
Thanks to Open Magazine, 17 Sep 2011