An exclusive interview in Vellore Central Jail with those sentenced to death in the Rajiv Gandhi assassination case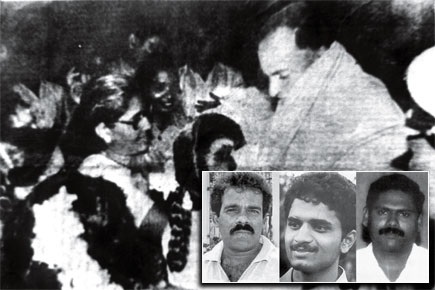 Vellore Jail had reopened for visitors after ten days of vacation. Outside the prison gate, a crowd waited to meet the three men—AG Perarivalan (better known as Arivu), Sothanthira Raja (Santhan) and Sriharan (Murugan)—sentenced to death for their role in the assassination of Rajiv Gandhi. The crowd outside was made up mostly of human rights activists from organisations like May 17th Movement and People's Movement Against Death Penalty. Nam Thamizhar, a party headed by Seeman, a popular Tamilian film director, had chosen the same day to begin a march from Vellore to Chennai to protest against the death sentence. Its members had been gathering in small groups outside the jail premises since morning. Many of them waited for permission to get in to meet the prisoners. At 9 am, Arputham Ammal, mother of Arivu, came with biscuits, fruits and magazines for her son. She acknowledged the greetings of everyone assembled there, filled up the application form as usual and waited outside for her turn. Noticing me, her face lit up. "I am happy to see a woman come all the way from Kerala to meet my son," she said. For her, Kerala was the land of Justice VR Krishna Iyer, the former Supreme Court judge whose critical remarks against the death sentence of the three had played a significant role in delaying the execution.
People sat at the side of the road under the scorching sun waiting for their turn to go inside. AnuSree, a freelance journalist from Kerala, and I also sat and waited. Four hours later, at around 1.30 pm, we were called inside. We were frisked and led to a small gate. After waiting another 15 minutes, the gate opened to a tiny room with a few chairs. Behind the chairs, there was a table and three policemen noted the time each visitor got in.
Two men, wearing white shirts and white shorts, stood up and shook hands with me. I identified them as Santhan and Murugan. They hadn't changed much from their old photographs seen in the media. I asked them where Arivu was. He was standing in a corner of the room, talking to another visitor. He came forward and greeted me with a hug.
I didn't know how to begin. My thirteen years of journalism notwithstanding, confronted suddenly with these three men on the verge of death, I was dazed, all questions forgotten. I asked how they were doing, I could do no better.
There were other visitors coming in. Santhan and Murugan moved to meet them. Arivu sat in a chair close to mine. He spoke in an even tone, mixing English with Tamil. My Tamil is sketchy; he sensed it. He paused between words to give me time to follow what he was saying. Arivu, prisoner number 13906, spoke of the loneliness of the death row inmate, on the loopholes in the charges against him, and how isolation actually turns into strength at some point.
Q How did you get implicated in the Rajiv Gandhi assassination case?
A I was 19 when I was picked up, doing a course in Electronics in Chennai. It is true that I handed over the battery to Sivarasan [one of the assassination squad, who later committed suicide. Arivu knew him through Bhagyanathan, brother of Nalini, who was part of the conspiracy and is serving a life term. Arivu's father used to write poems printed at Bhagyanathan's press]. I used to record and edit television news bulletins of important incidents, using an instrument called 'character generator' [The prosecution says Arivu did this for the LTTE, but, note, it was not a banned outfit at the time. LTTE was banned only after the assassination]. The equipment was powered by a 9 volt battery. So, I had a collection of batteries. Once Sivarasan asked for a battery and I gave it to him. What is so wrong about that? That was my crime. I had no clue it was going to turn my life upside down.
The agony and fear I felt in the beginning is beyond words. But I firmly believed that in the end, truth would prevail. Whenever I got depressed, I thought of my mother. She is an embodiment of strength and fighting spirit. She is my source of energy. I believed I would be able to prove my innocence one day.
Q Tell me about life in jail. How did you cope with it?
A When you live face to face with death for 11 years, you get over the fear of death. I got over it a long time ago. But I have not given up because this is a battle for justice. My mercy petition to the world is not for mercy, but for justice. You get to know how precious life is when you live on death row. Each day I love the world a little more.
Q I have heard that you are an atheist…
A Yes, I have been an atheist since my childhood. Both my parents were followers of Periyar [Periyar EV Ramaswamy was the founder of the anti-Brahmin Dravida movement in Tamil Nadu]. I am also a follower of his ideology. Periyar believed in humanity, equality and love, cutting across class, caste and creed… I continue to be an atheist. I don't follow any religious script. My conscience is my god.
Priests of all religions come to jail and other inmates would often try to persuade me to attend prayers. I respect their belief but I didn't want to participate. Santhan and Murugan are diehard believers of Shirdi Sai Baba. It is perfectly fine with me. I can understand their need to turn to God.
Q On what basis do you claim your innocence?
A My educational qualification, the fact that I have a diploma in electronics, was the sole reason for all that happened to me. The investigating officers were convinced that I had made the belt bomb Dhanu wore. They believed I had the technical knowhow to make a bomb, though they didn't find a single piece of evidence for it. Now, as you may know, the investigating officers themselves agree that they don't know who made the bomb. As I said, my only mistake was to give Sivarasan a battery. Even the wireless messages that were later decoded by the investigating agencies prove that only Subha, Dhanu and Sivarasan had prior knowledge of the plan to kill Rajiv Gandhi.
I was given the death sentence for the crime of handing over a battery. The investigating officers could not present any evidence of my involvement in the conspiracy. The TADA court relied on confessional statements. Please read my book, you will get to know how the confessional statements were extracted.
Q I have read the book.
A Then you know how I was tortured in custody. [He says in the book that he was kicked in his testicles, denied food and water, not allowed to pass urine, not allowed to sleep—they kept pouring water on him, made to squat-stand as if he were sitting in a chair while the back of his legs were beaten with a PVC pipe filled with cement.] Such a confession statement has become evidence against me under TADA. Had this case been heard under the Indian Penal Code, I would have been acquitted. The CBI's Multi Disciplinary Monitoring Agency (MDMA) is still investigating the conspiracy behind the Rajiv Gandhi assassination. My innocence will be proved if they do a fair investigation. But who can ever give back my life?
I am not angry with anyone. Even as I stand under the gallows, I keep myself strong and hopeful. I prefer to talk to people like you. I count on you. I know there are millions of people outside who believe in my innocence. Please understand that I am not pleading for mercy but for justice. I am worried only about my mother. She will be defeated if I am hanged. That is the cause of my worry.
Q What, if anything, helped you go through these years under the death sentence?
A See, initially we—my mother, my family and I —realised that we were isolated in this battle. There was nobody to support us. No political parties came out for us, they all kept a fair distance. I don't blame them. I am wise enough now to see the world through their eyes too. My isolation became an advantage at some point. When I realised that I was alone in this battle, it became an immense source of strength.
After a long time, many political parties came forward and supported us in public, demanding the commutation of the death sentence. That became an additional source of strength. This is what prison life has taught me — to gather strength from whatever happens around you. I know the shadow of death is always behind me. I keep out the thought by immersing myself in books. Reading was the only way out. I have completed my BCA and MCA in addition to six certificate courses in different disciplines. I am a computer trainer in jail, giving lessons to inmates. I have given lessons to around 100 inmates for different examinations—10th standard, Plus 2, BA…
Time is up, the policemen announce. They are getting impatient. But Santhan, Murugan and Arivu insist they want to talk with me for a few more minutes. "I rate myself a wise man now," says Murugan. "Like Arivu, I am not scared either to surrender to death, but that doesn't mean I am alright. I am worried about my wife and daughter. I know there are thousands of people who still mourn the death of Rajiv Gandhi. I have learnt to see the world from their point of view also. That is the change prison life brought in me."
Santhan had come with a bundle of books. "I write poems and short stories, these are all my published works," he says.
Santhan shows me the books. I can't read Tamil, I tell him, but take the books anyway and flip the pages in some involuntary reflex action. Santhan beams. He is the editor of the jail magazine Ulloli (The Light Within).
While stepping out of the room, I ask Arivu if he wants me to convey a message to the world outside. "Yes, I request everybody, including you, to continue the battle for justice even if I am dead. No matter if I'm dead or alive, I'm sure you will win one day. I still believe truth will prevail in the end."
-Shahina KK
(Courtesy: Open Magazine, 17 Sep 2011)