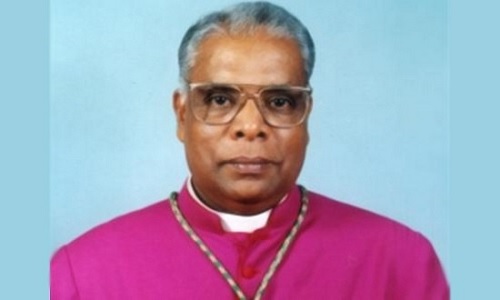 Our beloved Bishop is no more. Born on the 16th of April 1940 on the island of Neduntheevu, Tamil Eelam, Bishop Rayappu Joseph breathed his last in Yaazhppanam (Jaffna) on the 1st of April 2021. He lived a courageous life dedicated to the fight for justice risking his life and all. He was fondly hailed by the Eelam Tamils as the "Voice of Justice".
Rayappu was ordained Bishop of Mannar in October 1992. He was committed to human rights and human dignity from his school days. He attended St. Patrick's College in Yaazhppaanam and earned a doctorate in Cannon Law from the Pontifical Urbaniana University in Rome, Italy.
Bishop Rayappu Joseph was a great source of support and solace to the suffering Tamil people in the days of their worst suffering when the Sinhala Buddhist supremacist state of Sri Lanka had unleashed a cruel and unjust war on them. Throughout his life Bishop Rayappu believed in the invincibility of truth and justice and never hesitated to speak out the truth even when it was unpalatable to the powers that be. He was simply fearless.
Bishop Rayappu Joseph made an idelible mark in the historic struggle of the Tamil people for freedom and self-determination. He can well be identified as an embodiment and trailblazer in South Asia of liberation theology. In this respect he is comparable to Archbishop Desmond Tutu of South Africa who played a stellar role in the fight against apartheid.
It is very interesting that the number 1,46,678 is, and will ever be, associated with Bishop Rayappu Joseph. This had to do with his exposure of the mass atrocities committed by the Sri Lankan armed forces against the Tamil people. He was a strong witness on the ground to the so-called war without witnesess waged by the Mahinda-Gotabaya gang. Nobody was able to challenge his precise finding based on unquestionable statistical calculations that 1,46,678 people were unaccounted-for, either killed or forcibly disappeared, both meaning nearly the same lot. His statistics were never seriously challenged, not even by the culprits. In 2011 it was an act of courage for the Bishop to lead other high-ranking Catholic clergymen to submit a long criticism of the state and its military actions before the government-appointed LLRC.
Bishop Rayappu Joseph was the very embodiment of the Tamils' demand for remedial justice for the genocide culminating in the Mullivaikkal massacre. His demise has come at a time when the Tamils are more than ever united in their fight for justice as exemplified by the united stand taken by the Homeland leadership and civil society organizations, by the Potuvil-to-Poligandy march and by the inexorable march of other epoch-making events pointing to an uncompromising and protracted Tamil struggle for freedom and justice.
ABEL salutes Bishop Rayappu Joseph as a beaconlight of justice for the Tamil people and for the human kind, as well.
- Thiagu
(This article was published in Fortnightly Magazine 'Abel', April 21, 2021)