Nothing changed in Sathankulam, after the custodial deaths of Jeyaraj and Bennix, the father and son duo on June 22 & 23, 2020 which had drawn massive flak and outrage beyond the borders. Just about 90 days after the death of father and son, two major incidents of police excess reported in Sathankulam police division in Thoothukudi district, Tamil Nadu had alarmingly brought the existence of horror in Sathankulam and Thattarmadam to the light marked with a stain on the law enforcement agency.
Custodial Torture of Martin:
Martin (43), s/o Chellaiya, is from Thaikka Street, Sathankulam. Mohaidheen Meeran, who lives near his house, had a transaction problem with him. Mohaidheen Meeran complained to his relative and an ex-councilor Sultan Babu about this. In this situation, on 23.8.2020 at around 1.30 pm, the argument between Mohaidheen Meeran and Martin on the phone ended in a dispute. Martin scolded and intimidated both Mohaidheen Meeran and Sultan Babu. Hearing this, Sultan Babu, who is influential in the police, lodged a complaint at the Sathankulam police station.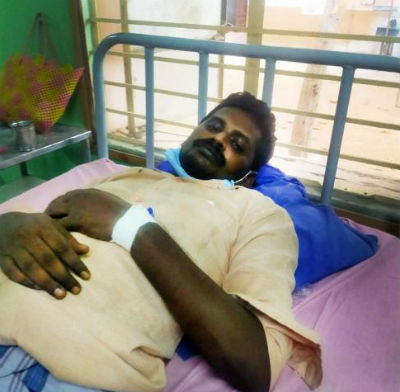 Based on this complaint, Police Inspector Xavier and sub-Inspector Raja, both in uniforms, trespassed into Martin's house at around 7 pm on 23.8.2020 and furiously searched the house. Martin's ten-year-old son Mathan got terrified. They went back because Martin was not at home then. Immediately, Martin's wife, Saroja (38) called her husband and informed him that the police were looking for him. At about 8 pm, Martin arrived home and found out about the situation and decided to stay out for the night. Trying to get in an auto from home at the time, police Inspector Xavier, along with sub-Inspector Raja and four constables surrounded Martin, beaten and tortured Martin in front of his wife and children and took him into a police car (Sumo).
Martin's brother Ponpandi, who saw this by accident, was stunned and chased after the police in his two-wheeler. But when Ponpandi saw that the police who arrested Martin did not take him to the police station but took him to the old police quarters, he got scared and returned straight to the lawyer Suresh.
It has been announced that after the custodial deaths of Jayaraj and Bennix if anyone happens to see illegal arrest or torture in the area, they can immediately inform the Judicial Magistrate via SMS or WhatsApp. Accordingly, information about Martin was reported to the Judicial Magistrate via SMS. Also, advocate Suresh and Ponpandi went to the Sathankulam Judicial Magistrate's house at around 9 pm and told about the incident. Immediately, Judicial Magistrate Saravanan went to the Sathankulam police station at around 9.30 pm. But the Inspector was not there, a policeman told the Judicial Magistrate that the Inspector was in the old police quarters.
The Judicial Magistrate immediately called a court staff and told him to go to the police station and call the police Inspector. Ponpandi also went with the court staff. The police Inspector who came to know the information returned to the police station. The Judicial Magistrate asked Police Inspector Xavier, "Where is Martin?: Immediately the police Inspector replied, "I did not arrest Martin, there are a lot of cases against him. We are looking for him." Realizing this, the Judicial Magistrate told the police Inspector that Martin should be handed over to the court tomorrow. Hearing it Martin's advocate Suresh immediately filed a search petition (No: 2153/2020) under Section 97 of the Criminal Procedure Code in Sathankulam Court on 24.8.2020.
After that, the police Inspector went to the old police quarters and told the sub-Inspector and the policemen that Martin's problem went to the Judicial Magistrate. So don't torture Martin anymore. After that, Martin was dragged to another place inside the old police quarters tied him with an iron chain like an animal. Sub-Inspector Raja told Martin to sit down and put his boots on both his thighs and grabbed his hair in the head and pulled it up and down. SB constable Sababathi and Inspector Driver Chinnathurai were brutally beaten and tortured.
Next day 24.8.2020 around at 10 pm Martin was taken to the police station from the old police quarters and charged under Sections 294 (b) using obscene words and 506 (II) criminal intimidations under Crime No: 341/2020. SI Raja threatened Martin, "If you tell the doctor or the magistrate that the police have beaten you, thereafter we will again bring you here, and you will have the same fate as the Jayaraj-Bennix duo, so if they ask about the injury, you will tell them that you fell down." Meanwhile, Martin's wife was called to the police station and told to sign that Martin was in good health. Martin's wife, who saw the wounds on his body said when you arrested my husband, these wounds were not on his body. Why did you beat and torture my husband? She denied signing.
The enraged SI Raja stared at Raja and threatened to tell his wife to sign. Martin begged his wife to sign, saying that he would be brutally tortured again and again if you did not sign. It was then that his wife signed the paper. At around 12 noon Martin was taken from the police station to the Sathankulam Government Hospital. The doctor was not there, he had gone out somewhere. Then the police took him to the doctor's place.
The doctor who examined Martin asked what the injury on his both legs was. Martin told him that he had fallen down just like SI Raja had told him. Refusing to believe it, the doctor told Martin to go to the Thiruchendur Government Hospital for a scan as there were wounds all over his body. Then Martin was taken to Thiruchendur Government Hospital at around 4 pm. The doctor there said, 'Is this Sathankulam's case? We don't want that vampire. You go to the Thoothukudi Government Hospital. 'From there Martin was taken to the Thoothukudi Government Hospital at around 6.30 pm. The doctor who was there also said that this is Sathankulam's case? He looked at the wound all over his body and admitted him as an in-patient. The police were shocked to hear this.
From 24.8.2020 to 28.8.2020, Martin was treated as an in-patient at the Thoothukudi Government Hospital. Martin was discharged in the afternoon on 28.8.2020. From there Martin was taken to Srivaikuntam Magistrate. "Did the police beat you?" asked the Magistrate. Martin said yes and told him exactly what had happened. Sub-Inspector Raja did not answer the questions asked by the Magistrate. The Magistrate released Martin on bail and told him to stay in the hospital."
Video recording of Martin's wife brought the attention of District Judge:
Frightened by the sight of her husband being beaten and dragged away by police in front of her, Martin's wife, Saroja, boldly released a video recording of her husband's risk to his life. It spread virally on social media and also brought the attention of the Thoothukudi District Judge. He immediately ordered the Magistrate of the District Legal Service Authority to investigate this. Following this, advocate Ramachandran met Martin and obtained a confession statement.
Incident two - Youth abducted, murdered - police inspector, AIADMK functionary booked:
Selvan (32), s/o Thanislaus, was a tanker lorry driver who supplies potable water to residents, belonging to Ckokkankudiyiruppu village comes under Thattarmadam police limit in Sathankulam sub-division, Thoothukudi district. It is reported that Selvan's family have owned 1.75 acres of land near Padukkapathhtu-Gandhinagar main road. AIADMK functionary and Thoothukudi south district traders' wing secretary Thirumanavel who is economically rich in the area purchased an adjacent plot of land in 2019 from Selvan's uncles, enmity broke out between them. Even though Thirumanavel exerted pressure on Selvan's family to sell their land also to him, the family resisted.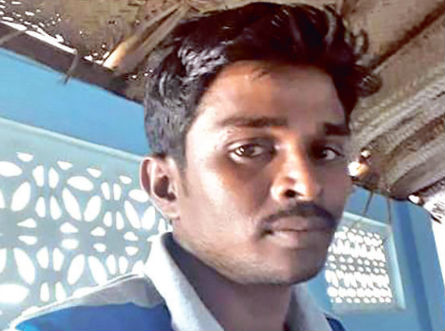 "Agitated over this, Thirumanavel, who managed to develop a rapport with Mr.Harikrishnan, Inspector of Police of Thattarmadam for obvious reasons, got cases registered against Selvan and his brothers Pangruuraj alias Rajan and Peter Raja, who were beaten up by the police Inspector, on several occasions whenever the cases were registered, based on complaints from Thirumanavel. Even when supporters of Thirumanavel misused the illegally-occupied land for making country bombs, the complaint preferred by Selvan's brother Peter was not entertained. Instead, a fake case was registered against Selvam and Peter again. Against this backdrop, Thirumanavel and his supporters allegedly thrashed Panguraj on January 19, and he was subsequently admitted to the Tirunelveli Government Medical College Hospital.
"However, Harikrishnan got Pangaruraj discharged from the hospital and took him directly to the police station where he was hung upside down from the roof of the police station and thrashed. Even after Selvan filed a complaint with the State Human Rights Commission, Harikrishnan's torture continued, forcing them to approach the Madurai Bench of Madras High Court explaining the threats they were facing from the police officer while seeking anticipatory bail (Crl.O.P (MD). No: 9705 of 2020). The affidavit was filed on 16.09.2020. The case came for hearing on 17.09.2020, and the detail of the affidavit was intimated to the district police for further action. Enraged over this, Harikrishnan has orchestrated the murder of Selvan with the help of Thirumanavel.
When Selvan was returning home on his two-wheeler on 18.9.2020, he was knocked down by a speeding car, as he was crossing Kozhunthattu near Chokkankudiyiruppu around 1.30 p.m. As Selvan fell on the ground, the occupants of the car abducted him. After a couple of hours, the body of Selvan was found lying in a forest area close to Kadakulam, and it was subsequently taken to Thisayanvilai Government Hospital by passers-by who thought that he was alive. However, the doctors there declared Selvan' brought dead'.
On getting information about the incident, Deputy Superintendent of Police, Sattankulam, Godwin Jagadeesh and Harikrishnan rushed to the spot and conducted an inquiry with the family of Selvan, who accused Harikrishnan of being the brain behind the murder." Mrs.Elizabeth mother of Selvan said that Inspector Harikrishnan had abducted and murdered Selvam along with his supporters, her son's body had multiple grievous injuries all over when she saw it at the Thisayanvilai Government Hospital.
Based on the complaint from Mrs. Elizabeth, the Thisaiyanvilai police of Tirunelveli district has registered a case against Harikrishnan, Thirumanavel and a few others under Sections 107 (conspiracy), 336 (rashly or negligently endangering human life), 302 (culpable homicide by causing the death of a person) and 364 (kidnapping or abducting any person in order that such person may be murdered).
This is the third murder case to be registered against the police in the Sattankulam Police Sub-Division after the deaths of Jayaraj and Bennix and construction worker Mahendran of Srivenkateswarapuram near Peikulam, both under the Sattankulam police station limits.
It is noted here that the police custodial torture and death are continuously taking place despite this Hon'ble Madurai Bench of Madras High Court suo moto W.P.(MD).No: 7042 of 2020 monitoring the earlier CB CID and present CBI investigation in the Sattangulam PS that occurred on 22nd and 23rd June 2020.
The state government pronounced CBCID Investigation for the death of Selvan but not for the custodial police torture of Martin. Similarly, the Inspector Harikrishnan has booked under murder case is not arrested.
The need of the hour is that efforts should immediately be made for the effective protection of all victims, witnesses and their dependents in both the cases using the provisions of the Witness Protection Scheme 2018 by the District and Sessions Judge.
- S. Mohan