Heretofore 83-year-old Fr.Stan Swamy had anticipated his arrest in a relaxed manner. Two days before his arrest, Fr. Stan had released a video alleging "The NIA is after me. I'm being pressurized to go to Bombay... I'm being called to the Mumbai office of the NIA. I refuse to go there. I am 83 and have health issues. I don't want to expose myself to the coronavirus. I have never been to Bhima Koregaon," Fr.Stan had said in that video.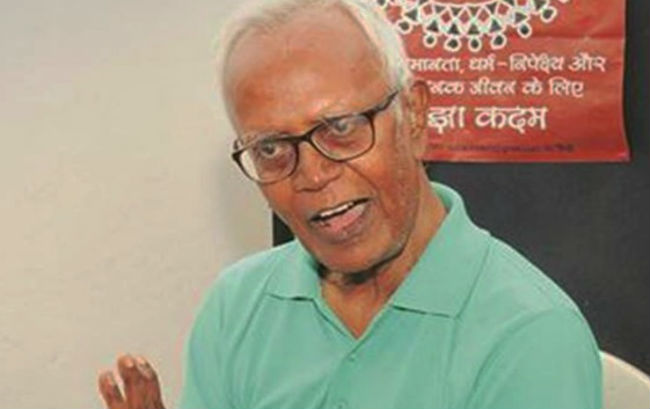 Illegal arrest and imprisonment:
Fr. Stan, is an Indian Jesuit priest belonging to Jamshedpur Jesuit Province, a veteran tribal rights activist, socialist and a human rights defender has been in Bagaicha, a Jesuit-run Social Action Centre, for the past 15 years, primarily working with the Scheduled Tribes (Indigenous community), for the defense, propagation and protection of their rights as enshrined in the Constitution of India. According to the sources, he has been living in Jharkhand for the past five decades.
On October 8, in the late-night hours the National Investigation Agency (NIA) arrested Fr. Stan Swamy, a day before filing the charge-sheet in the Bhima Koregaon-Elgaar Parishad case led to massive outrage. He was forcibly in an inhuman manner taken from his small room in Bagaicha near Ranchi to Mumbai and produced by NIA before a unique Court in Mumbai on October 9 and presented a 10, 000-page charge-sheet.
Fr Stan Swamy was shipped off prison till October 23 by the court and lodged straight to Taloja Jail making him the sixteenth what's more the oldest person arrested in the case. Fr Stan Swamy joins Prof.Anand Teltumbde, Gautam Navlakha, Prof.Hany Babu, Jyoti Jagtap, Ramesh Gaichor, Sagar Gorkhe, Arun Ferreira, Mahesh Raut, Rona Wilson, Shoma Sen, Sudha Bharadwaj, Sudhir Dhawale, Surendra Gadling, Varavara Rao and Vernon Gonslaves, they all intellectuals, advocates, writers, poets, in particular, have committedly been working for the human rights of Scheduled Tribes and the marginalized vulnerable communities.
Arrest by NIA under UAPA:
His arrest under the Unlawful Activities Prevention Act (UAPA) comes after over two years of harassment at the hands of State forces. Earlier Fr. Stan Swamy's room was raided twice, once on Aug. 28, 2018, and again on June 12, 2019, and he was questioned for more than 15 hours over a span of 5 days in July - August 2020.
NIA officials said investigations established that Stan Swamy was actively involved in the activities of the banned Communist Party of India-Maoist (CPI-Maoist). The agency also accused him of receiving funds for CPI-Maoist activities. The agency said documents and propaganda material of the CPI (Maoist) and literature were seized from Stan Swamy, and he was in contact with the other accused in the Koregaon-Bhima case relates to an event on December 31, 2017, in Koregaon-Bhima near Pune, which was followed by violence and arson that left one person dead. Investigators claim that activists at the event, an Elgar Parishad meet, had made inflammatory speeches and provocative statements that led to violence the next day.
The investigation also claimed to have uncovered a plot to assassinate Prime Minister Narendra Modi. The NIA said it was revealed that senior leaders of the CPI (Maoist), a banned organisation under the Unlawful Activities (Prevention) Act, were in contact with the organisers of the Elgar Parishad event as well as the accused arrested in the case to spread Maoist and Naxal ideology and encourage unlawful activities.
Non-violent battle against land and forest rights and Land Bank:
Fr. Stan Swamy professed his commitment to the Constitution of India and peaceful means of expressing dissent while questioning any form of injustice done to the vulnerable Scheduled Tribes by both the state and central governments. He always dared to speak truth to power and expose the large-scale abuse of power using anti-terror and sedition laws and land grabbing. He has been strongly and extremely working on the issues of land rights, forest rights, access to mineral resources and the right for a dignified life and livelihood of Scheduled Tribes in Jharkhand for over five decades.
He also meticulously and precisely documented and published the hidden history and the untold sufferings of thousands of Scheduled Tribe youth, who were exercising their right to defend their resources falsely incarcerated as "Maoist." His documentation echoed in his speech as well as work and resounded in the nook corner of Jharkhand. Furthermore, he became the vocal critic of "Land Banks" intended to siphon off mineral-rich land to the corporate giants through the Fifth Schedule of the Constitution of India and top of that he evidently exposed the government policies that reveal the nexus between the state and corporates too. The judgment of the Supreme Court that 'the owner of the land is also the owner of the subsoil minerals.' (Thressiamma Jacob & Ors vs Geologist, Dept. Of Mining & ... on 8 July, 2013-Bench: Honourable Judges 1.R.M. Lodha, 2. J. Chelameswar, 3. Madan B. Lokur) also raised his voice against the formation of the Land Bank that intends to take over the "commons" such as roads, rivers, ponds, burial grounds, and community forest lands etc., which have traditionally been used by the community.
Why constitutional provisions ignored?
Fr.Stan urged the essential need for their mandatory implementation, either the bunking off or absence of which violates the rights of Scheduled Tribe communities to self-governance. He has fought back to build up and strengthen Grama Sabhas in Scheduled Areas demanding the implementation of Panchayat Extension of Scheduled Areas (PESA) Act. The provisions of the PESA Act 1996 granted special powers to the "Fifth Schedule Areas" – Jharkhand being one of them. PESA exclusively empowers the Gram Sabha with (a) "right to mandatory consultation in land acquisition…" and (b) "mandatory recommendations by Gram Sabha or panchayat at appropriate level for prospective licenses/lease for mines…" Fr.Stan Swamy has been vociferously questioning why this parliamentary Act has not been implemented anywhere. In the same context, Fr.Stan Swamy has highlighted the patchy implementation of Article 244(1) of the Fifth Schedule of the Constitution that stipulates the formation of a" Tribes Advisory Council (TAC)." According to the Fifth Schedule, the Tribes Advisory Council must regularly meet the Governors and submit annual reports to the President. Fr. Stan Swamy has been asking why this constitutional provision has been routinely ignored by the government.
Opposed anti-people policies and projects:
Moreover, Fr.Stan Swamy untiringly stood by the Pathalgarhi struggle for land rights facing charges of sedition as a consequence. Significantly these charges were withdrawn by the newly elected government in Jharkhand. He upheld the self-assertion of Scheduled Tribes and the marginalized communities and opposed the anti-people policies and projects of the government. Indeed the fervent interventions of Fr.Stan Swamy on these judicious questions and committed involvement in the struggles for land, livelihood and dignity have brought him wide-spread support of the commons of Jharkhand. Fr.Stan Swamy has spent his lifetime fighting for the rights of Scheduled Tribes. The illegal arrest and detention of Fr.Stan proves that police brutality used for silencing human rights activists, defenders, intellectuals who have stood alongside the struggles of the most marginalized castes and community in India.
It is evident that these activities of Fr.Stan Swamy have angered the powerful interests within the government that they not only have foisted a case of sedition against Fr.Stan Swamy in Jharkhand but also have included him in a false case that links him with banned organizations at the national level.
Human rights defenders express grave concern at the inhuman harassment against Fr. Stan Swamy who is an indigenous people's rights defender campaigned against human rights violations caused by the displacement of Scheduled Tribes, Scheduled Castes and farmers from their lands. He has supported vulnerable communities faced with displacement from extractive industry projects in securing their land rights and proposing sustainable development models instead.
The civil society and human rights defenders in all walks of life condemn the arrest of Fr.Stan and demand an end to the harassment of activists, intellectuals, lawyers, writers and poets in the name of investigation, repeal the UAPA and release all law-abiding political prisoners as well as demand legal action against the real perpetrators of the violence in Bhima Koregaon.
The democratic state ought to guarantee in all circumstances that all human rights defenders in India are able to carry out their legitimate human rights activities without fear of reprisals and free of all restrictions, including judicial harassment.
Of course, the police told the Mumbai High Court in Oct.2018 that Fr.Stan Swamy was only a suspect and not an accused. In accordance with the above events and fact which rallying towards the truth that he is working for human and constitutional rights and hence one can easily conclude, Fr.Stan Swamy has always professed his commitment to the Constitution of India. He is a law-abiding citizen and denied all the allegations in strongest terms that he has never been to Bhima Koregaon and no link with extremist leftist forces. No doubt in nature he is a staunch Gandhian and not Maoist.
- S. Mohan