Since diplomatic relations were established in 1992, there has been a legal frame work for trade and economic co-operation between India and Israel. Important agreements are according most favoured Nation status, Avoidance of Double Taxation, Bilateral Investment Protection, customs co-operation, Joint Industrial research development and setting up of Agricultural Demonstration farm.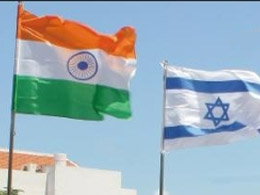 Israel Trade Center was formed in Mumbai in 2004 and will help and assist Israeli companies to penetrate the Indian Market on a business basis. In the field of information technology, the Electronic & Computer Software Council of India (ESC) and the Electronic Industries Association of Israel signed an MOU. National Association of Software & Service Companies (NASSCOM) signed an agreement for close co-operation with their counterparts Israeli Association of software Houses (IASH), while another MOU was signed between the Exim Bank and the Israel Export Institute.

The MOU is for the promotion of trade and economic co-operation, signed in May 1993 and was followed by the signing of an agreement in December 1995. The agreement provided Indian goods to Israel without import permits. Business Line newspaper reported that there are now more than 150 agreements between Israeli and Indian firms on co-operation and joint projects in field such as agriculture, communications, software and medical equipment. Illan Maor, Director of Economic Department, Israeli Ministry of Foreign Affairs said, "Israel has 2,000 start-up companies, the second highest in the world after the U.S."

A number of Israeli companies such as Ness Technologies, Magic software, Amdoes, Check point software technologies, RAD data communications, Veraz networks, carpro and NDS are getting work done in India. Dr. Reddy's Labs are keen to work with Israel. Israel and India Mutual co-operation are Research and Development, Agro technology, Bio technology and Pharmaceuticals, Non – conventional energy, nanotechnology, venture capital funding, high-end security software development, IT Products and Telecom Software, Medical equipment, Environmental technologies, home land security.

The State Bank of India has correspondent banking relations with eight major Israeli banks. A joint insurance agreement has been signed between the Export Credit and Guarantee co-operation of India and Israeli Foreign Trade Risk insurance company Ltd. A bilateral science and Technology co-operation agreement was signed between the Indian science Academy and the Israeli National Academy of Science.

Diamonds, which accounted for 60% of India's exports of Israel in 1999, major export items from India include textiles, cotton, yarn, organic chemicals and machinery. Vigorous trade promotion efforts such as the holding of the first Indian Trade Exhibition in Israel in May 2000 have contributed to the increase in Indian exports to Israel.

Israel Desalination Enterprises Technologies (IDET) won two tenders to build three more desalination plants in Gujarat for $9.5 million. "Gujarath and Israel are divided by land but are united by water" Hindu fundamentalist Modi said. Science and workshops are being held regularly. A number of Indian researchers are currently engaged in research activities at the Volcani as well as the Weizman institute. Samuel Neaman Institute, Haifa and Technology Information Forecasting and Assessment council (TIFAC) New Delhi Jointly organized and Indian Israel science conference from may 29 to June 3, 2005. This conference continued every year.

An India-Israel agreement a co-operation in use of outer space was signed in October 2002. During Israeli Science Minister Sandberg's visit to India in December 2003 it was announced that an Israeli astronomical scientific telescope would be installed as a payload on an Indian scientific to be launched. The Federation of Indian Chambers of Commerce & Industry (FICCI) led a business delegation headed by the former Minister of state for Industries, Ashwini Kumar, during 2007 August 5-6 to Tel-Aviv to explore trade and investment opportunities for mutual benefit.

Already NDS, specializing in digital video recorders, Inter activity and secure broad band has an office in Bangalore and more such R&D centers in other sectors are expected to come up as Israel seeks greater engagement with India. Former Prime Minister Manmohan Singh said that both countries co-operate in the area science and Technology.

In June 2007, the State Bank of India has become the first foreign bank to open a branch in the Israel's diamond exchange. The central Bank of India own 59.79% of it. In July 2007, India's Directorate of Revenue Intelligence (DRI) found many 'blood diamonds' are being smuggled into Surat, the country's polishing center. The rough diamonds from Israel are brought on fishing boats through the shallow waters of Gujarath's west cost, they said.

Blood or conflict diamonds originate primarily from war zones where they are locally mined and later sold, secretly. The perpetrators use the profits to buy arms, fund civil wars and military coups against legitimate governments there. Surat's gems and Jewellery industry which comprises of more than 6,000 small and big diamond cutting and polishing units, employs around seven laksh people. Being the largest processor and exporter of precious stones in the world, India with a turn over of Rs. 45,000 crore, has always been suspected of getting blood diamonds processed here, DRI Officials say.

And with nine out of every 11 diamonds in the world being cut in Surat, the city's cutting and polishing industry is closely associate itself with Hindutva Mafia. Rough diamond actively in Israel was in high gear in June. Israel exports of rough diamonds skyrocketed to $195 million in rough diamonds in June 2006.

India Must Stop This Relationship

India must stop at once this relationship with Israel. If not, these relationships become a danger of India's feature and help to Israel crush the Palestinian people. There are many Arab and socialist countries greatly distressed over the growing Indo- Israeli ties.

One time the great Indian leader Mahatma Gandhi said, "Palestine belongs to the Arabs in the same sense England belongs to the English or France to the French. It is wrong and inhuman to impose the Jews on the Arabs, surely it would be a crime against humanity."

Palestinians have been systematically victimized and alienated in their own land by the Israelis. India now buys half of its arms from Israel, making it Israel's biggest customer. It is thus funding the Israeli occupation in Palestine because the Israeli economy rests on its defence industry, it is main export, as well as the inflow of U.S tax dollars.

India and Israel are engaged in hostile activities with their neighbouring states. Their defence deals are a threat to peace and stability in the south Asian and Middle East region.
Domestically India is facing severe criticism from different segments of society for its increasing collaboration with Israel. For the communist parties, seeking 'strategic ties' with Israel represented a betrayal of the Palestinians and was harmful to India's interests. They even argued that close military ties were the result of the 'anti Muslim agenda' of Israel.

The Muslims of India apart from the left are also the hurdles to the strategic partnership between the two countries. The Muslims of India tried time and again to voice their concerns. India is trying to split the Indian Muslim community which harbours the cause of Palestinian resistance. For this purpose the present Indian Government has sent a delegation of Muslim Scholars to Israel. Lastly, Indo–Israel Collaboration aims to assist each other in order to terrorize and subjugate Palestinians along with Kashmir forever.
Sources :
• The Hindu Jan 17, 2004
• U.S plays Match Makers to India, Israel by Ninan Koshy, The War on Terror: Reordering the world. DAGA Press
• India Israel Bilateral Relations, October 2000. Ministry of External Affairs, India press release.
• India and Israel united in defence by Sudha Ramachandiran, Asia Time online, 2002.
• India Israel tango gain pace by Srinivasan, The Hindu Business Line 20.08.2007
• Israel and India in the Era of Globalization by Ambassador at the International Forum Indian Embassy press release 09.03.2006.
• India Israel Defence Relations by Siddharath Ramana, Malmo University, Sweden.
• India-Israel Relations: The imperatives for Enhance strategic co-operation by Subash Kapila (www.southasiaanalysis.org/Papers2/Paper131.html)
• Tribune News Service 09.09.2003.
• Joined in Arms by Ramtanu Mantra, the Asia Times, 11.03.2005.
• Israel – India Defence co-operation 02.06.2008 (www.wordpress.com).
• www.defenceindustrydaily.com/India–to–buy–israeli–spyder-mobile–air–defencesystem.
• Nexus of Evil by Mamoona Ali Kazmi, Daily Mail News.com
• Why India dumped Palestinians by Ramtanu Maitra, Asia Times online
- Shahul Hameed (This email address is being protected from spambots. You need JavaScript enabled to view it.)
---
You can send your articles to This email address is being protected from spambots. You need JavaScript enabled to view it.
---