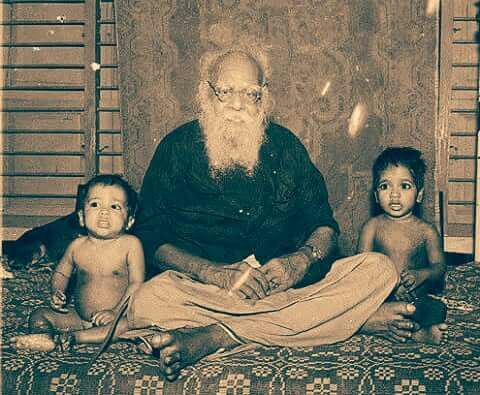 Periyar spoke furiously about caste annihilation in Thanjavur Conference. He posed a question to his followers in his speech: If thousand Brahmins need to be killed for eradicating caste system, if that is the only way to do that, are you ready to kill? The gathering cheered at this and answered in affirmative (Although Periyar spoke so angrily, he had never been an active instigator of violence throughout his life). In that conference only, Periyar announced that he was going to burn the sections of the Constitution that protect the caste system on November 26.
Periyar was against the Constitution right from the start. He was of the opinion that the Constitution was not written by the people as advertised. First of all, the Constitutional Assembly was not elected on the basis of Universal Adult Suffrage. It was a representative body of the elites. In other words, it represented only 14 per cent of the people of the country who were either landholders or degree holders, as only those people had the right to vote when the Constitution Assembly was formed. He asked how the members could support common people as they were elected only by these voters? He feared that they would only support rich and educated masses and opposed to the law written by them, i.e., Constitution.
Why Periyar chose November 26? Because the Constitution was approved by the Constitutional Assembly on that day in 1949 and it was celebrated as Constitution Day too. So Periyar thought that it would be fitting to carry out this struggle on November 26.
Tamil Nadu Government acted swiftly. Though Kamaraj, considered as a supporter of Periyar, was the Chief Minister, Police Department and the Home Ministry were in the hands of Bhakthavachalam. He and C.Subramaniam, both were considered as close aides of Rajaji, wanted to bring in a law immediately to prevent the Constitution Burning Movement. Thanjavur Conference concluded on November 3rd. The above law was tabled as a bill in the Assembly on November 6. In a hasty manner, the bill was debated and enacted as a Law on November 11. This was the history behind Prevention of Insults to National Honour Act. As per this Act, burning and insulting the image of Gandhi or the Constitution or the National Flag is a punishable offense and would attract a maximum sentence of 3 years in jail.
Periyar immediately released a statement in 'Viduthalai' regarding the struggle.
"Comrades! Please note. If you take part in the Constitution Burning Struggle, you could be sentenced up to 3 years in prison. Understand this before give your name."
About 10,000 people had already enrolled for the struggle. They all gave their consent. However, Periyar was arrested and imprisoned on the eve of the protest day for a different offence. Another charge was also made on him under Article 151 of the Criminal Procedures Code. Due to this, Periyar was not able to participate in the struggle on 26th November.
Nevertheless, the Movement was a huge success across Tamil Nadu, including small villages. More than 10,000 people took part in it and burnt the objectionable sections of the Constitution.
A remarkable thing you need to keep in mind is this: This Movement took place after seven years of the split of Dravidar Kazhagam. Many people, at that time, were of the opinion that this split had taken away a sizeable youth cadre from Periyar and he had no one to turn to. Apart from this, three years of imprisonment was imminent for the protesters. Despite all these odds, more than 10,000 people took part in the struggle and about 4000 people were arrested and imprisoned up to one year.
Prime Minister of India Jawaharlal Nehru visited Tamil Nadu at that time and spoke in several meetings. On Periyar's denouncement of Constitution, he told that those who deny the constitution should get their things packed and go to abroad at once. During his visit too, he told similar things. He opined that rebels should reside in a madhouse or prison. After Nehru's visit, remaining cases of similar nature were adjudicated with an increased period of imprisonment. In fact, the imprisonment was almost doubled for some persons!
The imprisoned activists were not treated as political prisoners. Congressmen arrested during the freedom struggle had been treated with due respect as political prisoners, even by the British. But the detainees in the independent India were treated like criminals for political reasons. They were given hard tasks and improper meals by the prison authorities. So the struggle continued inside the prison too. Some of the protesters died within two months of arrest due to diarrhoea and stomach ailments. Of those, Pattukottai Ramasamy and Manalmedu Vellaichamy were people to remember. They died in prison in January 1958, and their bodies were buried inside the prison. Annai Maniammaiyar staged a protest and made a demand to the Home Minister to give back their bodies. After this, their bodies were exhumed. However, another protester also died in the meantime.
Not only these three. About thirteen protesters had died within a week of their eventual release. It was possible that the Government would have feared their death inside the prison and ordered release. Totally, about 18 protesters died inside and outside the prison.
There are several interesting stories regarding the arrests.
Many young mothers with a baby were arrested. Students were also arrested. One thirty-nine people who burnt the Constitution were arrested in Cholapuram and were taken to Thiruppandal police station. At midnight, the assistant police inspector registered a case against only 40 people and ordered the remaining persons (99 people) to return home. But they refused to go and questioned him why should they go. He replied that he did not see them burning the constitution. They replied swiftly that if that was the case, they would do it again before his eyes again and pleaded him to arrest at once. However, he told that he would not identify and arrest anyone if they did so in the dark and sent them away.
The very next day, a petition was sent to the Home Minister along with the copies of half-burnt Constitution and ashes. In the accompanying letter, details of the protesters who took part in the act were given. The protesters claimed that many people in the Bus Station, including the Member of Legislature Assembly Mr.Ramamirtha Thondaiman, had witnessed their involvement in the Constitution Burning Movement and indicted the Assistant Inspector of Police of dereliction of duty! They pleaded to the Home Minister to order their arrest!
Another interesting story is about a 16-year-old lad called Periyasamy from Trichy Valadi. During his imprisonment in Trichy jail, the then Governor Vishnuram visited the jail premises. Among the 1940 inmates at the prison, the young boy was hard to miss.
The Governor called him to come closer and said "I'm ready to forgive you for your involvement in the alleged wrongdoing. If you give me an apology, I will order your release at once."
The boy replied boldly, "Yes, sir. But after the release, I will burn the constitution again!." Governor was taken aback at the response and murmured 'Only God can save you!' before leaving the premises.
Another young boy of the same name, Periyasamy and village was detained in a Children's Rehabilitation Home in Thoothukudi for his involvement in the movement. This boy was three years younger than the former. When his health condition deteriorated, the authorities decided to send him back by procuring apology. But he refused to do so and died in prison.
In Mannachanallur, the police arrested a woman, namely Anjalai on 26.11.1957 regarding the protest and detained her in Lalkudi branch prison along with her husband A.Settu, Branch secretary of the party and their son Selvarasu. On 29.11.1957, two days later, Anjalai gave birth to a baby boy! It was reported in 'Viduthalai' on 30.11.1957. How committed she was to the ideals! In addition to this, there were many untold stories of scattered and separated families. Indeed, the protesters who took part in this movement sacrificed a lot.
We need to understand that this movement had started a momentum in favour of caste annihilation in Tamil Nadu. Before carrying out this struggle, Periyar organized a series of Caste Eradication Conferences. One such conference was presided over by Tamil Poet Bharathidhasan. Periyar's propaganda warriors including Prof. C. Ilakuvanar, formed Caste Eradication Forces and went all over Tamil Nadu and ignited debate on caste among the masses. In the aftermath of all those conferences, the Constitution Burning Movement was carried out. Hence, this massive movement should be seen as a culmination of all those efforts in the direction of caste eradication.
Caste and the women enslavement are the great scourges of this country. We should think about eradicating these evils from the country and act accordingly. I request you to do the same and make others to do the same.
(Speech by Kolathur Mani, President of Dravidar Viduthalai Kazhagam, on Constitution Burning Memorial Day)
Translated by Arul Selvan
---
You can send your articles to This email address is being protected from spambots. You need JavaScript enabled to view it.
---