Globally, more than 15 crore people have been infected by the Covid-19 epidemic. More than 31 lakh people have died of the disease. The United States recorded the highest number of corona infections and India recorded the second highest number of Covid infections. More than 1.9 crore people in India have so far been affected by the Corona virus, of which more than 2.1 lakh have died. The Covid vaccine, which has been available since January 6, has so far been fully administered to only 1.7 percent of the population. In 2021-22 budget, Rs 35,000 crore was allocated for the Covid vaccine, after which no additional funds were allocated to curb the alarmingly rising Corona cases, and whether the allocated Rs 35,000 crore was used properly remains a question to be answered.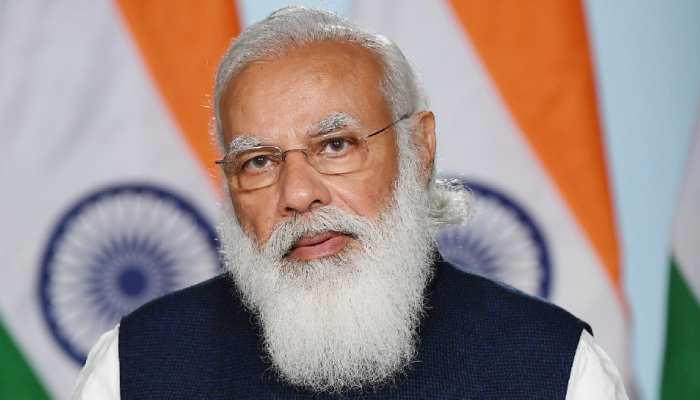 India has emerged as the country with the highest incidence of Covid infections. More than 4 lakh Covid cases are recorded every day. While other countries like China, Pakistan and Britain extended their support to manage the Covid crisis, the BJP government has been using Corona as a weapon of state repression. People in many states are dying en masse due to lack of adequate medical service.
It is a basic duty of a welfare state to provide Covid-19 vaccine free of cost to all its citizens. India's Health Budget Is the 4th lowest in the world, and India ranks 155th out of 158 countries in terms of public health spending, says the Oxfam Report. At the same time India is the third largest military spender in the world, after the United States and China according to the Stockholm International Peace Research Institute (CIPRI), India's military spending was $ 72.9 billion (54 trillion rupees) for the year 2020. If the BJP government is able to spend Rs 54 lakh crore on defence, but is not readily coming forward even to provide a vaccine free of cost to the people, then it is obvious what an anti-people government it is.
Due to the poor planning and negligence of the BJP government, the 2nd wave of Covid-19 is surging uncontrollably at an alarming rate. Covid vaccination for those over 18 years of age has not yet been rolled out in many states as per the earlier announcement due to shortage of vaccines. The BJP Government has not taken steps to increase the production of Covid vaccines and has not regulated the pricing of Covid vaccines, leaving the pharmaceutical companies to take advantage and reap profit out of this Covid crisis. The big pharma companies continue enjoying their oligopoly and there is a sharp difference in the pricing of Covid vaccines. Companies have been selling vaccines to the Union government at low prices and to state governments at high prices. Serum India offers Covid vaccine for Rs 200 to the Union government, Rs 400 to state governments and Rs 600 for private hospitals. Bharat Biotech has sold vaccines for Rs 600 to state governments and Rs 1,200 to private hospitals. At a time when state governments are struggling with a heavy financial crisis, the BJP government has not ungrudgingly given the least assistance of providing Covid vaccine free.
According to the Ministry of Statistics and Programme Implementation (MoSPI) project database as of January 2018, 345 projects have incurred a cost overrun of Rs 2.19 lakh crore and 354 projects have time overrun of 45 months. The reasons behind these overruns are lack of forward-planning, identification of risk factors and poor collaboration amongst stakeholders.
Modi says the government has no business to be in business and has been pursuing a policy of minimum government and maximum governance to push privatization of public sector enterprises. The target for disinvestment for this fiscal is set at Rs 1.75 lakh crore. Four to five PSBs including Bank of Maharashtra and Indian Overseas Bank have been suggested by the Niti Aayog for privatization. The Department of Investment and Public Asset Management is currently considering a plan to promote the monetization and privatization of assets in the states as well.
The Foreign Direct Investment limit in the insurance sector has already been upped from 49 per cent to 74 percent. A bill to raise FDI limit in the pension sector from 49 per cent to 74 per cent will be tabled in the next session of Parliament. It has been reported that the new amendment bill would separate the National Pension System from the Pension Fund Regulation and Development Authority and may bring it under the purview of company law. Even the pension sector has not been left untouched by neoliberalism and is lurking to expropriate the social security of the elderly.
Montek Singh Ahluwalia, former deputy chairman of the project committee, said the government's infrastructure push through PPP mode may not be viable amid the epidemic. A lot of growth recorded for GDP comes from the formal sector, corporate revenue and profits has increased due to cost-cutting measures. This also includes cutting down on contractual labour, which meant a slowdown in revenue growth and the consequent impact on the informal economy. Ahluwalia also expressed concern that The current method of measuring GDP assume the growth in the informal sector to be the same as it is in the formal sector India's growth for the current fiscal could be overestimated if divergent trends in the formal and informal sector of the economy have not been taken into account, he added.
The unorganized sector has been hit hardest by the pandemic. There is more inequality prevailing in the availability of credit service and a large number of MSMES are struggling to survive. The price of raw materials is increasing uncontrollably. But at the same time, the market values of big companies are rising and reaping profits.
Even in the United States, the bulwark of capitalism, the Biden administration is trying to raise taxes on large corporations. U.S. Treasury Secretary Janet Yellen has called for the implementation of a global minimum corporate tax to prevent large corporations from profit-shifting to avoid taxes.
The Adani Group has grown to become the third largest Indian company with a market capitalization of more than $ 100 billion. Mukesh Ambani, the richest man in Asia, has amassed $3,500 billion wealth during the Corona general lockdown period alone. Adani, the second richest man in Asia, has a net worth of $5.05 billion. According to Forbes magazine, Adani's property value has increased fivefold in 2020 alone. The number of superrich people in India has increased from 102 last year to 140 this year. But under the BJP regime, a mercenary of big corporations, even a talk of raising corporate taxes and income taxes is off the table. On the contrary, the BJP government, which has not taken a single step to alleviate the suffering of the masses has increased their tax burden further and the indirect tax revenue growth of 12 per cent in fiscal 2021 reflects that. Goods and Services Tax (GST) revenue in April 2021 increased to Rs.1.41 lakh crore, an increase of 14 per cent over the previous year.
Economist and Nobel laureate, Angus Deaton says A wealth tax is a bad way to pay off pandemic debts and probably would become permanent if introduced. But he is leading the UK's expert panel on how to reduce inequality! Economists like him who claim to be researching on reducing economic inequalities are actually paving the way for rising inequality. Aren't they the guardians of inequality?
The unemployment rate in rural and urban areas has increased further and no new schemes to increase employment have implemented. According to CMIE, the unemployment rate has increased to 7.97 all over India and 9.78 per cent in urban areas. The number of middle class people in India has declined by more than 3.2 crore in the last one year and the number of people living below the poverty line has risen by 60 per cent.
The second wave of Covid is more likely to bring a further negative impact on the economy and on the livelihoods of the people, as a large number of people have been already affected by job losses and wage losses. The economy, which has yet to recover from the impact of the first wave of Covid, is at risk of further delays as the second wave continues to hit.
Inflation:
Consumer price inflation rose to 5.52 percent in February, while food inflation rose to 4.94 percent. Prices of vegetables fell by 4.83 per cent. Pulses became dearer by 13.25 per cent. The price of eggs has gone up by 10.60 per cent. Oil and fat prices rose 24.92 percent. Fish and meat prices rose by 15.09 per cent. Inflation in Tamil Nadu has risen to 7.70 per cent.
Industrial growth in January:
According to the Index of Industrial Production released by the Ministry of Statistics, the production in primary sectors declined by 3.6 percent. Production in the mining sector declined by 5.5 percent. Production in the manufacturing sector fell by 3.7 percent. Electricity generation increased by 0.1 percent.
In the use-based classification, Production of primary goods declined by 5.1 per cent. Production of capital goods decreased by 4.2 per cent. production of non-durable consumer goods declined by 3.8 per cent. Production of infrastructure goods declined by 4.7 per cent and production of intermediate goods also declined by 5.6 per cent. Production of durable goods increased by 6.3 percent.
Industrial growth in March:
The combined output index of eight key industries released by India's Department of Industry and internal Trade promotion rose to 6.8 per cent in March. There was a sharp decline in industrial production in last March because of the general lockdown to control the corona pandemic, Due to low base, This 6.8 per cent increase does not indicate real growth. Coal production is declined by 21.9 percent compared to March last year. Crude oil production fell by 3.1 percent, petroleum refined products fell by 0.7 percent and fertilizer production declined by 5 percent. Natural gas production increased by 12.3 per cent, steel production increased by 23 per cent, cement production showed an increase of 32.53 per cent and electricity generation increased by 21.6 per cent.
Globally there is a huge disparity in the availability of corona vaccine among the countries. According to the World Health Organization, only 0.3 percent of people in the low-income countries are vaccinated against corona. Developed countries appropriated almost 82 percent of corona vaccines and were responsible for not making it available to everyone worldwide.
The G20 members have approved an allocation of $650 billion special drawing rights to help poor countries fight the economic fallout. But as most of the allocated special drawing rights go to the developed countries, the poorer countries will not benefit unless SDRs are reallocated to them.
It is because of the capitalist dictatorship all over the world, the pandemic has exacerbated socio-economic inequalities among countries worldwide and socio-economic inequalities within countries. The Corona virus is being used as a weapon of state repression to exacerbate capitalist inequalities. Because the 'justice' of capitalism is such that, there is nothing wrong and is perfectly ok to sacrifice the lives of millions of people to protect the patents and profits of monopolies.
- Samantha K.S.
---
You can send your articles to This email address is being protected from spambots. You need JavaScript enabled to view it.
---