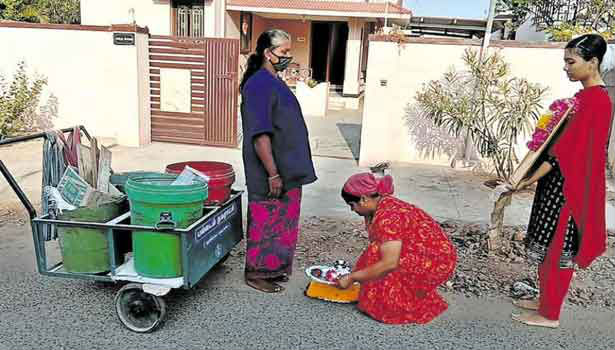 Not only during the times of natural calamity and crisis but also in day-to-day life, we cannot deny the truth that scavengers are bearing dirt in their body and clothes in order to keep our country and home clean.
At present, the Corona virus, which affected globally, has left India with fear. That too in Tamilnadu it started to show its awfulness. It has prevailed the social justice by affecting people of all caste, religion, rich and the poor without any discrimination.
In this scenario, people are honoring scavengers with garlands for their service. But respecting them in the course of emergency situations and pandemic and ostracizing them as untouchables in normal times is what happening in a series. We will see the condition of scavengers in this circumstance.
Medical council's warning:
Intake of Tobacco products like Gutka, Pan Masala, Pan will increase the secretion of saliva. Few, who consume Tobacco, tend to spit on public places. Indian Council of Medical Research [ICMR] has announced that this would increase the possibility of transmission of the virus.
Those who chew and spit Tobacco think that they are not affected by Corona. But this would increase the chance of transmission of the virus from infected to non-infected people. Doctors have warned that these people serve as carriers of the virus who are susceptible to transmit the virus to their family members. [Dinakaran, April 06th, 2020]
People who consume tobacco and spit on public places pose a potential threat to scavengers who work there. This may infect their family members too. Why doesn't the government ban the sale of tobacco products? Perhaps it may affect the revenue of the government if it bans.
Those who are at the risk of infection:
Many lack clarities about why scavengers are prone to be affected easily. For this, this news will be an example. Mathichiyam, aged 35 who was a scavenger in Madurai government hospital, was recently transferred to Corona ward. He used to dispose PPE kits [personal protective equipment] of doctors and nurses. Following this, he suffered from fever and throat infection and was admitted in Corona ward tested positive.
Awareness about Corona:
Scavengers' working without the awareness of Corona virus is a misery. It's predominant that government should have inculcated awareness about the impact, preventive measures and safety precautions of the pandemic to all frontline workers.
In Pondicherry, a scavenger who was assigned to disinfect and sanitize for preventing the spread of the virus was seen with neem leaves in her head. When asked about it, she said "nowadays diseases are spreading country to country, city to city and town to town. This kuruma is spreading even in Pondicherry it seems so I am keeping neem leaves on my head and going to work with the faith in God" when asked again and again about the name of the virus, she repeatedly says its 'kuruma' disease. This ignorant video of this lady was viral in social media. [Dinakaran, April 18th, 2020]
Clear instructions should be advocated as per their level of understanding to people who are assigned to do the preventive measures for any newly spreading disease. Only then they will try to work with caution to protect themselves and society.
Geared to work without safety gears:
Preventive measures for Corona are being taken in all corporations, municipalities, town panchayats and village panchayats all over Tamilnadu. The role of sanitation workers in preventing the spread of pandemic is angelic. But why government and government officers are showing indifference in providing safety aids to these angelic workers is not yet known.
In Virudhunagar district, Rajapalayam municipality, scavengers have worked without any basic safety aids. Those who clean drainage in various parts of the town has disposed the waste without wearing any gloves and masks. Officers have insisted them to these works. [Dinakaran, March 27th, 2020]
In Thanjavur district, Peravurani town panchayat, scavengers have carried out their routine works without any protective equipment. Later, masks and gloves were provided to scavengers as social activists requested Peravurani Thasildhar in social media to provide them with safety aids. [Vannakam India, April 11th, 2020]
Scavengers are working without any protective gears despite the rapid spread of Corona. Protective equipments like sanitizers, masks, slippers, and gloves were not given in adequate amount. Because of this, there is no difference in opinion that sanitation workers are more vulnerable to contracting COVID-19 than others.
Medical camp:
As the government has announced to set up a medical camp for scavengers as a precautionary measure against Corona virus, camps were set up in some places for namesake.
Even though the news about the medical camp has found its place in the columns of newspaper, proper checkup has not done to them. Many of them were sent out just by screening their body temperature using thermometer guns against their forehead. Truly scavengers should be protected from the risk of pandemic and more focus to be given on social distancing, medical advices and proper testing as it is the need of the hour.
Honor without honesty is vain:
People belonging to various groups are praising the service of scavengers all over the country. Society has not given any respect they deserve but now it's creating an illusion like praising their work to the skies.
People in Mannarkudi praised scavengers in the panchayat by offering garlands and showcasing their respect by sprinkling flowers and congratulated them that they should live hale and healthy throughout their life. [Vanakkam India, April 13th, 2020]
President of Periyamapatti panchayat near Palani applauded the scavengers by offering garlands and diadem (Parivattam) which gratified the people. [Dinakaran, April 22nd, 2020]
Many incidents would have happened around the country like above mentioned. Everybody's attention has turned towards scavengers like no other time. Are we going to have the same mentality which would honour them in the times of calamity and disregard them even as equal beings during normal days? And Medias without criticisms, telecasting these events as of honour is a shame. Since ages, they are being deceived as if they were born to clean latrines and debris. Isn't this an act of betraying them to make them stay in their jobs by eulogizing their struggle for existence?
Why are the reverences so unreal?
In general, scavengers are being worshipped more than doctors, nurses and police in the time of Corona. Sanitation workers were awarded GUARD OF HONOUR (military in nature) by Tamilnadu police has left us agape. This award is usually given to high commissioners of state, prime ministers and chief ministers.
On behalf of Nellai police corporation, police performed parades to honour sanitation workers. [Dinakaran, April 10th, 2020]
In Virudhunahar district, to reward the service of scavengers, a banquet was arranged by district police in the office of Sattur deputy superintendent of police on April 13th. Scavengers are being worshipped on one side, but on the other side, they are being attacked by police officers. Isn't this ironic?
In Arakonnam, Sekar, a scavenger was lathi-charged by police without any inquiry when he was walking in Suvalpettai road. On knowing this, all the scavengers started a protest blocking the roads. Immediately the municipal officer and the police fled to the spot to negotiate and they departed after asking the municipal commissioner to avoid such problems in the future. [Dinakaran, April 10th, 2020] and the police didn't even express their regret.
Most of the time, the reality is scavengers are not given respect irrespective of their age, and they are not treated fair by fellow government servants. Conceiving them as untouchables, disdaining them is still continuing. But today, in order to escape from deadly Corona, we deliberately plan to motivate the scavengers.
If really police department wanted reward scavengers like now many of them have lost their lives in underground drainages. How many organizations would have struggled to file a proper FIR? May humanity prevail in police officers at least from now on. Paramounting this, will government and police department come forward to honour the scavengers who died during their service like they are performing now? Let people with conscience speak.
As equal to God, can be a God:
Central governments and state governments have never valued and treated scavengers as humans. Because they uphold the laws of Manu and sing paeans to the frameworks of castes. Prime minister on his trip to Prayagraj after having bathed in the holy Ganga in Kumbh Mela chose five sanitation workers who cleaned the Kumbh Mela and paid his homage by washing their feet. This incident happened in last February. This was extensively telecasted in all Indian media. This can be found as an example for people who tend to wash the feet of scavengers to pay their homage to them.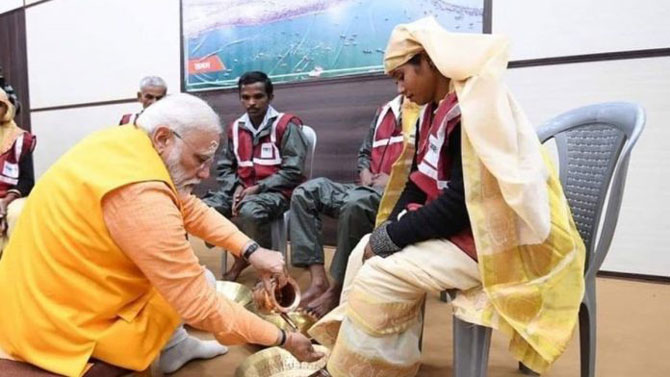 Tamilnadu revenue minister, Udhayakumar who participated in the distribution of welfare policies to 750 sanitation workers in Thirumangalam, Madurai told that scavengers are equal to God and worshipped them by falling on their feet as they are the ones who work for the welfare of all other people in spite of risking their lives. [Dinakaran, April 18th, 2020]
In Virudhunahar district, Kooraikundu panchayat president Selvi exhibited her reverence to scavengers by offering them garlands and washing their feet. [ Vanakkam India, April 23rd, 2020]
Its irony that Individuals who feel that scavenging is sanctity are not coming forward to do that work. May be they would have already employed. They cannot step down of their job suddenly right! At least their children should try to join in this job. For this, you have to start preparing from now and tell about the greatness of this job to the people in the home. Start now, else you may change your mind.
Same vehicle for waste and who collects waste:
To carry on with a few essential services, the government had given some relaxations in Corona lockdown and arranged bus facility for the government officers in morning and evening. At the same time, scavengers have worked even when there is no relaxation at all. Aren't they government servants? Why were the proper bus facilities not arranged for them?
In Chennai, T.Naagar Pandibazaar corporation scavengers were crowded together in the garbage truck without any social distancing and incomplete masks. [Dinakaran, April 13th, 2020] Like this, in Madurai Corporation, scavengers were taken in a freight vehicle without social distancing by corporation management. [Dinakaran, April 14th, 2020]
This is the attitude that isn't garbage truck enough for those who collect garbages? Don't people whose senses were raised by garbage mounds envisage this?
Why don't the works can be changed to cycle method?
The government issued an order with some relaxations that 50% of employees can work in cycle methods in government sectors. But scavengers are made to work with additional workloads without holidays and relaxation. Why is this discrimination?
In the crisis time of Corona, we do not even have the heart to alter their jobs, and they are yearning to work in shift basis at least. There is no holiday for many scavengers after the arrival of Corona. They are working day and night and on Sundays too.
Scavengers are in the worst situation that they are not even allowed to take lunch breaks; instead, they are harnessed by giving meals. This is the witness for how government rules the scavengers and exploits them more than corporate institutions. This picturizes the old technique of slavery, where food was provided instead of appropriate remuneration.
Soliciting salary hike:
In Tamilnadu, scavengers are working in 15 corporations, 121 municipalities, 528 town panchayats and 12,525 village panchayats. Apart from this, thousands of workers are doing scavenging. Scavengers who work under private companies on contract basis are also included in this other than those who are appointed by the department of local government. They are categorized into permanent workers, package pay workers, contract workers and daily wager. All of them are not paid equitably except permanent workers. Either they are exploited, or they work for a fewer wage.
In Dindigul district, Nilakottai town panchayat scavengers appointed through self-help groups in 15 wards protested in front of panchayat office asking hike in their salary. Officers came to know about this, negotiated with them and said that the current salary would be given without any prohibition of stay as salary hike can be implemented only with the approval of district collector. Scavengers agreed to this and returned back to their works. [Vanakkam India, April 10th, 2020]
In Kanyakumari district, Kulachal municipality, around 30 scavengers are working on contract basis. They started in house agitation in municipality office on account of fewer wages, more working hours and lack of enough protective gears. They were not allowed to protest even for a day and were arrested. Two were suspended as they triggered this protest.
Caste dominant conviction:
Though several people adored the work of scavengers as people were startled by Corona, undesirable incidents are still happening hither and thither. In spite of doing padha poojas to scavengers, some people are not considering them as equal beings because of their strong adherence to caste systems. I will register a behavior of an elderly man whose words were inhumane.
"we constructed house investing crores of money. You are earning because of us. You are disposing latrines because we have built. You are living from the earnings of disposing faeces. How will you eat without our offering? You are going to see yourself lodged." Who gave him the authority to speak with such arrogance? This was spoken by that elderly man to a scavenger who went to remove the latrines from a septic tank in his house. He might be a Brahmin. He wore sacred thread too.
He is talking as if he was proud of someone earning and able to feed himself because of cleaning his latrine. A person whose nerves and sinews drenched with Manu dharma can alone speak like this.
Why does the society who tried to applaud scavengers by sprinkling flowers and who initiated this didn't come forward to condemn this disgusting activity? Some organizations' and institutions who work for scavengers alone condemned and nuanced this. Only after this, necessary actions were taken. Because people who celebrate scavengers are those who have a dominant mentality and who endorse that mentality!
Succeeding deaths in the septic tank:
There is no need to explain the toxicity of waste in this circumstance. In this situation, scavengers are doing their job without any protective gears because they are being conceived as cattle's and creep. Even though technology has improved, it couldn't cease the act of cleaning of underground drainage systems.
In Patna, a scavenger got down and fetched the sewer in the sewage and handled it to his coworker who was disposing it outside the sewage. [Dinakaran, April 24th, 2020] This news was published with the picture. Like this, on July 04th, Thoothukudi district, in Sekkarakudi, four scavengers Raja, Bala, Dhinesh, Pandi were died because of the attack of poisonous gases while cleaning the septic tank.
In 2013, the central government banned manual scavenging. Rehabilitation act 2013, which prohibited humans from getting into septic tanks, and this act gave several directions. But it couldn't prevent deaths happening like this. Because the law is being inactive. Accused must be punished as per the law only then these types of deaths can be avoided in future. When deaths like this happen, many people have the mentality to make their way across it with disgust. Those who raise their slogans for other deaths fail to rise for these kinds of deaths. This attitude should be changed.
Discrimination of deaths in service:
Of all government jobs, scavenging is the dangerous one and easily prone to infection. The government should have arranged first aids and emergency helplines for this kind of jobs. But subtleness lies in who will do that task.
On May 07th, Balan, a scavenger, who belongs to Nerunjipettai, Bhavani Ammapettai, Erode district, was died of chest pain while he was in the service. His body was taken to his home in a garbage truck. What can be said for these inhumane activities of government?
Those scavengers who die in their service of prevention of Corona are entitled to a military funeral. At the same time, demands like compensation of fifty lakhs should be put forth. These requests were put forth, but the government doesn't seem to pay attention. It keeps on neglecting it.
Attacks extending in service:
Even in this state of celebrating scavengers like a god, hundreds of scavengers are being attacked in some corners of the country. In the month of May, a scavenger was attacked for asking water while working in Thenkaasi district, near Rayagiri. Separate offices will be there for other government servants with all facilities like availability of drinking water, restroom and toilets. But sites and streets are the working environments of scavengers. They are cleaning the wastes of people who live in that street and what is wrong in asking water to them? Scavengers were cruelly attacked because of this.
A female scavenger was attacked by a man in Sholinganallur as she didn't come to collect wastes the previous day. He tared her clothes and pushed her in sewage. What can be said about this ill attitude which wants others to come and clean their own wastes?
Wasn't it the caste dominance which made him to do such act without even considering that she was a woman? Isn't the social animosity of not considering humans as equal beings triggered this act?
The grievous affliction of scavengers:
In order to protect themselves from Corona, cleanliness is the only word uttered by the countries worldwide. Scavengers are those who give life to this word. All types of wastes like an individual waste, road gutters, biomedical wastes, home wastes, and office wastes are disposed only by scavengers. But they are being exploited without even providing them with permanent employment opportunities.
If people want to respect scavenging, Scavengers should be valued and regarded with what they deserve and ought to be considered like all other departments of government. Scavenging should be seen with dignity if the government scrapped the private contractors and reforms to administer directly. The government should put forward this to bring a change.
Becoming God only in times of natural calamity:
Only scavengers know how difficult it is to clear all in the wastes in the times of natural calamity. They worked without considering danger in the cyclone-hit areas when Gaja cyclone was hit on November 2018. Before this, they dedicated themselves during Chennai floods and in the times of tsunami.
Because of Corona, where the whole world is in a panic until this minute, scavengers are going to their jobs every day, heroically like military officers. Despite of their heavy tasks in emergency situations, they are carrying out their work in the sense of duty to serve people. Treating them with respect and equality and paying what they deserve or equal pay as given to other government servants is what they expect.
In fact, scavengers should be paid equal to doctors as they also involve in preventive measures taken during this pandemic. This would be the right approach against prejudice. If this happens everybody will be equal, won't all the classes of people would seek employment? Then what will happen to the doctrines of Manu Dharma? They might have anticipated this thought.
Politics behind renaming:
Recently, Chief Minister Edapaadi Paneerselvam has issued an order that scavengers should be addressed as sanitation workers hereafter. Scavengers are not even treated as humans among the government servants. They are not valued in public places too. What changes would be brought forth in renaming without trying to change this entire scenario? This renaming has created an illusion like keeping ice boxes on the head of scavengers. Is there any gain availed by scavengers because of this name changing ceremony?
During the pandemic, Scavengers work risking their lives. The government can monitor whether they are being provided with protective gears if provided, does it reach them properly.
Vehicles can be arranged to reach their workspace in order to protect them. A medical checkup can be done with social distancing for those who are in the vulnerability of contracting virus. Reforms like more wages, ensuring protective and healthy workspace or changing their job to shift basis can be done.
Dalits are cornered by giving them entire reservation for scavenging. It resulted as if scavenging is meant only for Dalits. This should be reformed by giving reservation to all class of people that everybody should participate in scavenging. Is it fair to call them sanitation worker instead of scavenger by chief minister without undertaking any of these? This name changing is disgusting. It didn't bring any change, and the only current situation is prevailing.
This changing of the name will further suppress them in shame instead of bringing a social change. The doctrines of Manu Dharma are chortling coherently in the politics behind changing of names by the leaders.
Written by M. Tamilselvan
Translated by Maruvarthini. P