The horrendous custodial murder of father and son, Mr. Jayaraj (59) and Mr. Immanuel Bennicks (31), residents of Sathankulam town panchayat in Thoothukudi district, has shocked the entire state of Tamil Nadu at the brutality of the torture and the impunity with which the police higher ups are trying to cover up the murder. The government is trying to play its usual blame game in defense. What has caused tremendous public anger and revulsion is the reluctance of the State Government and the police hierarchy from prosecuting the guilty policemen, named by the victim's wife/ mother and other eye witnesses despite the uncovering of factual information indicating brutal torture of the father and son, including pushing in a lathi into the rectum of Bennicks causing severe internal damage to vital organs.
In view of the serious nature of this custodial crime, PUCL Thoothukudi unit decided to enquire into the issue. The information gathered by PUCL team, very clearly establishes that the death of the two persons is a result of brutal torture inflicted on them during the Police custody on 19-20th June 2020 and that the police story put forth that they died of natural causes has no shred of truth in it. PUCL strongly condemns this extremely horrific, inhuman and barbarous act of Sathankulam police officials.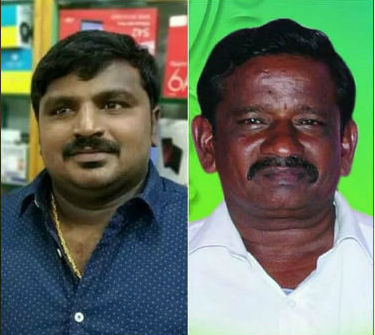 PUCL Team
On 26.06.2020, PUCL Team comprising of Ms. Fatimababu, PUCL Thoothukudi District Secretary, Mr. Thangaiah, Mr. Prince Cardoza, and Mr. Rajabose Reagan, all members of PUCL Thoothukudi unit visited the affected family to collect first-hand information on events that led to the tragic death of two membersof the same family in police custody. The PUCL team met Ms. Selvarani, wife of Jayaraj, two of her daughters and two of her sons-in-law of the family along with a few close relatives and also neighbours.
The background of Bennicks & Jayaraj
Bennicks had completed his M.B.A. in Tiruchendur and MSW (Master of Social Work) in Pollachi. He initially took up a job in a Tiruppur Company but soon realised that he had to do things that challenged his conscience. When Government officials came on inspections, he saw the staff and the company hurriedly hiding child labourers from the prying eyes of the Inspection Team. He therefore quit his job as it went against his principles. Subsequently, he took up a business venture along with his father, Jayaraj. They were running a small business concern named ABJ Mobiles in Sathankulam. Jayaraj was also running a timber shop. It seems that Bennicks was a regular blood-donor. He was particularly interested in helping people with medical needs. These matters were shared with the PUCL team by his sisters and relatives.
Charges against the father-son
Jayaraj and Bennicks were arrested on the 19th June evening by the Sathankulam police on atrivial charge of defying Corona regulations to shut shop by the stipulated time of 8 pm. The FIR No. 312/2020, Sattankulam PS registered against them and for which they were arrested indicates that they were charged for committing offences u/s 188 (Disobedience to order duly promulgated by public servant), 269 (Negligent act likely to spread infection of disease dangerous to life), 294(b) (Obscene act in public place), 353 (Assault or criminal force to deter public servant from discharge of his duty), and 506(ii) (Punishment for criminal intimidation) of IPC. The punishment for these sections, if proven, ranges from 1 month to 7 years with or without fine. It is important to point out that the Complainant in the FIR is himself a policeman who states that the incident took place at 9.15 pm on 19.6.2020, and that when the police patrol team asked the father and son to shut the shop as the regulations required them to shut the shop at 8 pm, they shouted at the police and rolled on the ground which caused them some injuries.
Turn of events which led to tragic custodial murders
The version of the incident as narrated by the family members and people in the neighbourhood is different. A number of people, including an advocate, had gone to the police station on 19th night itself, to request that the police free Jayaraj and Bennicks. Their version is that through the late hours of the night of 19th – 20th June, 2020, they could hear screams of shouting in pain of the father and son. Their entreaties to release the two were in vain.
The reconstruction of events based on the people the team met is as follows:
1. On 18th June, the Sathankulam police came on their regular night rounds announcing that merchants were supposed to close their shops by the stipulated time of 8 pm.
2. The next day, on 19th June, policemen came at around 7.30 pm. and asked Jayaraj to go along with them to the Police Station for questioning. Since the police station was within walking distance from the shop, he said he would reach there on foot. But the police forced him to go with them in their jeep.
3. When his son, Bennicks heard of the occurrence, he informed one of his sisters on his mobile and rushed to the police station.
4. On reaching the place, he was shocked to discover his father being treated very disrespectfully by the police and being manhandled.
5. Seeing his father being treated rudely and violently, Bennicks became upset and questioned the police on their unacceptable violent actions and tried to stop the police from beating his father.
6. When he attempted to stop them from assaulting his father Jayaraj, the inspector of Sathankulam Police Station, Mr. Sridhar got wild and yelled at his subordinates to beat him up as well.
7. While the inspector supervised, the two sub inspectors, Mr. Raghu Ganesh and Mr. Balakrishnan along with 4 members of the Friends of Police made a wild attack on the two gentlemen.
8. The two victims screamed in pain as the team thrashed Bennicks. The father, who couldn't bear to see his son being beaten thus, raised his objection and asked them to stop beating his son. This only infuriated the police officials who started beating the father once again. Both of them were pinned to the wall, facing the wall and the violent lathi beating continued. PUCL team is told by the friends and relatives of Bennicks that for quite a distance from the police station, many people could hear the hapless victims screaming in extreme pain.
9. The victims were then moved to the first floor of the police station, probably because of the presence of CCTV cameras in the ground floor. The beating continued. The inspector is supposed to have said, "I can't hear their screams ... beat them harder."
All through, the attack was savage and brutal. It appears that the police personnel inserted the lathi into Bennicks's anus and violently turned it causing serious internal damage to vital organs. Bennicks suffered heavy loss of blood. The mother, Selvarani spoke with anguish of how she kept on sending change of lungis to the police station. Bennicks's sister spoke about how her brother had heavy growth of hair on his chest and they had plucked out much of it.
10. Selvarani's brother Jayasingh and other friends of Bennicks arrived at the police station some time later and could hear the screams of the father and son. When the closed doors of the station were opened, the uncle was a witness to the outcome of all this brutal attack and at one point he literally fell at the feet of the inspector pleading for release of Jayaraj and Bennicks. He has told the police officers "For whatever they did, you have beaten them.. at least now, please hand them over to us. We will take them to the hospital for medical treatment". But the police did not relent.
11. They were taken to Sathankulam Government Hospital around 7.30 am on 20th June. On a confidential note and on promise of anonymity, a person from the neighbourhood told the PUCL team that the duty doctor at Sathankulam G.H, was initially reluctant to give fitness certificate as demanded by the Police. She also reported some bruises on the backs of the victims. But after some time, she gave the fitness certificate, as a superior medical officer asked her over phone to give report as expected by the police and give her signature.
12. At about 2.30 pm on 20.06.2020 Jayaraj and Bennicks were produced before the Sathankulam Judicial Magistrate Mr. D. Saravanan. The family members and friends informed the PUCL team that three policemen took position around the victim to obstruct the view of the Magistrate. The JM remained at a distance and did not ask the two of them to be brought closer. Nor did he enquire if they had complaints. The JM also did not ask the police why they were remanding these two persons for a trivial incident especially when the SC and HC had said that unless serious offences were involved, arrest was not required. In a very perfunctory and mechanical manner the JM remanded the two of them to Judicial Custody in Kovilpatti, 110 km away, as requested by the police.
13. Thereafter the victims were taken to Kovilpatti sub-jail, about 110 km away from Sathankulam. There seemed to be no rationale for this move as there were a few other sub jails much closer than Kovilpatti. It should be pointed out here that to travel from Sathankulam to Kovilpatti, the vehicle has to pass by Tirunelveli where a Central Prison is located. Thoothukudi which is closer than Kovilpatti also has a GH and a big prison.
14. In the Kovilpatti Sub-jail, the jail officials also were equally unbothered by the visibly injured condition of the victims. Instead of deciding to take them to the prison hospital, which would have been the right thing to do, they simply admitted them late in the afternoon/evening of 20th June, 2020.
15. On Monday, the 22nd June,at around 7.35 pm Bennicks complained of difficulty to breathe. The Sub - Jail Superintendent, Mr. Shankar, directed that Bennicks be taken to the Kovilpatti G.H. About 9 pm, Bennicks died. The prison Superintendent filed a case (FIR no. 649/2020) u/s 176 (1)(A)(i) (Inquiry by Magistrate into cause of death) of CrPC, in Kovilpatti East police station.
16. On the same day at about 10.20 pm, Jayaraj's condition deteriorated and he was moved to Kovilpatti G.H. On the 23rd morning at around 5.40 am Jayaraj also died. The prison Superintendent Shankar filed a complaint (FIR no. 650/2020 u/s 176 (1)(A)(i) (Inquiry by Magistrate into cause of death) of CrPC, in Kovilpatti East police station.
Motives attributed to the ghastly murders
1. One of the police officers of Sathankulam Police Station had tried to obtain mobiles for free from Bennicks, sometime before 19th June. But on his father's advice Bennicks refused to comply. The PUCL team was told that this created unpleasantness and animosity between the police officers and Bennicks. (This piece of information was also shared publicly by a merchant whose shop was close to ABJ Mobiles. But Bennicks's sisters denied knowledge of the incident.). The veracity of this claim needs to be verified.
2. On the 18th June, when the police went on their rounds giving their regular lock-down instructions, a group of merchants were said to be standing together, and someone was supposed to have used a swear-word and also said "why do they have to make this announcement near our shops, when everybody is keeping shops open?"
It appears that this comment was reported to the police station by someone as having been uttered by Jayaraj. This is said to have worsened the unpleasantness between the police and Bennicks and his father Jayaraj.
Statement from CM
PUCL would like to record its great disappointment in reading the one sided statement dated 24.06.2020, issued by Chief Minister of Tamil Nadu on Sathankulam issue. CM didn't even remotely indicate that it was alleged to be a custodial death resulting out of torture inflicted on the father and son. Such a statement absolving the role of the police only create more mistrust among the people of Tamil Nadu that the government is trying to cover up the issue in favour of the police. The CM should understand that he is primarily a public representative and offer of compensation and government job to a family member alone will not meet the ends of justice and will not also do justice to his duty as a public representative. What is required is prosecution of all concerned police officials and other officials, and their eventual conviction through speedy trial.
Rules flouted during arrest and remand
1. In D.K. Basu v. West Bengal State, Supreme Court formulated 11 point guidelines for arrest. The preliminary information available indicates that many of these guidelines were not followed, including a family member of the arrestees, signing as a witness in the arrest memorandum.
2. After 2009 amendment to CrPC, according to section 41 (When police may arrest without warrant), arrest for offences which are punishable with imprisonment upto 7 years, can be made in only exceptional circumstances. It was made clear when Supreme Court dealt with Arnesh Kumar Vs State of Bihar AIR 2014 SC 2756 case.
This was also communicated to all States & UTs by Ministry of Home Affairs in July 2014. The magistrate has to ensure that the procedure of arrest u/s 41B of CrPC is strictly followed when he/she passes remand orders.
3. In Manubhai Ratilal Patel Tr. Ushaben Vs. State of Gujarat and Others, AIR 2013 SC 313 case, Supreme Court said that the magistrate should also satisfy himself/ herself whether the materials placed before him/ her justify such a remand. It is obligatory on the part of the Magistrate to apply his/her mind and not to pass an order of remand automatically or in a mechanical manner.
4. In Suo Motu Writ Petition (civil) No.1/2020, on 23rd Mar. 2020, in the wake of COVID pandemic, the Supreme court suggested that State/Union Territory could consider the release of prisoners who have been convicted or are undertrial prisoners for offences for which prescribed punishment is up to 7 years or less, with or without fine and the prisoner has been convicted for a lesser number of years than the maximum.
5. Section 6 (1) of 'The criminal rules of practice, 2019' of Tamil Nadu mandates that at the time of remand, the Judge/ Magistrate shall see if there is any injury on the person of the accused. Any such injury shall be recorded in the remand order and the remand warrant as well.
6. But, it seems none of these rules were followed by Sathankulam Police and Judicial Magistrate. The magistrate passed remand order mechanically, without looking into the case in detail, criminal background of the accused and without physically examining both Jayaraj and Bennicks. He also let the father and son to be sent to jail even in this time of COVID pandemic.
Medical Examination
According to the information received by PUCL team, the doctor at Sathankulam G.H, was initially not willing to sign the fitness certificate. But it seems only on the insistence of Police and the oral order from her superior, she signed the certificate.
It is reported in the Press that the medical officer of Kovilpatti G.H who examined the father-son, noted that there were multiple marks present in the gluteal region for both Jayaraj & Bennicks, and also referred to right knee contusion for Bennicks. But, the veracity of these claims needs to be verified.
Admission to Kovilpatti subjail
In a letter (D.O. No.4/7/2010 - PRP&P) dated 17th May 2010, sent to all states and UTs, NHRC mandated that thorough medical examination should be conducted of all the prisoners at the time of their admission in jail. It seems that this was not followed by Kovilpatti prison authorities.
Demands
While taking note of Madurai Bench of Madras High Court taking Suo Motu cognizance (Suo Motu W.P (MD) No. 7042 of 2020) of the matter and ordering Judicial Magistrate No.1 Kovilpatti to investigate into the custodial deaths, PUCL demands the following:
1. It is reported in the Press that the GoTN has decided to transfer the investigation to CBI. But, many cases transferred to CBI didn't see the light of day. Also CBI has to depend on the local police for investigation. Hence, PUCL demands for a High Court monitored Special Investigation Team (SIT) headed by an IPS official known for his/her integrity and competence.
2. Sathankulam Judicial Magistrate Mr. D. Saravanan should be suspended immediately and appropriate departmental and legal action to be taken against him for abdication of judicial responsibilities as is required of a remanding magistrate.
3. The charges in the two FIRs in respect of the death of Bennicks and Jayaraj, Cr. No. 649 and 650 of 2020, on the file of the Kovilpatti East Police Station should be modified or altered from suspicious death u/s 174 CrPC to include offence u/s 302 IPC and other related offences, including conspiracy charges u/s 120-B IPC, and include all the policemen who were involved and others whose role emerges during investigation.
4. Apart from departmental action, criminal prosecution should also be considered to be launched against the Thoothukudi District Superintendent of Police Mr. Arun Balagopal for intentionally giving false information by declaring that the 2 persons had died due to other health issues, as reported by media, thereby interfering with criminal justice system. As the SP, he bears not just a moral responsibility for the custodial murders, but also supervisory responsibility to ensure fair and impartial investigation is conducted into the custodial murders. The SP's actions amount to absolving the subordinate police officials of legal responsibility for causing the murders.
5. Consequent to the alteration of charges in the FIR to include murder and related charges, the accused policemen should be immediately arrested and remanded to custody. This is crucial so that the guilty – accused policemen do not tamper with evidence (including crucial documents like medical reports, which establish their criminal acts), or intimidate witnesses.
6. The amended charges in the FIRs should include the then Sathankulam Inspector Sridhar, SIs Raghu Ganesh, Balakrishnan and other police officials present in Sathankulam police station, Friends of Police who also beat the father and son, Medical officer at Sathankulam G.H, the superior medical officer who supposedly instructed the Medical Officer to give a false fitness certificate, Superintendent of Kovilpatti Sub-prison and other concerned officials, under sections 302, 120-B and other relevant sections of IPC and CrPC.
7. Additional information has come out in the public domain that the same police officers have been implicated in a number of other cases alleging custodial torture and death. The antecedents of these police officers should be placed under the scanner and along with this double murder, stringent action and award of punishment should be ensured for all their past crimes of commission and omission.
8. CCTV footages at Sathankulam police station, Sathankulam G.H, and Kovilpatti subjail should be preserved immediately as there is a possibility of tampering with the footages. PUCL takes this occasion to also demand that the GoTN ensure installing CCTVs in all Police stations across Tamil Nadu to monitor the entrance area and all parts of station premises.
9. PUCL is concerned about the undue delay in preparation of Post Mortem reports of Jayaraj and Bennicks. These reports should be given to Ms. Selvarani and made available in public domain as this is a very sensitive and important case of our times.
10. Police reforms:
There are numerous committee reports on police reforms. We would like to emphasise on the recommendation to delink investigation agency from law and order agency and appointment and training of professional investigating officials who respect law and human rights.
With the current scheme of things, Police is accountable only to themselves and their political masters. There should be independent complaints authority at state and district level to inquire into cases of police misconduct. This was stressed in one way or the other by Second Administrative Reforms Commission, Supreme Court (In Prakash Singh Vs Union of India case) and Model Police Act, 2006. Govt. of Tamil Nadu should review the progress in this regard and take necessary actions. It is to be noted that the neighbouring states like Kerala and Puducherry have functional Police Complaints Authorities.
Also in general, when selection for the police force is being carried out, it is important to assess whether the applicants are emotionally and mentally stable and capable of handling situations with maturity. They must be given special training along these lines. Also, continuous trainings on human rights and behavioural change to be given throughout their carrier.
The police force is under severe mental stress due to work pressure and their work culture. Periodical psychological counselling and fixed working hours are needs of the hour.
11. The whole concept of Friends of Police (though initially it worked well) should be overhauled, as it gives the members an undue sense of importance. They very often end up as police informers, extorting money by threatening people in trouble. We need to create a FoP consisting of concerned citizens at every district, including women leader, transgender, leaders from dalit and minority communities, social worker, human rights activist, journalist, trade unionist and representative of farmer organizations to take part in consultation with the Police officials on reaching out to people and maintain law and order.
12. Thoothukudi context
More power to police might imply many things to a developing city like Thoothukudi, where it might become a dire necessity for any government to keep the local population under the police thumb to enable corporate criminals tohave their way and deprive the masses of all their civil rights. Police Acts should be put in place to ensure that the police personnel should first maintain law and order by not disrupting the peace of the people. The police personnel should be instructed to hold their limits and not to assume the powers of the courts.
Thoothukudi's anti-sterlite struggle of two and half decades, particularly the uprising of 2018cannot and should not be easily forgotten. The activists are still being haunted and hounded by Police in various forms. They are still being summoned and interrogated. Who knows whose turn it is going to be next? Hence, Govt. of Tamil Nadu should withdraw all false cases foisted against activists and common people who vehemently opposed Strelite Copper and create a peaceful atmosphere for the public.
The people of Thoothukudi are yet to see the light of justice two years afterthe cold-blooded massacre of 16 innocent lives in the wake of anti-Sterlite protests. Govt. of Tamil Nadu should appoint an exclusive committee consisting of renowned Human Rights activists and lawyers apart from a retired judge to internally review the progress and recommend actions to be taken, so that the culprits get due punishment.
13. Govt. of India should ratify and incorporate provisions of United Nations Convention Against Torture (UNCAT) in Indian laws in letter and spirit which is long pending demand of human rights activists.
As American writer Lois McMaster Bujold once said,"The dead cannot cry out for justice. It is a duty of the living to do so for them", PUCL appeals to all human rights organizations, civil society groups and concerned citizens to come together to fight against this barbarous police excess till justice is served and the culprits are punished, and in the long run the Police administration is reformed.
- Gana. Kurinji, State President, & Saravanan K, State Gen. Secretary, People's Union For Civil Liberties (PUCL) Tamil Nadu & Puducherry