Media celebrate his landslide victory; his image which has achieved a majority in the electoral battle keeps on hovering over the nation as a shadow. Media have constructed brick by brick a hyperbolic portrait of the whole nation going into an ecstatic spin over what is touted as his unparalleled 'coup'.
Social media sites such as Twitter, Facebook are day in, day out buzzing with bouquets and brickbats for him.
This is what Narendra Damodhar Modi puts forward as the new political ambience, nay, new political thought. Be it support or opposition, all talks, all conversations, all blogs and all tweets should revolve around Modi (just like all roads lead to Rome); this is the psychological outlook set in motion well before the Parliamentary elections. This is an unmatched modern-day political philosophy evolved by Modi and chanted as a mantra by the BJP.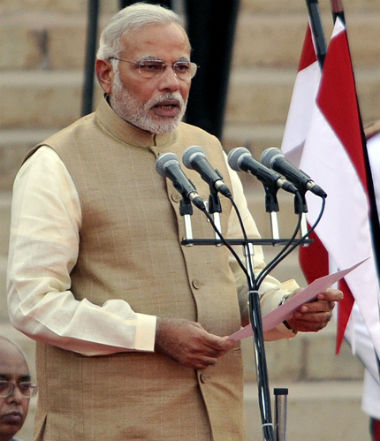 Support, opposition, humiliation, respect, parody, divergent opinions and wits….in all forms, Modi's name must keep on ringing all over media and social media networks and thereby, the psyche of the man in the street must be engraved with Modi's image. No matter, in whatever form, the image gets imprinted in the minds of the citizens; that form can be changed to our advantage.
This is the vision that has emerged with lots of confidence and bullishness.
Media and social media have given an impetus to Modiism and converted it into a concretised action.
Now the country is drinking with gusto Modi's refreshing beverage.
Towards the next stage in the stream of thought, Modi takes his next step aesthetically. He enacts his canto of Parliament entry with a flourish, with the touch of an epic. The moment he sets his foot on the steps to the gate of Parliament, he goes down on all fours in a melodramatic style, bending his head and folding his palms….hey presto, the whole nation goes ablaze with the flame of patriotism.
The Indian psyche, from time immemorial, has been equating profession with divinism, worshipping the factory, the base of livelihood, as the God. The psychology of upper, middle and working classes is operating on the slogan of "the profession we do is our God''. On this soil, every man is psychologically wedded to the concept of considering his field of work as a temple, whether he believes in theism or atheism. Several archetypal Indian practices can be cited to illustrate this point. Among them is an inbuilt practice of middle-class professionals worshipping the gods' idols or portraits before starting work or the proletariat worshipping machines before commencement of work.
Modi, just like magician Houdini, struck this chord and in an instant, the nation got afire with emotions.
Intellectuals sporting dishevelled hair may dub this as a drama or as a histrionic stroke.
Well!
Why have the predecessors not done this melodramatic acting?
That it is just acting or a drama is not a matter of concern. What counts as a reality is the emotionalism laid bare in Modi's demeanour which instigates or taps the dormant mindset of a wide spectrum of people.
For the past several years, such scenes of emotional intensity have not been enacted even in films.
We know that films made by directors of masses such as Santaram, Rajkapoor had scenes of patriotic fervour that moved masses and tapped their sentiments. In such scenes of patriotic taste, some personality used to dominate and call the shots. But over the years, they became clichéd and in the present age, such a patriotically emotional personality has become a butt of ridicule.
At a time when in films of almost all languages only the crime-related scenes have become an in-thing ad nauseam, Modi comes in and fulfils the craving of the Indian mind for the return of the patriotic melodrama.
This worshipping mentality has several symbols. Worshipping the nation as a temple, saluting industries and thereby creating an industrial awareness and ultimately, revolution, recognising the greatness of industries and spurring the industrial growth, catching hold of the technology emerging in the globalisation process and thereby measuring up to the international standards and laying the base for a life of prosperity…..all these streams of thought are wrought in the minds of the people by one of the symbols.
Consequently the speech that Modi has made at the gathering of MPs is full of oratorical and rhetorical emotions. Beginning his speech with a clarion call to dedicate ourselves to the mission of executing our responsibilities, he said, "Hail to the freedom fighters and the stalwarts who brought our Constitution into being!''.
He continued to say, "Thanks to the power of the Constitution, a poor man hailing from a simple and humble background is now able to stand here as Prime Minister; it is a powerful dimension of the democratic electoral system.''
He re-enacted our famed epic, "Mahabharata'', with several bhavas. He let some famous scenes have a re-run in the minds of the people: the scenes of Karna, hailing from a backward section of the society, who was seething with a moral indignation at being denied entry into the assembly of warriors (Kshatriyas) and who subsequently overcame all roadblocks and finally got himself crowned as king.
Then suddenly he changes into Arjuna afire by valour, who bends his bow to fight for the rights of the poor. At the same time, the face of Lord Krishna who executes deeds without any anticipation of benefits fits into his persona well. Alongside, when he happens to see the face of Lord Krishna in what is called 'Priyadarshini mirror' (a mirror famed for showing faces of the near and dear), the face of 'Sakuni' too sporting a wickedly cunning smile appears.
"Look at this cup; some say it is water half-way; some say it is empty half-way. But I say it is half-way water and half-way air''.
When he speaks these words like a Zen philosopher, the educated youngsters get intoxicated with the speech.
But, Mr. Modi! You have spoken about the half-way water and the half-way air; but you have not committed to memory the most vital aspect of the cup of water, that is, the quenching of thirst. That point you should have kept in mind.
It is not a mere concrete and bland outlook, but only a subtle and deep outlook that India expects from you.
If only you had cultivated a deep and penetrative outlook of substance, you would not have stopped with merely saying that an ordinary man had become the Prime Minister thanks to the democratic electoral system. Rather you would have recalled the father of the Constitution, Dr. Ambedkar; you would have remembered the contribution of former Prime Minister V. P. Singh on the count of the Mandal Commission and in an expanded outlook, would have hailed E. V. R. Periyar too.
But, Mr. Modi! You have recalled someone else, Mr. Pandit Dheenadayal Upadhyaya who was a top-level leader of the RSS, life-time campaigner and disciple of K. B. Hedgewar, the founding leader of the RSS. Pandit Dheenadayal who was hailed as a multi-faceted personality, an economist, Indian thinker, sociologist, historian, all rolled into one, was the editor of 'Panja Chanya', a weekly and of 'Swadeshí', a daily, which were propagating the principles of the RSS. He had also translated Hedgewar's autobiography into Hindi.
You have already established a government medical college, Petroleum University and several colleges in his name.
Your maiden speech has revealed your desire to have the nation reverberating with his name. Moreover, you have identified as the Charaiveti mantra which contains ideas glittering with the 'go-forward' philosophy put forward in the Rig Veda and which is the propaganda hymn of the RSS, his hard work, perseverance, self-effacing nature and his system of thoughts based on the Gita's tenet that advises work without any expectation of benefit.
Charaiveti Charaiveti Yahin to Mantra hai Apna,
Nahin Rukna , Nahi Thakna , Satat Chalana Satat Chalana
Yahin to Mantra hai Apnaa, Shubhankar Mantra hai apna
What is the necessity for your maiden speech to trumpet these ideas?
India is full of landscapes varied religiously, racially and linguistically and full of myriad cultures. The crystal-clear face of RSS is very much evident; the face which forces you into a situation of projecting a single linear image, that too, an image marked by or infused by religious animosities.
Appointing a woman as your successor to the Chief Minister's post in Gujarat, showing your administrative acumen by the fact that till the moment of your resignation as CM, no file has been pending….all these things have created a lot of expectations about you.
And now, all of a sudden, Nitin Gadkari tweets, "Modi will take an oath as PM in Sanskrit. This is the resurgence of Hindusim''.
But, this victory, unlike what RSS cohorts proclaim, is not the victory or resurgence of Hinduism. Rather it is an awakening of Indians; the peak of trust of the common people; a support that has sprouted from a craving of the masses for a country totally free from corruption that has long been plaguing the country. They have expressed their support to you, believing the media hype that you have made Gujarat a model and top State in the country and prodding you on to re-perform the same miracle for the whole country.
They have identified you as an unparalleled paragon of idealism and a creator of wonders or miracles. In keeping with their wishes, you perform several miracles; sparking more and more expectations, you put the best foot forward as an ideal man. In the process, you metamorphose a classical scene into one of magical realism. By taking a single step ahead, 125 crore people can take 125 crore steps ahead; that is a magically realistic hypothesis.
But the base or background of the magical realism is realism itself. You project the realism, based on the outlook that realism can be better understood from our mythical tales. That is the reason why you have a total trust in our antediluvian myths and puranas, chanting the Charaiveti mantra. Like you, I too repose faith in my conviction that we can understand our reality only from our myths of yore.
But a small difference.
What you put forward is a collection of portions of big tales which are based on the dominantly powerful politics that suppresses the low castes, rooted in the 'varnasirama' or the 'four-class' structure. But what I ponder over is a series of small tales that lie hidden or suppressed in the debris of history.
Sri Raman killed Champukan, a sutra, for the latter's attempt to learn Vedas, the occupation of Brahmins. This dastardly act has become a dharma or the royal duty as part of the 'Varnasirama' structure. This act has been criticised by Ambedkar in his book, 'Annihilation of Caste', as an imagery of criminal nature of the so-called 'Ram Rajya'.
What is your take on the 'dharma' as propounded in this myth of small tale?
Similarly, from what perspective you view the mythological episode of tribal man Eakalaivan's thumb being chopped off by way of punishment for his act of learning the art of archery?
The scene of Nandan being burnt by way of stalling his entry into temple in south India is still being re-enacted for umpteen times.
We have to formulate the realities of our present-day prosperous India only from the answers found in such mythical tales. The historical scenes unfold before us; the scenes of mythical tales being converted into pieces of magical realism.
Your outlook is quite vital in this context, in view of your social status which is, as you have claimed, backward.
Now, an empty cup is placed before you.
But do not think that it is vacant; or do not think, in the style of a Zen philosopher, that it is full of air.
It is a cup with one hundred years of acute thirst.
- Gouthama Siddarthan, A noted columnist, short-story writer and a micro-political critic in Tamil. You can contact him at This email address is being protected from spambots. You need JavaScript enabled to view it.
Translation by: Maharathi
---
You can send your articles to This email address is being protected from spambots. You need JavaScript enabled to view it.
---