Part 3
Arms sales form the back bone of the Israeli economy. There are nearly 150 defence firms in Israel with combined revenues estimated at U.S $3.5 billion. India-Israel defence cooperation is strongly encouraged by the U.S. After the September 11th attacks, an India-U.S.-Israel strategic alliance was established and high level military visits and joint working groups of these countries began.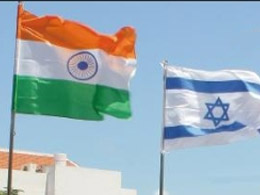 Israel has become the second largest supplier of arms for India. Israel has provided sea-to-sea missile radar and other similar systems, borders monitoring equipments and night vision devices .The Jerusalem Post reported on February 3 that India was sending four battalions of nearly 3,000 Indians soldiers to Israel for specialised anti-insurgency training.

Jane's Terrorism and Security Monitor reported in August 2001 that Israel was "heavily involved" in helping India Combat Islamic Mujahedeen in Kashmir and several teams now in Kashmir training Indian counter insurgency forces.

Today, India and Israel are working together in counter terrorism strategy, they share intelligence, they supply defence equipment and under take joint defence related research.
India helped Israel during the 1967, Middle Eastern conflict, by covertly sending military equipments to Israel. Before that in 1963, General Shalfid, Israel Chief of Army staff, visited India for discussions with his Indian counterpart.

India is one of the 39 countries with whom Israel has signed "secret co-operative agreements" to prevent information leaks from joint security projects. During the B.J.P Government, they had always considered Israel a "natural ally" against "Muslims". India's new defence ties with Israel with a definite "anti-Muslims" dimension were in for a dramatic escalation.

Coming to power of the United Progressive Alliance (UPA) government under Prime Minister Manmohan Singh, after the B.J.P.'s electoral defeat in 2004, made only a cosmetic change to the policy. The India-Israel military relationship went underground. The Chief of Israeli Air Force visited India in January 1998 and the Chief of Indian Army staff visited Israel in March 1998.

A senior defence research scientist told Asia Times Online that India is investing billions of dollars in Joint research and development. In 2000, Israeli conducted test launchers capable of carrying nuclear war heads in the water of the Indian Ocean. In February 2001 an agreement was made to supply advanced Israeli avionic systems for the Indian Air Forces, including a new MG-27 combat air craft.

During the Kargil War, Israel supplied to India Unmanned aerial vehicles for high altitude surveillance, laser-guided systems and many other items and the Israeli security officers were regularly visiting the Kashmir border. India refurbished the "Ghatak" force, the Ghatak jawans and officers of the Indian army trained by Israel in fake anti-terrorist operation.
The U.S allowed the sale of Israeli phalcon AWACs to India in 2004. In the same year Indian defence establishment sought an additional supply of three phalcon aircrafts; this would effectively mean the largest defence agreement in the history of the Israeli state. The deal is expected to cost around $300-400 million per air craft.

In December 2004, an Indian delegation led by Defence Secretary Ajay Vikhram Singh visited Israel and met with Israeli Defence Minister Shaul Mofaz to explore areas for further co-operation between the two countries. And in January 2005 Israel military industries signed an $11.6 million deal with India.

During the Aero India 2005 Exposition at the Yelahanka Air Force station in Bangalore, senior officials of the Indian and Israeli defence ministries signed a formal deal along these lines. Business week reported in 2005 that India became Israel's largest importer of weapons the previous year, accounting for about half of the $3.6 billion worth of weapons exported by that country.

There is mechanism for exchange between the national security councils of two countries. In this regard Giora Eiland visited India from January 31 to February 2 in 2006. The head of the SIBAT, Maj. Gen. Yossi Ben-Hanam, in his interview to the Jerusalem Post, proclaimed, "India was Israel's biggest customer, with purchases reaching $1.5 billion." He also pointed out that Israel defence exports to India totaled U.S. $2.76 billion from the year 2002 through to 2005.

2006 registered a record purchase of defence equipment worth $1.6 billion by India from Israel. In the 2001-2006 India had purchased arms worth nearly $15 billion from Israel and has been its largest client for military hardware. In 2006, two major military delegations headed by the Chief of Air staff, Air Chief Marshall S.P. Tyagi and Vice Chief of the Navy, Vice Admiral Venkat Barathan and in 2005, Lt. Gen. Shantonu Choudry, and Vice Admiral Arun Prakash visited Israel, a part from routine visits of Indian military officers and commandos for training under Israeli Defence force (IDF).

During Israeli President Ezer Weizman's visit to India in 1996, Doron Susilk, Director of corporate communications of Israeli Aircraft Industries (IAI) affirmed that India is one of Israel's important markets. According to figures released in 2007 by the Israeli Defence Ministry, India accounted for 50% of Israel's military exports.

In a New Delhi – datelined report in Al-Ahram, a newspaper published from Cairo, Michel Jansen writes that, "Israel's arms industries launched an aggressive campaign in India, concluding deals for sales, joint projects and technology transfer worth billions of dollars. In addition to the $1 billion Phalcon deal, Israel aircraft industries last year concluded contracts for naval surface-to-air missiles ($ 280 Million), unmanned aerial vehicles or drones ($300 Million) and the green pine RADAR system ($250 Million).

The Times of India stated in April 2008 that Indian and Israeli defence officials have initiated work on an unmanned helicopter. Being developed by Hindustan Aeronautics Ltd (HAL) and Israel Aerospace Industries (IAI) unmanned air vehicle division malat.

A $480 million five year contract was concluded in early 2006 between the Indian Defence Research Development & Organization (DRDO) and Israel Aerospace Industries (IAI) for missile development. India and Israel are now working to expand their already considerable missile development co-operation to cover both air and land based missile systems.

In January 21, 2008 IAI had launched its Tecsar all-weather, high-resolution RADAR satellite using an Indian launcher in collaboration with the Indian Space and Research Organisation (ISRO). Israel has made no secret of the fact that the prime function of Tech SAR is to spy on Iran, a country with which India has friendly relations.

India does have important equities with Iran, not the least because India has the second largest population of Shiya Muslims in the world after Iran, but there is also no comparison between the sophisticated military relationship between India and Israel and the weak connections between India and Iran on security issues.

According to ISRO officials, the launch of the Polaris produced a serious protest from Iran to India, but they were clear that ISRO would stick with its Israeli commercial connections. It is also known that this was the first in series of five such satellites that India has agreed to launch for Israel.

Indian Navy Chief Suresh Metha concluded a five day visit to Israel in January 2008. The Chief of Staff of the Israeli ground forces command Brig. Gen. A Mizarhi was in India in February last year for sharing of military intelligence, equipment, conducting joint training and exercises. Israeli Deputy Chief of General Staff Maj. Gen. Moshe Kaplinisky visited Jammu and Kashmir including the 16 corps headquarters in Nagro to presumably help India with "counter-insurgency" operations. He and his delegation also held talks with senior military representatives and Defence Ministry Officials on each other's "Security Perspectives".

The Israeli Defence Ministry Chief Brig. Gen (rtd.) Pinches Buchris visited India in January 2008 and held talks with National Secretary Advisor Narayanan, Defence Secretary Vijay Singh, Army Chief Gen. Deepak Kaboor, Naval Chief Admiral Suresh Metha and Air Force Chief Fali Homi Major - these talks included setting up a mechanism for intelligence sharing.

India's cabinet committee on security chaired by former Prime Minister Manmohan Singh approved the project between the Defence Research and Development Organisation and Israel Aerospace Industries for developing the missile system which would have a range of about 70 km, the Times of India reported.

This meeting was attended by former Defence Minister A.K. Antony, former External Affairs Minister Pranab Mukherjee, former Finance Minister P. Chidambaram and Shivaraj Patel. Manmohan Singh approved the U.S. $2.5 billion defence project with Israel. The development of missiles capable of intercepting aircraft and other aerial targets at a range of 70 km is to be undertaken by India's Defence Research and Development Organisation (DRDO) and Israel Aerospace Industries.

In recent years, service chiefs and other senior military officials have been periodically visiting one to another. In May 2007, the Indian Defence Minister informed Parliament that from 2002-2007 India obtained over $5 billion worth of military weapons and systems form Israel.

Tel-Aviv is poised to grab a major chunk of the whopping $30 billion that New Delhi spends on defence purchase over the next five years.
(Next part follows)
Image courtesy: worldtribune.com
- Shahul Hameed (This email address is being protected from spambots. You need JavaScript enabled to view it.)
---
You can send your articles to This email address is being protected from spambots. You need JavaScript enabled to view it.
---