In March 2015, Kausalya and Shankar engineering graduates married out of their caste - this made their family to murder Shankar and attack Kausalya. In India, caste-based killings (so-called Honour killings) list keep on growing, in Uttar Pradesh - Abhishek alias Monu; West Bengal - Pratima Mondal; Maharastra - Viraj Jagatap; Uttrakhand - Preeti Singh; Bihar - Mukesh Kumar - Noorjahan; Jharkhand - Deepak; Kerala - Kevin P Joseph; Karnataka - Mohamed Shakil - Hasika; Jaipur Amith; Pranay; Haryana Manoj - Babli and so on.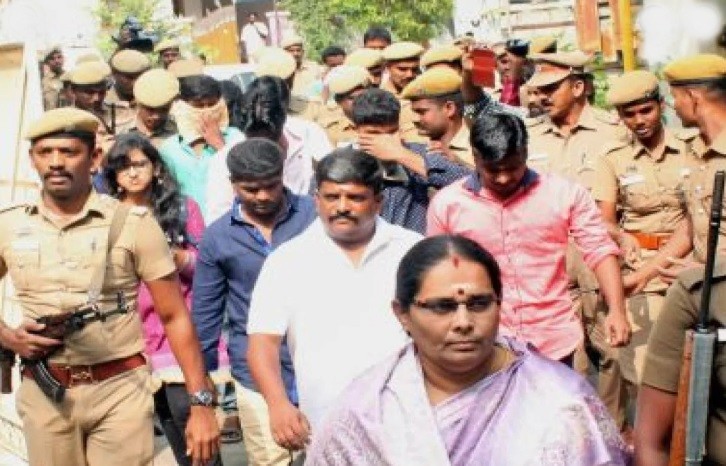 Tiruppur District Principle and Session court on 12th December 2017, has pronounced death sentence to those who directly killed Udumalai Sankar. The Madras High Court on 22nd June 2020, reduced the sentence to life imprisonment. Court also freed Comrade Kausalya's parents, who were behind this caste-based killing. Many organization's comrades fighting in the anti-caste platform are expressing their anger through social media. They comment like,
"The above direct culprits should be severely prosecuted. The Tamil Nadu State Court should be more concerned in litigation.
Strict separate legislation should be enacted against such (caste-based) killings."
All of this is necessary to punish those directly involved.
But true caste abolitionists will not disagree that the root cause of these crimes is caste, caste-preserving Hinduism, Hindu caste, customs, culture and customs.
In Tamil Nadu, from the Madurai Veeran, Kannagi - Murugesan to Shankar's murder and recent casteist murders shows how far laws were ineffective in addressing caste-based killings. Madhurai Veeran's historical story will give us a combination of religious and caste binding. "Madurai Veeran kathai is a story of honour killing. Madurai Veeran is identified as a deity (kula deivam) now. If we trace back the history, he belongs to Chakiliar caste fallen in love with Naicker community woman. Therefore he was killed by Naicker community people and they started worshipping him as their deity to escape from their sin."
So far, we have addressed the loop-holes in law, administration, civil body and other mechanisms; even made discussion on the term "honour killing" to put an end for casteist-murders (so-called honour killings). But, not really addressed the root cause of the problem; ill effects of honour killings in society through inter-caste marriage, inter-religious marriage or after all making choice to choose a life partner. Why especially a rigid structure like caste and religion plays a vital role in promoting honour killing? What are the pros of Inter-caste/ religious marriage by choice which disturbs these institutions? What is the social reformers idea about inter-caste marriage/choice to choose life partner/ freedom of women "as an individual"? What are the organisations promoting inter-caste marriage, love marriage, freedom of choice, women's freedom and so on concerning humanity? Which organisations promoting honour killings, women's slavery and being unconstitutional? How it supplement discriminations based on caste, religion, gender and all other phenomena? Why we should consider honour killings a serious issue among India instead of any other country?
If we find answers for these questions, we can easily address this issue.
In Durban Conference 2001, (World Conference against Racism on 31st September 2001 at Durban, South Africa) Interventions of Feminist's, Dalits, Dravidian and social justice movements raised voice to consider 'Caste Discrimination' alike 'racial discrimination'. It was quite a progressive step to address 'caste' in global forums.
Tamil Nadu is promoting intercaste marriage from the period of Self-Respect Movement and Perarignar Anna's (C.N.Annaduarai - former TN CM) political era - a large number of inter-caste marriages took place in Tamil Nadu. It began in the year of 1928 Self-Respect Marriage through Periyar E.V.Ramasami's Self-Respect Movement. For many years Self-Respect Marriage was not legalised but, it was widely accepted as a social norm. Then, Perarignar Anna made Self-Respect Marriage legal by enacting Self-Respect Marriage Act in 1967. This kind of social environment should be developed.
Earlier death sentence has been pronounced in Tiruppur court against the caste-murderers. Did any caste fanatic ever stop the murderous act? Even during the Corona curfew, there have been a series of casteist assassinations. Inter-caste married couples are being attacked, threatened and segregated.
In this social context, what is going to be a change in the Hindu religious typical mentality in this society, even when the strict law has been imposed - or the change of government which favourably against this heinous crime - and even if the abolitionists become as the judges of the Supreme Court?
If a man from another caste marries his daughter, then he is to be killed - this is how they live with barbaric mentality; it is the Hinduism, it's Shastras and the teachings of the Gita that imposed this barbarism on them.
We are talking about those who were directly involved in the murder of Shankar. We have not yet questioned the degrading thought of Hinduism that directing and operating them.
We are not thinking of the billions of people who live the life with this Hindu religious psychology and who have been responsible for such gruesome murders and caste-based violence against the thousands of untouchables - we are not guilty of these crimes. Why we are not thinking in the perspective that these ill mentality people should be freed from Hinduism (Hindu religious illness).
Even the leaders of many organizations who advocate strict separate law for caste-based killing do not discuss Hinduism, which is the root cause of those killings.
Look at the Manu's saying...
"A (man of) low (caste) who makes love to a maiden (of) the highest (caste) shall suffer corporal punishment; he who addresses a maiden (on) equal (caste) shall pay the nuptial fee, if her father desires it." – Manu Chapter VIII, Slogan 366(1)
Manu has ruled the country for 20 centuries as a constitutional, civil and criminal law. The rules of those laws dominate the culture, lifestyle and everyday life of the Backward and Scheduled Caste people who have embraced Hinduism.
Consider a speech by Comrade Periyar about this.
… If a man applied faeces all over his body and stood in front of others and asks, "Do not treat me badly, do not ask me to go aside". Did anyone obey this? Or is it justifiable? Or else imposing a section in Indian Penal Code that "if a person comes applying faeces in his body should not be asked to stand away and badly treated" if it so, if one or two members who are criminalised under this section may impact others to stop insulting such a person? Think about it.
Similarly, another sect of Hindus says that other sect people of their religion should not call them as Shudras and also says, "If they call you Shudra, get rage and hit," ("suthiren yendral aathiram kondadi") through written hangs out. I would also say that this is foolishness. Because anyone who calls himself as Hindu (if he is non-Brahmin), then he can be called as Shudra by the world people. Someone who denies it must be foolish. This is because every Hindu person has to admit that there is a class called 'Shudra' in Hinduism and that title belongs to any person except Paarpans (Brahmins). No matter how many sects within the Hindus, all the sects agree with the Shudra, the Brahmana, the Panchama and the Pariah.
And if this caste system is part of the Hindu religious sub-divisions like Saiva Purana, Periya Purana, 63 Nayanamargal, and in religious customs, and then who have the rights on these? Think about it. Similarly, if there is evidence in the Vaishnavite, Bhagavad-Bhagavatha, Naalaayiram Divya Prabantham, the Ramayana, etc., then which Vainavan (Vishnavite) has the rights on these, think about it? If Hinduism is based on the scriptures, Smriti, etc., and in the "Bhagava sayings" and "the Rishis's sayings", then how can the Hindu who is calling this as genuine or the wise? Think about it.
Therefore, it is utter foolishness to get angry on others by thinking that we have been given the title of Shudras, untouchables, and Panchamas by them. Because a person who calls himself a Hindu is no other but a person who takes the title of Shudra and Panchama themselves on his head.
Until the existence of Hindu religion:
Shudra and Panchama will never disappear until the presence of Hinduism in India. Similarly, until the presences of the Hindu Vedas, Shastras, Ramayana Bharatas, Periyapurana Sivapuranam Thiruvilaiyadal Purana etc., it is impossible to abolish the title of Shudra and the Panchama.
… So, dear brothers! Untouchable brothers!! Brothers, who have no right to walk down the street, drink water in the pool or unseeable!!! If you want to be respected as human beings firstly: - Leave Hinduism. Secondly: - convert as Muslims. With these two things, we can give self-respect to the world. We have no other excuse! No!! No!!!
- Comrade Periyar, Kudiyarasu- 25.10.1931(2)
Comrade Periyar published an article in the 'Kudiyarasu' magazine dated 23.10.1938 titled "The work of Tamilians". He asked Tamilians to tattoo (literally it means to have a strong belief) that "Tamil Nadu is for Tamils". Read what the article declares as the first of its kind.
…
A bounden duty
If the Tamil people today think of themselves as a true Tamilians and an indifferent indigenous Tamil nation, they have always had nothing to do with what he has imposed on them. To claim him as Tamilian, the first thing he has to do is to disown the (Hindu) religion, which he himself has always had nothing to do with and which identifies him as a "Sudra" and a "Chandala".
Next, he should consider the liberation, independence, prosperity and career development of Tamil Nadu as a voluntary duty for the Tamil people and Tamil Nadu. It is for this reason that the Tamilians ​​today have to suffer the many prejudices and be a perpetual disgrace.
Tamil Nadu is for the Tamilians! Tamil Nadu is for the Tamilians!! Tamil Nadu is for the Tamilians!!!
- (Kudiyarasu - Editorial - 23.10.1938) (3)
Periyar proclaims that 'our bounden duty' is to exit from Hinduism, whether it is for Backward Caste or Dalits. Dr. Ambedkar declares that the path of conversion is the only right path of freedom, which ultimately leads to equality.
We should fight for justice and to punish those who murdered Shankar. At the same time, what are we going to do to prevent the continuing caste-based murders? The debate on the pre-eminence of Comrade Periyar is only beginning to end the continuous brutal casteist-murders like Shankar, Elavarasan, Swathi-Nandhish, and Gokulraj.
Suggestions
- We need social movements; law alone is not the whole remedy in addressing these issues. We need to encourage inter-caste marriage, inter-religious marriage and gender justice; a cultural change which established by Periyar & Ambedkariates; alternatives to eradicate discrimination and to promote humanism and freedom.
- We need a holistic approach to address this caste issue, instead of isolating honour killing as a separate entity; it has all its roots in our daily life, religious, customs, rituals and cultural identities. We need to address it in individual and institutional level parallelly.
- Should ban institutions which promoting social divisions like caste as such caste-based matrimony websites; education institutions in caste name; naming business entities in caste name these attitudes are increasing in recent days and it reorienting caste.
- We can't make any change until and unless if we address the dangerous of caste and religious-based rituals which we following from our birth till death.
- We should initiate discussions on leaders like Ambedkar and Periyar's vision on "exiting Hindu religion".
- The Dravidian culture that Periyar introduced and implemented against Hindu religious culture must be actively spread all over India. We should begin to follow.
- First of all, Campaigns/movements to combat caste-based killings must give priority to inter-caste marriages couples in their movements.
- Stop attending the marriages of guys who marry within the same caste. Do not exclude those guys from the movements. At the very least, their wedding ceremony should only be ignored by the leaders and all the other guys.
References:
- J.Kayalvizhi