Periyar Erode Venkata Naicker Ramasamy was born on 17th September, 1879 at Erode, Tamil Nadu, in a family with a background of affluence, deep religious faith, strict adherence to established customs and high regard for traditions. He was the second of four children, two sons and two daughters, born to Thiru Venkata Naicker and Thirumathi Chinnaththayammai.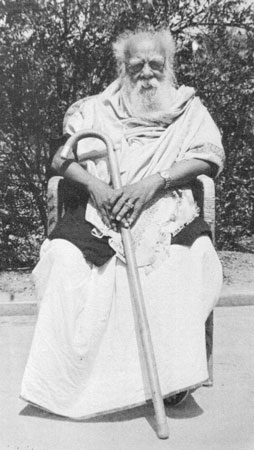 His formal schooling was brief; at six, he went to a private school where he spent three years, and thereafter, he joined the regular school system and received instruction for another two years. At the age of twelve, he was in his father's shop, assisting him in his business.
In 1898, he married Nagammai, who was then thirteen. Two years later, a daughter was born to them; the child died when it was five months old. They had no children thereafter.
The rigid discipline of the family, the strict observance of long-established customs, the routine adherence to numerous rituals and the implicit and explicit pressure on him to conform to the way of life obtaining in the family environment drove him to the point of despair. When he was twenty-five, he fled home, and almost like a wandering Sanyasi, went North and reached Benares, only to find that the holy city was in no way holier than any other. Many things that he experienced and witnessed there were to him repulsive and revealing. He left Benares, and when he was back in Hyderabad, his father succeeded in locating him and bringing him back. He named the shop 'E.V. Ramaswamy Naicker Mandy', and entrusted the full responsibility to him. As the young E.V.R. was picking up business and shaping well, he started taking an interest in public affairs. He emerged gradually as a person of importance in the town. The prestige enjoyed by his father also helped him in this regard. His father died in 1911. Public offices and positions of respectability gravitated to him. He became the chairman of the District Devasthanam Committee; was an honorary magistrate for 12 years; was elected chairman of the Erode Municipal Council between 1907 and 1919; he held as many as twenty-nine offices of public importance. Whatever position he held, he fulfilled his responsibilities with utmost sincerity, dedication and efficiency.
His nature inclined him to take interest in public affairs; his concern for the common man and the society was genuine, deep and abiding. Consequently, he started deviating decisively from the prevailing background of loyalty to the British Government of the day and respectable behaviour in the eyes of the ruling class and was taking an increasing interest in the policies and programmes of the Congress Party from 1907. He attended conferences, rendered help and even took a leading part in organising them: however, it was only in 1919 that he resigned his Chairmanship of the Municipality, joined the Congress and entered active public life. From then on, till his demise in 1973, it was more than half a century of total dedication to the service of the people, with few parallels in the political history of this country.
While the objectives of his struggle and direction of his journey remained substantially unchanged, a few milestones and turning points deserve mention: the decision to resign public office and join the Congress Party in 1919; the issues leading to his leaving the Congress in 1925; the founding of the Self-Respect Movement in the same year; his participation in, and leadership of the Justice Party; the anti-Hindi agitation in1938; the establishment of Dravidar Kazhagam (DK) in 1944; his second marriage with Maniammai in 1949; the split of the D.K. consequent on his marriage and the formation of the D.M.K. in 1949; and the D.M.K. capturing power in Tamil Nadu in the 1967 elections are some of the developments that have had far-reaching consequences. Each one of them meant for Periyar redefining priorities; changing strategies; intensifying the struggle on one front and easing it on another; withdrawing support for some and offering support to some others; gaining new associates; parting company with old colleagues; but always, with a view to achieving certain basic social goals to which he adhered unrelentingly throughout his public-life.
When he joined the Congress in 1919, it was a significant change from a life of affluence, comfort and social respectability to one of hardship, struggle and suffering. During the six years that he was an active member of the Congress, he threw himself into the struggle with his usual dedication and vigour. He held offices in Tamil Nadu Congress as its President in 1923 and 1924 and as Secretary in 1925. Whether it was Prohibition, Non- Cooperation, or Promotion of Khadi, his involvement was complete and total. While many were content with preaching prohibition, he cut down 500 coconut trees used as toddy palms in his gardens; propagation of Khadi to him meant carrying heavy loads for sale in the villages, even to the extent of impairing his shoulders: half-hearted effort went against his grain and was unknown to him.
Events and experiences, however, made him believe that the Congress leadership was not sufficiently determined to eradicate the caste system; to end caste-based privileges; to take effective steps to ensure social justice and bring about equalisation of opportunities. The attitude of Congress leaders, including Mahatma Gandhi, to the Vaikom Agitation for temple entry which Periyar led; the discrimination against non-Brahmin inmates at the Cheranmadevi Gurukulam run with the support of the Congress; the non-acceptance of the principle of communal representation for which he moved a resolution in more than one annual conference of the Tamil Nadu Congress, left him disappointed and disillusioned. He sharpened his focus on eradication of the caste system, abolition of social inequalities and promotion of equality of opportunities. In order to be free to pursue these goals, he left Congress in 1925.
Periyar's departure from the Congress and the formation of the Self Respect Movement by him marked a decisive and momentous step in his life. His was, from then on, a career of revolt, reform, iconoclasm and incessant struggle. Till the end, he was a crusader, uncompromising and unrelenting. His platform was one of social justice, equality of opportunities, humanism and dignity of man. It was a life that was never dull, never routine, never one of rest and leisure, but was one of intense activity, with a succession of struggles, each resembling a storm or an earthquake causing reverberations and receiving responses throughout the length and breadth of Tamil Nadu.
He intensified his demand for communal representation in education and employment, a measure that he considered the Magna Carta for the weak and the downtrodden; rallied the Non-Brahmins and organised the first provincial conference to articulate their claims; on this issue, he made common cause with the Justice Party, which formulated the communal G.O. in 1921, reiterated it in 1922 and 1924, and it was implemented in tangible form on the earnest efforts of Mr. S. MUTHAIYA MUDALIAR, a Minister in the independent Government of Dr. P. SUBBARAYAN in 1928. Periyar was also pleased with many other progressive measures ushered in by the Justice Party, such as the establishment of a large number of primary schools in villages, the denial of government grant to schools that practised discrimination against Harijan students and the abolition of the institution of Devadhasis or Temple Girls. He extended strong support to the Justice Party and was elected its President in 1938, even as he was in prison.
During the period between 1925 and 1935, Periyar started a number of Journals; Kudi Arasu in 1925; Dravidan in 1927, Revolt in English in 1928; Puratchi in 1933; Pahuththarivu, as a weekly and daily in 1934 and Pahuththarivu as a monthly in 1935, to carry his message to the people. In 1937 he took over Viduthalai, a daily started by the Justice Party.
In the elections of 1937, the Congress won with an overwhelming majority, and Rajaji became the head of the Government in the then Madras Presidency. The introduction of Hindi as a compulsory subject by Rajaji in 1938, and Periyar's historic agitation against the move, paved the way for discussions and demands in terms of separation and the eventual emergence of the Dravidian Movement. What Periyar started as a fight against social inequalities, casteism, and the dominance of Brahmins in education and employment, gradually took a racial connotation and came to be viewed as a North-South, and Aryan-Dravidian conflict. In this context, Anna became a major factor in shaping and formulating the policies of the Self Respect Movement and the Justice party. Anna interpreted many of Periyar's policies and programmes against the background of historical facts and the literary traditions of the Tamils. These developments led to the founding of the Dravidar Kazhagam in 1944. This step meant an intensification of Periyar's struggle against Brahminism: greater emphasis on the cultural, economic and political interests of the South and a demand for self-determination. Though Periyar spoke on behalf of the Dravidian South, his following was essentially confined to Tamil Nadu. Economic and political issues figured prominently on the D.K. platform in the Forties. Periyar's remarriage with Maniammai, and Anna's disapproval of the event, leading to a break with Periyar, brought about the split of the D.K. and the birth of the Dravida Munnetra Kazhagam (D.M.K.,) under the leadership of Anna. Periyar again began to concentrate on his fight against social evils, casteism, orthodoxy, superstition and the imposition of Hindi.
Communal representation in education and employment was a principle that Periyar held dear to his heart. He believed that education and equalisation of opportunities were the only two weapons to fight the humiliating and cruel inequities perpetrated over millennia and sought to be continued further. He rose in anger and fury, and organised a state-wide agitation when the communal G.O. of the then Madras State, for which he had pleaded and fought ceaselessly since 1921, and which was in operation from 1929, was struck down by the Madras High Court in 1950 as Ultra-vires the Constitution of India, and the judgement was upheld by the Supreme Court. The widespread resentment in the Southern States, Periyar's leadership in rallying the forces for social justice, and Kamaraj's support for the protection of the weaker sections brought about the first amendment to the Indian Constitution in 1951, and the inclusion of the following clause:
Article (15) (4): Nothing in this article or in clause (2) of Article 29 shall prevent the State from making any special provision for the advancement of any socially and educationally backward classes of citizens or for the Scheduled Castes and the Scheduled Tribes.
During the period 1952-54, Rajaji, who was the Chief Minister of Madras State, introduced an educational reform by which school children would spend half the day in the school and devote the remaining half for occupying themselves in productive work being done by their parentage. Periyar opposed it as an attempt at perpetuating caste-based occupation. The scheme met with wide-spread opposition and was withdrawn when Rajaji resigned his office in 1954.
Periyar kept alive his opposition to Hindi and carried on a campaign of erasing Hindi letters from the name-boards of railway stations in 1952, 1953 and 1954. He organised a move in 1953 to break the idols of Ganesha in important towns of Tamil Nadu. However, after Kamaraj became the Chief Minister of Tamil Nadu, he tended to support the Congress Government, headed by him, as he believed that the interests of Dravidians were safe in his hands. He extended wholehearted support to Kamaraj and his Government. A major struggle he threatened to launch during his regime was the one to burn the national flag to protest against moves on the part of the Government of India to impose Hindi; however, he suspended the agitation in deference to an assurance from Kamaraj that Hindi would not be a compulsory subject. In 1957, he organised an agitation to burn certain sections of the Constitution of India, declaring that the document was a tool to preserve and perpetuate the caste system and the caste-based inequities and privileges. A few thousand of his followers who took part underwent prison terms ranging from a few months to years.
In all his agitations and struggles, he consistently eschewed violence. He denounced in unequivocal language attempts at damaging property during protest marches and agitations. He was essentially for respecting the law and viewed with great disfavour any attempt at disturbing the normal life of the community. He was for the observance of a code of conduct and the adherence to certain norms, even in organising agitations and protests. However, speeches made by him in 1957, at Kulithalai and Pasupathipalayam, were found inflammatory and capable of inciting people to communal violence, and Periyar underwent a prison term for six months in 1957-58.
The triumph of the D.M.K. in the 1967 elections, and the formation of Government by Anna, was to Periyar, a defeat in a narrow sense since he strongly supported Kamaraj and the Congress party in the elections. However, Anna, in an unexpected but understandable move, called on Periyar and announced the dedication of his Government to him and all that he stood for by way of social reform, social justice and respect for human personality. The resounding victory for the D.M.K. was unique in the history of democracy inasmuch as a radical reformer like Periyar, who denied God, condemned religion, and went against popular faith, found himself accepted and acclaimed by the masses and the Government in power in his own lifetime. The period after 1967 was full of honours, recognition and mass expression of thankfulness. For his part, he continued to be active, carrying his message through numerous meetings and periodic writings and registering his protests through agitations. Periyar breathed his last at the Christian Medical College Hospital, Vellore, on 24-12-1973 and was buried at Periyar Thidal with state honours.
Periyar remained a fighter all through his life and fought his battles on many fronts. Though his formal education was modest, the opportunities he had to listen to learned discourses with which his parents were associated, his own reading in latter years and his travels abroad and within the country gave him a breadth of knowledge and depth of insight. Periyar had the benefit of visiting foreign countries both in the East and in the West. During 1929- 30, he toured in Singapore and Malaya; in 1931, he spent eleven months in Europe visiting among other countries Germany, the U.S.S.R., France and England. In 1954, he went to Burma to attend the 2500th-anniversary celebration of the Buddha.
The streak of rationalism was evident in him from his youth. The following observation by Periyar is significant:
"I have not believed in caste or practised any religion since my youth. I might have put up appearances of conformity where obligatory. Similarly, I have had neither fear for nor faith in God. I would not have desisted from doing something I wanted to do, fearing God's anger or divine punishment; similarly, I would not have done anything against my will to please or receive favours from God."
Periyar was not an intellectual of any higher study, postulating and enunciating theories about heaven and earth, but an active fieldworker who carried his message to the people and delivered it in a language that was understood by the illiterate millions, and through methods that were appropriate to them. The apparent crudeness of some of his techniques in the eyes of the elite is to be viewed against this background. To prove to the masses that the idols of gods were nothing more than the stone or bronze they are made of, he broke the idols of Ganesha, burnt pictures of Rama and denigrated the objects of worship. He exposed claims of superhuman powers, ridiculed the Puranic (Mythological) stories, and carried the torch of knowledge, enquiry and logic to the humblest of villages and the lowliest of citizens. Awakening the common man, encouraging and motivating him to think on his own, and removing the shackles and chains on his mind, continued to be his main mission till the very end.
Periyar believed that education enfranchises and that the key to human liberation from intellectual, economic, social and political bondage was to be found in education. The equalisation of opportunities for education continued to be the cornerstone of his struggle from the beginning. The single most important issue on which he left the Congress was the principle of Communal Representation in education and employment. In his long public life, he might have made adjustments; shown accommodation and reconciled with differences in policies here and there for the sake of certain larger interests; but he never made any compromise on Communal Representation; never supported any party, never allied with any leader who did not subscribe to this principle. He was convinced that there was no such thing as liberation for the ignorant: to them, freedom from one bondage would only mean submission to another. The ignorant would only change their masters and not shed them. In the history of the resurgence of India in the twentieth century. Periyar would come to be acknowledged as the pioneer and architect of the broad measures for equalisation of opportunities in education and employment.
Periyar considered the caste system the cancer of Indian society. To him, nothing was more important than putting an end to this abomination. He waged a relentless war against the caste system, especially against the practice of untouchability and all its manifestations in society. Temple- entry, abolition of caste-based discrimination in hotels and restaurants, inter-caste marriage, priesthood on the basis of preparation and not by birth, and the use of the language of the people for worship, instead of Sanskrit, were some of the positive measures for which he pleaded and fought throughout his life.
Periyar was a humanist: he had no particular emotional attachment to any language or race, no faith in any religion, no preference for any caste, no unquestioning commitment to any political philosophy. He judged and evaluated everything on the basis of its usefulness, functional efficiency and equity. In a rational humanist like him, what appears to be the consistent hostility towards the Brahmins might seem somewhat irreconcilable. Periyar was convinced somehow, beyond doubt, that casteism was identical with Hinduism and Hinduism to him meant Brahminism and supremacy of the Brahmins. Consequently, his fervour for a casteless society, and his crusade against the caste system and its pervasive influence, made him denounce Hinduism as the source of this evil and Brahmins as the early authors and subtle perpetrators of this cancerous stratification.
Periyar sincerely believed that the Hindu mythologies, Puranas, stories about gods, divine personages and devils, and the practices obtaining in Hindu temples were clever innovations and strategies to integrate faith in God with acceptance of the caste system and a Brahmin-dominated culture. He came down heavily, therefore, on the Hindu Gods, mythologies, and rituals. He saw them all as an outrage on human dignity and an unpardonable crime on humanity perpetrated over 3000 years and sought to be preserved in the name of rituals, tradition, culture and religion. He observed almost no restraint in demonstrating his contempt and expressing his anger. His mood was one of smashing the obsolete order, melting the ruins and pouring them into a new mould to forge a new order, a new society founded on reason, equity and dignity of humanity.
It may be said in general that he was the willing and self-appointed champion of the causes of all those who were underprivileged. His struggle for the cause of women has perhaps few parallels in the history of women's liberation in India. Child marriage, widowhood, dowry, the male- domination, the myths and Puranas that weave stories extolling servility in women as a virtue were ridiculed, condemned and exposed by him day in and day out, in public meetings, marriage ceremonies, political platforms and writings. He saw clearly that the continuous occupation of women in bearing and bringing up children was the main cause of their confinement to the home and their complete dependence on men. He saw contraception as the most effective tool of women's liberation and was the earliest to advocate family planning. He introduced the concept of 'Self-respect Marriage', which stressed the equality of sexes, looked at family life as one of partnership and discarded all rituals that implied subordination of women to men. In the Self Respect Movement, women played a prominent role. In the resolutions adopted in the conferences organised by him, those concerning the rights and privileges of women were given pride of place. He advocated, with feeling and forcefulness, widow remarriage. When his own niece became a widow in her youth, Periyar set an example by arranging for her remarriage, defying all his orthodox relatives. At the Self Respect Conferences in 1929 and 1930, women's right to divorce and to have property was emphasised. It is but appropriate that the title of Periyar, though in occasional use earlier, was officially conferred on him only at a women's conference held in Madras in November 1938.
His interest in politics per se was really secondary. His main concern was social reform. Politics is the game of those who, among other things, aspire for power, Periyar was unwaveringly against fighting elections and capturing power. Since he resigned his Chairmanship of the Erode Municipality in 1919, till his death in 1973, he had stoutly refused to seek or accept power. In 1940 and in 1942, he was twice asked to take up the Chief Ministership of the Madras Presidency. He declined, saying that acceptance of office would be an impediment to his struggle for reform.
After he left the Congress, political interest in him revived only when he opposed Hindi and led the agitation against it. Periyar had grave reservations about the Indian languages in general as media of modern knowledge. The absence of literature in Science and Technology and the abundance of Puranas and myths in Indian languages have been Periyar's great concern. He was sceptical about the efficacy of any Indian language as a modern tool and therefore unambiguously and strongly advocated the use and study of English. He opposed Hindi-speaking people, and Hindi as a language is even less developed than other Indian languages.
He bestowed his thought on the development of Tamil to meet the needs of the era of Science and Technology and suggested script reform as one of the measures. He himself introduced some changes in 1934. These were officially accepted by the Government of Tamil Nadu in 1979, and the reform since then has become regularised. He was indifferent to, or critical of, many of the literary works in Tamil, but he was a pioneer in projecting the Kural to the public at large as a work depicting more closely the way of life of the Tamils.
He feared the domination of the North over the South in an independent India and therefore advocated a separate political identity for Tamil Nadu though he used the term Dravidasthan. However, his political interest took a secondary place, and he concentrated on his struggle for social reform and social justice though he kept up his relentless fight against Hindi.
The D.M.K. under Anna gave precedence to political issues over policies of social reform, and the split of the D.K. resulted in one concentrating on the social front and the other on essentially political issues. When the D.M.K. gave up the separation demand following the Chinese invasion, the emphasis came to be on autonomy for the States and on the Federal concept. In general, the effort of the Dravidian Movement has been, and even today is, to claim for the Tamil language and culture, which are as ancient as, or even more ancient than Sanskrit, recognition and an identity commensurate with their past.
Periyar courted imprisonment more than ten times; three times in 1922; and in 1924, when he was in the Congress. Later he underwent prison-terms, or was arrested and imprisoned in 1922; 1938, 1948, 1949, 1950, 1957 and 1960. Agitation against Hindi, temple entry, resistance to discrimination on the basis of caste in hotels and restaurants, protest against certain provisions in the Constitution and attempt at burning the Constitution or the National Flag were among the main battles that put him behind bars on most of the occasions.
Periyar was a rationalist with a difference. He was all the time a field- worker. His audience ranged from intellectuals to illiterate masses from the slums and remote villages. He took examples from their day-to-day practices, dealt with them in detail, explained himself in a language intelligible to them, and exposed the patent follies in their faiths, beliefs and practices. He was not interested in the philosophical niceties of the many Hindu concepts. These were mere of theoretical interest and were confined to academics, intellectuals, and a limited number of persons in the upper strata of society. His concern was in what is believed and observed by the people in their day-to-day life. Religion in Hindu society is one of the rituals, ceremonies and observances. He wanted to bring about a change in them. His objective and ambition were essentially one of modernising the society and bringing it in tune with the ideals and values relevant to the times.
Periyar kept an open mind and was refreshingly resilient in accepting and absorbing changes. While he was alert and responsive to new developments, he did not rely on any authority, ancient or modern, for his views. The opinions expressed and the measures advocated by him were essentially the results of his own experience, observation and contemplation. He judged every issue using simple criteria. His approach to and analysis of any issue can be summarised in the following questions:
Is it fair and just to all concerned?
Is it in tune with the natural inclinations of men and women? If it is not, is it necessary to adopt it or follow it for human welfare and progress on a long-term basis?
Will it promote human endeavour?
Will it contribute to human progress?
When an issue failed his tests, he never once wavered in his grim determination to oppose it. He stood steadfastly by the following announcement he made through 'Kudi Arasu' - Tamil Weekly in 1925:
Feelings of self-respect and brotherhood must blossom in the society; inequalities and thoughts of one being high and the other low in birth must be eliminated. Caste feuds and conflicts must disappear. We shall strive hard to propagate these views. We shall fearlessly and without discriminating between friends and foes condemn everyone who might oppose and attack us in this regard.
In general, he took it on his shoulders to fight against every form of oppression, every form of exploitation, every practice that hurts human dignity, every belief that inhibits human effort and human endeavour. For one like him, whose philosophy is broad humanism and whose objectives are human welfare and human progress, the question of hating any community really does not arise. He opposed the Brahmins when he felt that they have been oppressing the Non-Brahmin community. He opposed and condemned the male members of the Brahmin and non-Brahmin communities alike when he saw the injustice they were doing to the women-folk in general. He criticised the Non-Brahmin caste-Hindus bitterly when he found them ill-treating and humiliating the members of the scheduled caste. In general, he was always on the side of the weaker sections of the community. He pleaded and fought for their cause without being approached or asked.
In his long public life, he opposed many leaders and political parties and supported many individuals and institutions. On a later date, he supported those that he once opposed and also opposed those that he once supported. His critics and detractors see inconsistency or opportunism in the stands taken by Periyar. He was never inconsistent; his goals were clear in his mind; he worked towards them with single-minded devotion. He welcomed support for his struggle from wherever it came; whenever he found that an individual leader or a party would help his cause, he also lent support. For example, Communal Representation was dear to his heart, and he never supported nor ever spared any leader or party that went against the principle of communal representation. Similarly, he believed that a reform movement should not aspire for power and fight elections. On more than one occasion, the highest of the offices available at that time in the State was offered to him. He consistently turned down such offers and kept his followers away from fighting elections. Inconsistency, if any, was superficial. There was an underlying current of purposiveness in his strategy, a direction in his journey, and they were in harmony with his objectives.
He had in him in full measure the essential traits of great men. He allowed no gap between what he preached and practised. It was not merely his writings and speeches that conveyed his message; his own life and work unmistakably radiated his convictions. One can never find even a trace of hypocrisy in him; duplicity in word and deed was with him an unknown phenomenon. His was life as transparent as crystal glass: there was nothing to hide, nothing to withhold.
The cornerstone of his virtue was his simple living. His ambitions were high, but his wants were modest; he kept them to the barest minimum. He was free from an addiction of any kind. He dressed in the simplest piece of cotton material, ate whatever was served: slept anywhere when he needed rest. Perhaps no saint, no ascetic would have reduced his needs of comfort to such an irreducible minimum as Periyar did. While he had no great admiration for a life of asceticism and never supported renunciation, his was a life of asceticism and renunciation, excepting that he did not choose to starve or sleep on a bed of thorns.
Periyar identified himself indistinguishably with the masses. His time, effort and thought were totally devoted to the task of bringing about an awakening among them, to set them thinking. In the 93rd year of his life, he travelled for 183 days and delivered 249 speeches; in the 94th year, he toured for 177 days and delivered 229 speeches. A life so active physically and mentally in so advanced age is truly rare in human history.
After 50 years of tireless striving, hard struggle and massive educational efforts through speeches, writings and demonstrations, he left behind him a society vastly different from the one he inherited - more alert, more questioning, less gullible, better educated, more modern and in general closer to the take-off point for a state of living that would be richer in all respects.
- Dr. V.C. Kulandaiswamy, Former Vice-Chancellor, Anna University, Madurai Kamaraj University, Indira Gandhi National Open University
(From 'Collected Works of Periyar E.V.R.', compiled by Dr. K. Veeramani, published by 'The Periyar Self-Respect Propaganda Institution')