How a Rajiv Gandhi assassination convict doggedly used the Right to Information Act to reveal illegalities in Sanjay Dutt's frequent leaves and remission from prison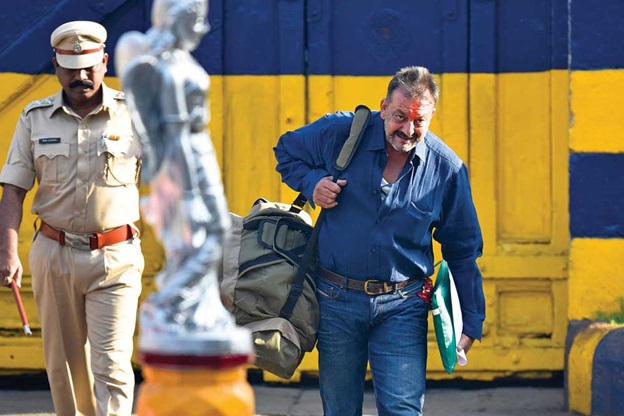 Sanjay Dutt leaves Pune's Yerwada Jail, February 25, 2016 (Photo: Getty Images)
'22 MAY 1982. It was a hot summer night. Most of the residents of posh Pali Hill were in deep slumber. Mansion number 58, near St Anne's Church, was shrouded in darkness. But its seemingly serene facade hid much internal chaos. Suddenly, the neighbourhood was jolted awake by the sound of gunshots and the shattering of glass. Sanjay Dutt staggered around the compound of his family home, waving his loaded .22 bore rifle in the air. In a few minutes, concerned neighbours and curious onlookers had gathered outside and were trying to peer in. It slowly became clear what had happened: in a haze induced by alcohol and heartbreak, Sanjay had opened fire in the air, breaking some windows of the Dutt mansion and shattering the windscreen of his car.'
This paragraph from Yasser Usman's book, Sanjay Dutt: The Crazy Untold Story of Bollywood's Bad Boy, is a fit illustration of the star's romance with guns. It culminated in his conviction under the Arms Act for procuring an AK-56 assault rifle from Abu Salem, a prime accused in the 1993 Bombay serial blasts case. When he got the AK- 56, Dutt already had three licensed guns and yet, the image—'spoiled brat, stupid bad boy, foolish but not criminal'—helped him get free from charges under the Terrorist and Disruptive Activities (Prevention) Act (TADA) and an early release, with the courts ruling he had no role in the blasts.
Few prisoners in India have been lucky enough to get paroles for spending festivals with family. Even after conviction, Dutt managed to stay away from jail for more than a year availing paroles and furloughs. While questions were raised, relatives of fellow convicts protested and PILs were filed, no legally coherent explanations were forthcoming for his benign treatment.
But the authorities of Pune's Yerwada jail, where he was housed, have now revealed that due process was not followed in the frequent reprieves that Dutt received. It took three years of repeated Right to Information (RTI) filings and appeals, during the course of which prison authorities constantly tried to hush it up, to finally get a clear answer that Supreme Court guidelines on release of prisoners were violated. Even more interesting is the man who brought these facts out: Perarivalan, a convict in the assassination of Rajiv Gandhi.
It was in a writ petition filed by another convicted prisoner in the assassination case, Sriharan (also known as Murugan), in which the Supreme Court conclusively laid down the law that the power of remission rests with the Union Government for cases tried and convicted under Central Acts. The Arms Act, being one such Act, therefore falls in this ruling's ambit. Since Sanjay Dutt was convicted for five years under the Arms Act, only the Union Government had the power to give him remission. But it had not had any say in the matter. Dutt could not have been released without the approval on record by the Union Government. Documents obtained by Perarivalan prove that there was no such approval and nothing was on record. In a reply sent to him on April 20th, 2016, the first appellate authority of Yerwada Central Prison makes clear that their office had not kept 'any noting, minutes of meeting, correspondence record relating to the release of Sanjay Dutt'. The first appellate authority also discloses that they had not sought the opinion of the Union Government on the same.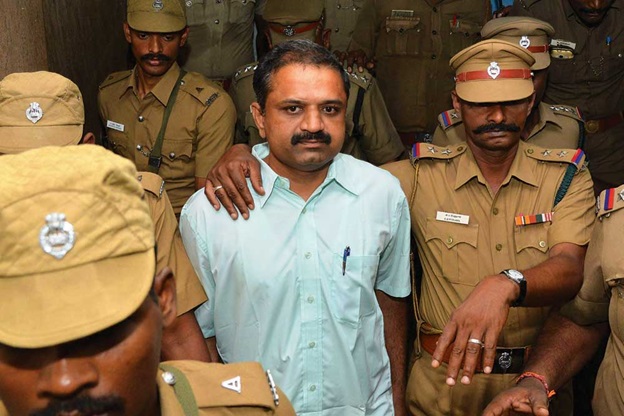 Perarivalan leaves for medical examination, Chennai, June 8, 2015
On March 24th, 2016, a month after Dutt's release, Perarivalan filed an RTI application seeking answers to five questions. He demanded a copy of all the records and documents, file notings, minutes and correspondence regarding Dutt's release; the relevant provisions of the law—either that of the Constitution or state/Central acts and rules that made the release possible; the communication between the state and Central Government; and also the opportunity to inspect the records through a representative. Two months passed. He received no reply.
On May 4th, 2016, he filed an appeal to the first appellate authority of the Yerwada jail, pointing out the jail's information officer's failure. In two weeks, he received a letter from the officer saying that nothing could be furnished as it was third-party information. Perarivalan sent another appeal to the first appellate authority, enclosing the letter; in response he was asked to send his representative for a hearing on June 26th, 2016, to decide on the matter. Perarivalan's lawyer presented his arguments before the authority on the day. After two months, the appellate authority ruled that Perarivalan had no right to any information, as specified under Section 8(j) of the RTI Act. A determined Perarivalan then made an appeal to the Maharashtra Information Commission, which referred him to the Pune branch. He had to wait another 10 months to get an interim order from there ordering the jail to provide the information. On Republic Day this year, the information officer sent a 16-page document with answers only to two questions. Perarivalan again appealed to the first appellate authority. More hearings followed and on April 20th, 2019, after a three-year long legal battle, Perarivalan got answers to all his queries.
He followed up on Dutt's case because of what he perceived as unfairness in how his own freedom had been denied by the Central Government. Their cases were similar. Both were investigated by Special Investigation Teams (SIT), under the TADA law and tried by the same court. But there were differences too. In Dutt's case, the crime was declared a terror attack even though ultimately he was exempted from TADA charges. Perarivalan was tried and convicted under TADA though the offence charged was less serious. As compared with Dutt who got AK-56 rifles from Salem, the prime accused in the 1993 Bombay serial blasts, Perarivalan was convicted for supplying two nine-volt batteries to Sivarasan, the prime accused in Rajiv Gandhi's assassination. That the same batteries were used in the belt bomb that killed Gandhi was not conclusively established. More than one among the SIT members that investigated Rajiv Gandhi's murder later told the media that there had hardly been any evidence to prove Perarivalan's involvement. But these post-retirement confessions did not help him.
For 26 years after his arrest on June 11th, 1991, Perarivalan was behind bars, getting neither bail nor parole. His first parole was granted on August 24th, 2017, three years after his death sentence was commuted to life imprisonment. The Tamil Nadu government in its cabinet meeting convened on September 9th, 2018, formally approved the release of all convicts in the Rajiv Gandhi assassination case following the Supreme Court's ruling that the state government was at liberty to decide. The final word however has to come from the governor—which has not happened till date.
On the other hand, after his arrest on April 19th, 1993, Dutt had to stay behind bars only for 15 days, getting bail on May 4th. He was rearrested after two months and had to stay in jail for over a year until on October 16th, 1995, the Supreme Court gave him bail again. He enjoyed freedom for 10 years till a TADA court held him guilty under the Arms Act in July 2007. Again jail life was short with his getting bail on August 20th, 2007. In March 2013, the Supreme Court upheld the TADA court verdict but reduced Dutt's sentence to five years. He was granted four weeks' 'joining time' to go back to jail. Sanjay Dutt went to jail only in May 2013 after a review petition was rejected. Four months later he was granted furlough (14 days of annual leave that convicted prisoners are entitled to) that was extended by another two weeks. Furlough extension can only be granted in extraordinary situations, according to jail rules. However after a month's freedom Dutt returned to jail on October 30th, 2013, only to be released on parole on December 6th, for another 30 days. But he did not go back to jail in January 2014. The parole was extended two times for 60 days in total and Dutt returned to jail only on February 18th, 2014. In December 2014, he got furlough again for 18 days and went back to jail only after the court turned down his plea for extension. He was again granted a 30-day parole in August 2015. On February 26th, 2016, he finally became free, getting a premature release making use of the provisions of remission. Altogether he availed 120 days of parole and 44 days of furlough, usually impossible for prisoners.
"The Dutt investigation and subsequent prosecution and sentencing just encapsulates how the Indian judicial system works. You show me the man, I will show you the law," says Ashish Khetan, a former journalist and public policy expert who had reported Dutt's case extensively. "It demonstrates the uneven manner in which the law operated. There were roughly six to seven persons who were charged and convicted with regard to the arms that Sanjay possessed and then destroyed. While Dutt was the central figure, these fringe players had only a minor role. But the law gave Dutt a long lease, while it made an example of these bits-and-pieces players."
The jail authorities maintained they acted only as per the Maharashtra prison manual, but they now stand exposed after the RTI response. Meanwhile, even as Dutt got free so easily, Perarivalan continues to be in jail despite the mercy shown by the Supreme Court and a formal approval of the state government for his freedom.
"This is a classic example of discrimination," says S Prabhu Ramasubramanian, Perarivalan's counsel and a Supreme Court lawyer. "The RTI exposes the dual standard taken by the Centre. The rule of law in the country is the same for everyone. One's privileges in society in terms of wealth, celebrity status and power cannot be criteria for delivering justice."
- Shahina KK
(Courtesy: Open Magazine, 07 Jun, 2019)