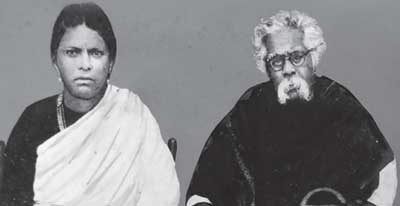 (Nagammal and Periyar E.V.R.)
My dear better half, lovely darling Nagammaal expired around 7.45 PM on 11.5.1933. Should I feel sad or happy about it? The disappearance of Nagammaal in thin air is a benefit or loss to me? I really couldn't make up my mind.
Am ashamed
Amazingly I have lived 35 long years with my partner Nagammaal. She had been a perfect partner for me, but I could hardly reckon I remained a good partner for her. I could never forget that during my indulgent life as a rebellious Casanova and public life as a social worker, she remained the basis of my evolution at each and every stage of it. I preach so much about women's liberty and women's pride. But I hardly qualify to say I followed a single percent of it as far as Nagammaal is concerned. With ignominy I declare, she adopted the characteristics the religious scripts and mythological stories etched out for an orthodox model woman, by ten folds and I was in connivance with it.
Humble consolation
I always had the realisation, every moment that my Nagammaal desired to live, were only for my sake, and never for her. If at all I could console, that would still be a humble one. That is, after indulging in public life, I devoted the purpose of her life for social development, especially for self-respect movement. When I was in Congress party, the entire world knows the part played by Nagammaal in Vaikom Satryagraha, number of agitations and self-respect movement.
Did I lose a slave by losing Nagammaaal? Did I lose my foundation? Did I lose my exuberance? Did I lose my feelings? Did I lose my agility? Or have I lost everything? Simply couldn't comprehend anything now!!
Nothing to wonder
However, Nagammaal's demise is not an event to wonder. She just expired; there is no astonishment in it. None can say Nagammal died at a young age. She is 48 years old, and it is a little lesser than half of human life. But considering the life expectancy age of India 23.5, I should say she lived twice the average. As per philosophy, 'one should weep at birth and laugh at death', similarly instead of considering her demise as sorrow and sombre would like to consider it as a glad and gainful event. I just don't consider so but believe me, it is true.
How is it so? During the rest of my life, Events of my chapter could be more acerbic. Undoubtedly those would never be pleasant scenes for Nagammaal to experience. Due to her plight, I might also get a bit anguished. Hence because of Nagammaal's demise, am liberated and attained the status of release from clutches of a family man.
Moreover, Nagammaal would never approach my demise, in the same manner, I do about her. It will work absolutely the opposite way around. So, considering her own welfare, it is certainly good that she expired before I do.
Not a loss
Many of my friends might consider Naagammaal's demise as a great loss. That is not right. If they meticulously assess the proceeding events, they would realise my point of view was right. The very reason for Naagammaal's ailment is parting away from me for over a year due to my foreign tour. Another reason is she thought my travel to Russia could be dangerous. The third reason is her anxiety that our proposed plans could land us in trouble. It is these silly reasons that led to her demise. Just imagine, if such silly reasons could impact her so much, the trepidations, financial loss, extended period of separation that we are going to face in forthcoming days would have made her life much more treacherous. Hope my friends would empathise with me.
For the past 2 to 3 years, I often contemplate leading life like Shankaracharya (not so pompous or for fund collection) – moving around to various places without a permanent dwelling. Per say, there was no limiting factor, except Nagammaal. It is an exhilaration to realise I don't have limitations anymore. Hence may Nagammaal's end fetch us some goodness.
(Kudiarasu editorial, 14-May-1933)
Written by Periyar E.V.R.
Translated by Ramu. Palaniappan
---
You can send your articles to This email address is being protected from spambots. You need JavaScript enabled to view it.
---