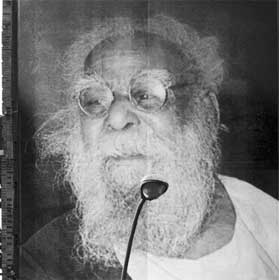 Mr. S. Satyamurti, the Provincial Secretary of the Independence League, tabled a question at the Madras Legislative council which was answered on the 31st January: "Will the Hon. The Law Member be pleased to state whether it is a fact that while Mr. E.V. Ramaswami Nayakar and Mr. Surendranath Arya were allowed to hold a conference and preach against society and religion at Vellore early this month, the police and the magistracy prevented meetings being held under Congress auspices by serving orders under Section 144 of the criminal procedure code?"
The spirit of the question betrays the mentality of the Indepencewalla, who far from bothering himself about measures for the securing of independence from Britain is actually intent on increasing the hold of the foreign Government on India by himself turning informer against his countrymen and instigating and assisting government prosecutions.
Had Mr. Satyamurthi been a patriot he would have contented himself with entering a protest against the repressive order prohibiting the Congress meeting without going out of his way to suggest the appropriateness of adopting repressive measure against Messrs. Nayakar and Arya. But the Independencewalla thirsts for blood and he would not rest content unless the British Bureaucracy obliges him by bringing the head of his political opponent on a charger. We have here an indication of what we shall experience when India attains to Independence and Mr. Satyamurti assumes the reins of Government.
The allegation that Messrs. Nayakar and Arya preached against society and religion is grossly libelous. Mr. Nayakar is the chief of the Self- respect movement and has dedicated his life to the task of social reform and social reconstruction on a scale hitherto undreamt of in our country. Mr. Arya is a member and a responsible officer of one of the reformed Christian Churches.The charge against Messrs. Nayakar and Arya comes with ill grace from a social obscurantist who seeks to perpetuate child widows and Devadasis and a religious reactionary who raises the cry of 'religion in danger' in support of derelict religious heads whose actions were sought to be controlled by the legislature.
- Revolt, 6 February 1929
---
You can send your articles to This email address is being protected from spambots. You need JavaScript enabled to view it.
---