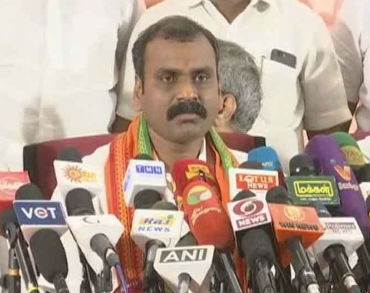 On 11 March 2020, the Bharatiya Janata party appointed Mr.L.Murugan, who was the vice president of the National SC/ST Commission, as the BJP leader of Tamil Nadu. Soon some progressives and right-wing mobs started propping up BJP against the Dravidian parties. "Can a Dalit become a leader in Dravidian Political Parties? But it has been accomplished by the BJP, which was branded as the party for upper castes"
There may be some truth in it that the representation of Dalits in the parties like DMK and AIADMK is not proportionate to their cadre's numbers and there is no chance of a Dalit ever becoming the leader. In fact, they have a mindset that even the few welfare schemes that are chalked out for the socio-economic up-liftment of Dalits are alms given away graciously.
A good example of this is the speech by the DMK Organization Secretary and Rajya Sabha member, SR Bharathi. He said, "In Maharashtra, not a single person from Harijan faction has ever been appointed as a High Court Judge. But the situation in Tamil Nadu is different. The former DMK leader Mr.Karunanidhi had appointed many non-brahmins including Dalit as a high court judge. This is alms bestowed upon Dalits by DMK."
This speech was trolled in social media and ultimately a complaint was lodged against him with Police department albeit he expressing regret on it.
Generally, it is impossible to win elections without compromising on casteist grounds in India. Dr. Ambedkar demanded dual voting rights to Dalits to upgrade them from their abysmal status and as a compensation for the injustice meted out to them for centuries together. But, this plan was foiled venally by Gandhi. Most political parties in India offer ticket to Dalit candidates in reserved constituencies only and DMK & AIADMK parties are no exception.
Hence the Dalits in the parties like DMK and AIADMK would have no guts to talk against casteism in the party. Perhaps, if they opt to speak against the dominant caste fanatics, they will surely be defeated in the election by the very same dominant forces. So, it is better not to assume that Dalits in politics are crusaders against casteism. In fact a Dalit who had remained immersed so many years in this political system, would be a person stripped off of all the characteristics of a typical Dalit.
We would be able to appreciate the real meaning of Dalit liberation, annihilation of caste etc., only if we could understand the underlying dynamics well. Those who have no understanding of these dynamics might celebrate the rise of Dalit to leadership roles in this caste centric electoral politics and power centers.
Murugan's appointment have titillated such superficial intellectuals. Those who understand the real meaning of Brahmanism would understand there's hardly any difference between H. Raja and L. Murugan. Capitalism is a haven not just to a businessman, but to anyone who greedily wants to make unlimited profit and manipulate society. Similarly Brahmanism is a concept that fits not just to Brahmins, but to all those who acknowledges the concept of considering some people are superior over others and they are bound to serve them without questions.
Consciously whether one remains a capitalist and Brahmanical evangelist depends on their lifestyle. Even though Murugan is a Dalit, he has already surrendered himself to the Brahnamical hegemony, accepted the treacherous slavery of the system and willingly acknowledge untouchability and brahmanical superiority to earn a living. If it is otherwise, BJP would never even contemplate to offer such position in its party.
It is our duty to remind BJP's past history to those who lauds appointment of Murugan as party chief of state unit. In order to popularize the party among Dalits, Karnataka unit of BJP party organized few interaction programmes with Dalits. As a part of the plan, Yediyurappa and other leaders made a vow to visit house of Dalits and have breakfast in their homes. But what really happened? In Holalkere region of Chitradurga district, Yediyurappa and others went to house of a Dalit called Venkatesh. But they refused to have food in his house, ordered food from Hotel and had it there. Local people even filed a complaint against him in Mandya for such a humiliating insult. This is not a stray incident. Yediyurappa replayed the feat again in Gubbi region of Tumkur district.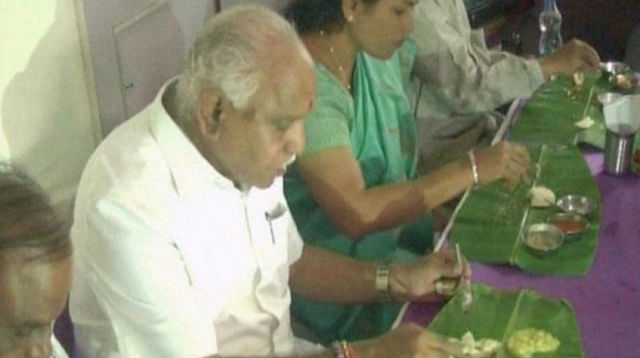 However the BJP and RSS casteists try to project themselves and their ideology as Dalit-friendly, their action talks for themselves and expose them promptly. Yogi Adityanath, present day UP Chief Minister, belongs to Takur community. When he went to meet the Musahar community people, his brigade insisted that they should wash themselves thoroughly with soap and shampoo before the meeting.
This is the real face of the BJP and RSS. If you are a Dalit, to get positions in the party, not just tolerance would do, but whole hearted acceptance and appreciation of Brahmanism is required. The best example is Ramnath Govind. Many lauded BJP for making him the president of India, in similar vein they are lauding Murugan's appointment. But why was Ramnath Govind was the chosen one for the position despite being a Dalit? It is because, for the past 20 years, in many occasions, he has spoked vehemently against reservation for Dalits, Christians and Muslims, voicing the RSS ideology.
In 2009, when the Ranganath Mishra Commission recommended that the reservation for government jobs should be reserved also for the Dalits who converts to Islam and Christianity, Ramnath Govind, the then BJP's spokesperson made a statement "inclusion of Dalits of Islamic and Christianity religions under reservation category is against the constitution". He added, "it would encourage many Dalits to convert to other religion, thus destroying the very fabric of Indian society".
In 2005 a document was circulated among the consulates of USA, titled 'The Socio-economic prospects of Dalits in India is still in dark'. In it, Ramnath explains the plight of Dalits of India as follows: "In India the evils of untouchability are reduced drastically, it is visible only in the occasions like leasing a house. The discrimination in job opportunities have been reduced in the past 10 years. Through reservation, Indian Dalits are getting wonderful opportunities. Sensitizing the students right from primary education level could help leveling the casteist discrimination". On the caste system, he goes on to say, "akin to the formation of industrial unions in Europe, the system formed to divide the labor within the society is caste system. People preserve this system to safeguard their respective profession". When asked whether it is possible to abolish caste system in India, he says, "Since Hinduism recognizes caste system, it can't be abolished easily. It may take at least hundred years to do that".
Albeit his consummate transformation into a Sanghi, dominant caste fanatics never accept him as one among them. On assuming the office of President of India, Ramnath Govind went to the Puri Jagannath Temple in Odisha for the first time on 18 March 2018 with his wife Suvitha. But he was not allowed to get near the sanctum sanctorum of Ratnasingadhan, owing to his caste background. Three guards prevented him from getting anywhere closer to the location. Suvitha, the first lady was pushed away by a guard when she resisted and attempted to enter.
On March 19, the President's office raised a complaint with the Puri district administration about the incident. The district collector Arvind Agarwal initiated an enquiry on the complaint only after 3 months. Still, Ramnath Govind never rebelled against the evils of Brahmanism. It is very simple and easy to comprehend. He firmly believes that the caste system is created just to preserve professions of the various sects in society. He propagates the idea in the society as well. This is the precise reason why BJP appointed him as President of India.
Hence we need not have to appreciate RSS or BJP when they appoint a Dalit as party's chief of a state or President of India. A person should be judged whether he is progressive or regressive based only on his track record of fighting the evils of caste system. Anyone who acknowledges and vouches for brahmanism, irrespective of his caste, should be considered regressive and retarded. He is not worthy a penny in the crusade against casteism, irrespective of the office he holds. That's the basis on which Murugan or Ramnath Govind should be evaluated.
Written by S. Gorky
Translated by Ramu. Palaniappan & Pandy
---
You can send your articles to This email address is being protected from spambots. You need JavaScript enabled to view it.
---