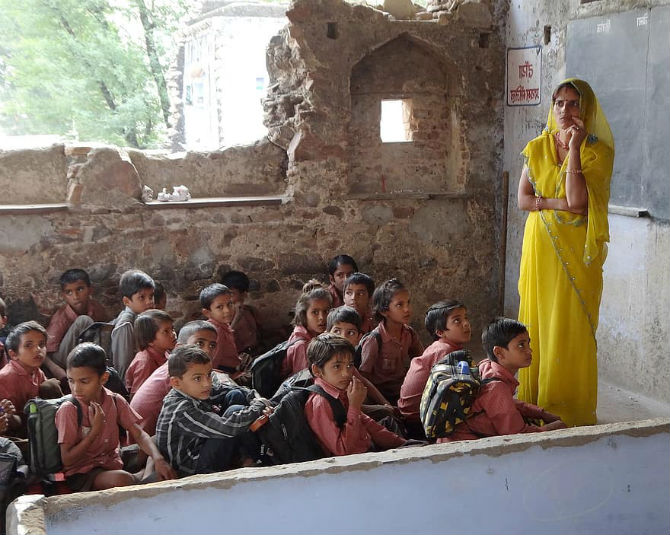 The National Education Policy 2020 of the Government of India seeks to change the existing education system completely.
In the current education system, students can join the college after completing 10 + 2 in school.
Under the current system, a degree is awarded after three years of study in the arts, science, and business courses at the college.
With this degree, one can write exams for central as well as state government jobs including IAS, IPS.
This system of 10+2+3 has helped the students from communities who have been deprived of access to education, with the opportunity to become first-generation graduates.
The newly adopted education policy is rife with components at every level that would act as filters to push these students out.
The new policy dictates provision for government schools such as the merger of one school with the nearest one if the strength in the first is low, building a school campus with 15-20 schools. These have been put in place for government schools while private schools are allowed to function as they wish without intervention by the government and the freedom to fix their own fees according to their expenditure without any regulation.
A student from an economically weaker family has to study only in a government school even if it's very far from home while a student from a wealthy background can study wherever as one wishes.
This policy is bound to sow in despair and dejection in children's minds. The policy is against the concept of equality enshrined in the Constitution of India.
Formal education begins at the age of three. Vocation training will be given along education. Between class 6 and 8, a student is supposed to have chosen one vocation for training and become skilled in it as per the prescribed criteria.
In class 9 to 12, there will be two-semester exams per year, and the student can choose to attend the exam for a subject when ready. This approach will make the students attracted to vocations at a much younger age and act as a motivator to move them away from education.
Giving the option to choose when to write the exam before the student becomes a rationale individual would incentivize piling up exam commitments, and this phenomenon would push such students to become semi or unskilled labourers leading a life subject to risks and demands of the volatile job market.
Even if a student overcomes this and passes class 12 successfully, that would not be enough for getting a seat in the college. Just like the NEET exams, one has to clear the all India level entrance exam conducted by National Testing Agency for any college education. Even if one wishes to study B.A in Tamil Literature, they have to clear NEET like exam.
This education policy that does not firmly dictate mandatory mother tongue-based education for all types of school, just says students will be taught in mother tongue or regional langue until Class 5, and it is desirable to continue that rill class 8 or beyond.
The education policy also increases the duration of 3 year courses to 4 years. This will increase the financial burden on the students, and their age will be higher by the time they finish the degree. This would entail several students unable to continue the course till completion and several candidates not being eligible for government jobs.
The policy attempts to diversify higher education as well. Closing down colleges that fail to become multidisciplinary is an attempt to dismantle public institutions.
The result of two centuries of struggle for social justice and the outcomes of efforts by great leaders like Babasaheb Ambedkar, Periyar, and Karmaveerar Kamaraj are the reservation in education, equitable education system and scholarship for the downtrodden. The aim of this Nation Education Policy 2020 is to dismantle that reservation, deny scholarship, turn higher education affordable only to a few and make wage labourers out of the most.
Our demand is equal access to education for all. The government should come forward taking full responsibility and bearing the cost for providing education from primary school level to PhD level to all in public institutions. For people who expected such an egalitarian policy, this National Education Policy is a big disappointment and betrayal.
Tamil Nadu Government should reject the National Education Policy that is against social justice and federalism.
An education policy which promotes the government's responsibility in proving free and equitable education to all should be drafted.
- TN Youth Force
---
You can send your articles to This email address is being protected from spambots. You need JavaScript enabled to view it.
---