In 1904, when Subramania Bharathi was working as a translator in Swadesamitran journal, Chakravarthini a woman's monthly magazine was owned by Vaithiyanatha Iyer from Triplicane, Chennai. Bharathi worked as an editor in this magazine from 1904 to 1906. During this period, Bharathi ardently wrote for the independence of women. Let's see a few among those.
"We should not be afraid of the consequences and cruelty from husband and husband's family if we say we will not live with a man where there is a denial of complete equality. Oh my sisters, death keeps no calendar. People who die for dharma also dies as well as other people. So my dear sisters, start a fair warfare regarding the liberation of women. We will emerge victorious."(1)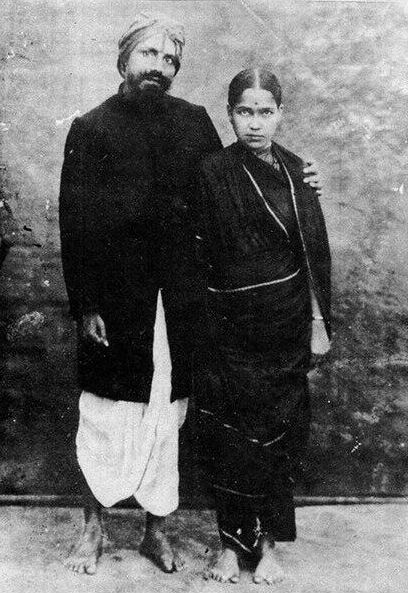 Bharathi is calling women to wrestle for their liberty in this manner. Bharathi, robustly tells that women should strictly declare that "if you agree to live with me in equal terms, I will live with you else I will not cook for tonight. I will cook and eat what I want. I will not serve food for you. If you thrash and throw me out, I will not leave this house; rather, I will die here because this house is mine."(2)
Bharathi tells that men ought to be good if they want a virtuous wife.
"Oh idiots! How can women be a faithful wife if men fail to keep up their fidelity? Husbands are abusing their wives verbally and physically in order to safeguard their chastity. This kind of atrocity is happening beyond the limits. Ugh! This is a shameless defeat. These injustice and inhumanity are futile." (3)
In the beginning, Bharathi sorely condemns the practice of Sati.
Bharathi is inquiring women, "Do we have life if we forget the sacred feet of Ram Mohan Roy who pioneered the abolition of Sati, a practice which killed innumerable women and gave indestructible great shame to this nation?"(4)
Moving a step ahead Bharathi, in his story 'Thulasibai', narrates how a young Muslim man saved a girl from a Rajput clan (Bharathi has mentioned that Sati was banned in Akbar's reign) in the graveyard who was about to be engulfed in the pile of fire. Love blossoms between these two and this ends up in marriage.
In the beginning, Bharathi opposed child marriage, endorsed inter-caste marriages and also divorce. Bharathi who said that women who are not interested in marriage could remain unmarried subtly changed his notion in future.
"When it comes to the state of chastity
Let it be common for both parties
Practice of pressurizing marriage
on women shall be stamped out" (Kummi)
Same Bharathi who wrote this Kummi song (folklore of Tamilnadu) for the freedom of women writes the following:
"Listening to the stories of Savithri, Seetha, Sahundhala makes me wonder how these women conceived such thoughts. Chaste women like them are the pride of our country."(7)
Women who were quoted by Bharathi prior were those who devoted their lives to their husband. They went through myriad struggles. Bharathi refers to these women as an example for chaste women.
From a few examples, we come to know that Bharathi, until 1908 who sung for the liberty of women, lacked thoughts regarding the liberation of women and became highly religious when he was in Pondicherry. He is insisting that women should protect their chastity at any cost. "Chastity is considered to be the responsibility of not only the women of Tamilnadu but also to the women of all other civilized countries. Difficulties faced by a woman in order to protect chastity are worth the struggle."(8)
Bharathi was religious, so he believes more in chastity.
"If men and women are true to each other, it will result in goodwill. A chaste woman has more power and valour. The truth lies in the story of Savithri who rescued her husband from the clutches of Yama" (9) says Bharathi.
In 1906, Bharathi, who condemned the practice of Sati through the story of Tulasibai almost, endorsed Sati after going to Pondicherry where he changed into a religious fanatic.
Bharathi wrote as follows in 'Karmayogi' February 1910.
"Women in ancient times committed Sati as they were not willing to live in the absence of their husbands were virtuous. Women who live for the sake of dharma and die for it will be united with the souls of their husbands. Such women are highly virtuous." (10)
Bharathi quotes, "oh Indians! A woman like Seetha, Savithri, Dhamayandhi and any other precious woman like them are your predecessors and can be held as an example for discipline."(11) in the magazine, 'India', August 1909.
In 1920 May, when Bharathi wrote under the topic 'National Education', he came to the conclusion that women should not divorce. He says,
"There exists a category which seeks independence from a relationship which is being backed by pandits from Europe and America. Relationships commencing with traditions like taking a vow that both of us will be true to each other with holy fire as a witness, exchanging rings, mounting on a grindstone (Ammi mithithal), Arunthathi darshan encounter bigotry and tolerance in experience. So this system can be changed as per the wish of an individual, and rigid marriages would be imprecise according to the perception of this category of people…
Though we research about national education, endorsing the independence of relationship is not possible. The concept of the liberation of love does not match with marriage. Marriage relationship will be broken if the husband and wife part their ways apart and what will happen to children if the wife varies every day? How can we bring up children with care and safeguard them? So, monogamous relationship practice was advocated by our predecessors on account of childcare."(12)
Bharathi is handovering the responsibility of saving Indian culture in the hands of women. How can they be liberated then?
"Oh my sisters of Tamilnadu, our Aryan and Dravidian civilization is a mixture of antiquity and greatness, and that's why it's distinctive than any other civilization of our country and its being protected by you. The duty of nourishing this depends on you."(13)
He was reluctant about Tamil or Dravidian civilization so that he says Aryan Dravidian is in your protection. Earlier, who said Aryan-Dravidian is a lie, now embracing it.
Bharathi is not liberating women, even in his stories.
Owing to poverty, a poor parent marries of their daughter to an old Brahmin. But she chose to live with someone of her wish despite her husband being alive. Being Brahmin, this act of Gandhamani was intolerable to Bharathi, so he converts her to Christianity, says V. Uma Ramani who analyzed the characters of Bharathi. (14)
In the story of Chandrika, written by Bharathi in his last days, Vishalakshi was a young widow, and she wishes to remarry. She marries Vishwanath Sharma, but unfortunately, he lost his mental stability in one and a half year of their marriage. Vishalakshi takes care of him despite his instability. Bharathi recognizes this as divine love.
What divinity is there in this?
People who try to justify that Bharathi was progressive about the independence of women are citing his essays which were written during his starting period. His latter writings wholly depend upon religion. It can be said that there is nothing specific about women independence.
Did Bharathi who sang songs and wrote essays about the independence of women granted it to his family women? R.A. Bathmanaban, who researched about Bharathi, tells that "A poet who sang paeans about freedom of women ruled his house. Chellama's consternation cannot be said." (16)
"One day Bharathi wanted his elder daughter Thangamma, aged 14 to accompany him to Ayyanar temple which is 5 miles away from Kadayam. She was reluctant to go as that temple was in the midst of a forest in the foothills of a mountain. So Bharathi was infuriated and slapped his daughter, leaving her cheeks imprinted. He even spitted on his father in law and brother in law who tried to save Thangamma." (17)
Some people say that it was Bharathi who strongly voiced out first for freedom of women but in Tamilnadu, existed Hindu Free Thought Union which tried to reform Hinduism. Inculcation of woman education, allowing widow remarriage, promoting inter-caste marriages, boycotting Brahmins are some of the motto of this union. For this, this union started magazines like 'Thathuva Visarini', 'Thathuva Vivesini' in Tamil and 'The Thinker' in English.
A part of an essay about the remarriage of women as follows:
"In spite of child marriage, sometimes when a girl child dies before adolescence, that boy can marry another girl, but if a boy dies, remarriage is not allowed to perform for that girl child in some castes like brahmins except very few other castes. This creates lots of distress.
Great intellects over here, think why there wasn't a space for widow remarriages and marriage at a right age, i.e., after adolescence!"(18)
['Thathuva vivesini', 17.2.1881]
People like P. Munusamy Nayakar, Athipakkam Vengadachala Nayakar, Ayothithasa Pandit who owned 'Tamilan' magazine and few others joined together and tried to reform Hinduism to create a new progressive society and for the freedom of women. In 1890, A. Vengadachala Nayakar wrote and published a poetry collection called 'Hindumadha Achaara Aabasa Thasini' which exposed the vulgarity in Hinduism. But, Bharathi supported the independence of women from 1904 to 1908, but after 1908 he became a religious fundamentalist.
In the 1920's he became highly fundamentalist, and so he could not write anything regarding the freedom of women and its apparent that he had women oppression thoughts.
Reference:
1. Bharathi Katturaigal, Vanathi Publications, page.no 243
2. Above referred text, page.no: 258, 59
3. Above referred text, page.no: 245
4. Mahakavi Bharathi Chakravarthini Katturaigal, compiled by Sinivishvanathan, Vanavil Publications, page.no: 95
5. Above referred text, Page.no: 101
6. Bharathi Kavidhaihal, page.no: 359
7. Mahakavi Bharathi, Chakravarthini Katturaigal, page.no: 87
8. Bharathi Katturaigal, page.no: 271
9. Bharathi Katturaigal, page.no: 244
10. Bharathi Pudhayal Perundhiratu, page.no: 331,332
11. Above referred text, page.no: 379
12. Bharathi Katturaigal, page.no: 350,351
13. Above referred text, page.no: 265
14. Bharathiyin Kadhai Magalir, page.no: 36-38
15. Bharathi Stories, Vanathi Publications, page.no: 246-251
16. Chithirabarathi, R.A. Bathamanaban, page.no: 121
17. Above referred text, page.no: 140
18. From Self Respect Thoughts published owing to 115th birthday of V. Aanaimuthu, 1993, page.no: 12, 13
***
Written by Valasa Vallavan
Translated by P. Maruvarthini
---
You can send your articles to This email address is being protected from spambots. You need JavaScript enabled to view it.
---