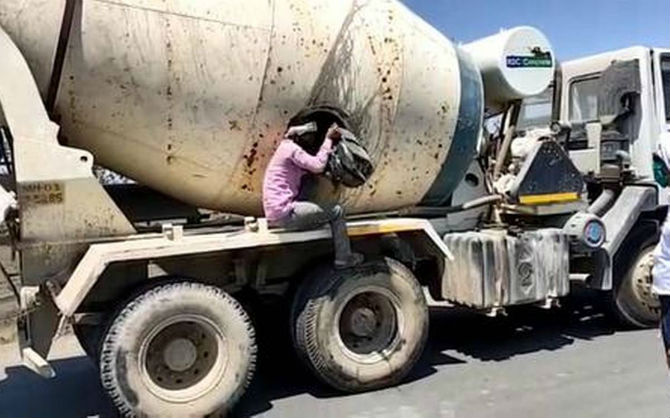 The issue of migrant labourers is exploding out of proportion as biggest ever human tragedy of the country. Their presence was ubiquitous, right from street side vendors of bed spreads, shawls, toys, cotton candy to hotels, construction industry, tea estates, MSMEs, etc., The labourers who could not find means to earn or fill their tummies due to sudden lock-down announced by Modi were left unattended as destitute by the very same government!
The business owners who exploited their cheap labour and amassed riches were never ready to provide a square meal to them during this crisis. Neither they were ready to honour the request from prime minister to pay the salary to the labourers during lock-down period, nor did the government have conviction to ensure they were paid by their employers. Those gentlemen who held light on the behest of Modi, were driving out these poor workers if they were not able to pay the rent. In spite of all these odds, how many days could these poor labourers survive with limited help of neighbours? It is basic instinct of humans to look for shoulders of nears and dears during a crisis like this, and it is the same instinct that drove them towards their native towns that were hundreds of miles apart.
They are ready to reach their destination despite government's control, high handed brutality of police, and even at the cost of their own lives. In the excruciating sun, 14 people travel about 1380 KMs inside the concrete mixer, without air circulation. When Police asked them how they were able to stand that kind of heat, their reply was "this heat is bearable compared to the heat of hunger"!
They walk on the highway with aged parents, small children and heavy luggage. Many of them drop dead on the way, some get hit on the tracks by the rushing trains, yet on reaching the borders of their state, the Police condemns their entry and threaten them to return. Some say, "life can't get miserable than this, even if I reach a stage begging in my village, I vow never to return to this city (Delhi)", "come what may, we are not going to move an inch back"
Where are they from?
Can you believe not just hundreds or thousands, but millions of people are living like 'displaced refugees' in India right now? Spread of the virus Corona and the subsequent lock-down had made us realize this painful fact. According to national model survey of 2011, the population of migrant labourers had grown from 22 crores in 1991 to 45.4 crores in 2011. It further extrapolates the population to 55 crores in 2021.
45.4 crores is about 59% of today's population. This number is larger than the number of farmers with own land. How does such a mass population evolve, and from where?
UP and Bihar has highest rural population, it is these two states that contribute to this mass migrant labourer population. The states that are hit by drought very often, Maharashtra, Madhya Pradesh, Rajasthan, Andhra falls next in line towards this contribution. The states that rank way behind in socio economic indices, Chhattisgarh, Jharkhand and Odisha follows next as per 2011 model survey. None in Tamil Nadu can proudly state these are sanghis but we are 'Great Tamils', because migrant labour population of Tamil Nadu is 1.69 lakhs. This figure is based on the number of applicants who have applied through online portal to move to Tamil Nadu from various parts of India, while the actual numbers would be somewhere near 10 lakhs.
What is the reason for this migration?
The fundamental reason is the open economic policy of the government that crushes out the rural agrarian economy. Along with agriculture, the associated micro and small business, handloom, textile industries are also mowed down. The mass, uneducated population that was dependent on these industries now have no other option, but for mass exodus towards cities as labourers. A large number of micro, small category farmers who faced continuous loss due to rising agricultural expenses also joined the bandwagon.
Economic survey of 2017 states that, between 2011-2016, about 90 lakh people migrated between the states. The sub-text of this data is, Foreign investment, growth schemes and rapid urbanization catalyses the process of increasing the migrant labourer population.
During the last decade, the multinational organizations were allowed to swindle natural resources of Jharkhand, Chhattisgarh and Odisha. The tribes who fought against it were driven away from their native land by para military forces and police. Those sons of soil numbering around 5 lakhs toiling as migrant labourers in various parts of the country. In other words, it is not their destiny or fate that is responsible for current state of affairs, but the privatization, liberalization and globalization of the economy. Hence one would not be able to understand the roots of the issue without considering reminisces of 'development schemes'.
As modern bonded labourers….!
2011 Survey openly declares major part of the migrant labourers are from Scheduled castes and Scheduled tribes. From recent sexual harassment, extortion and lynching cases, one can clearly make out the injustice meted out to these people in their North Indian villages. Albeit absence of such harassments in the migrated towns, they are exposed to other varieties of harassments there.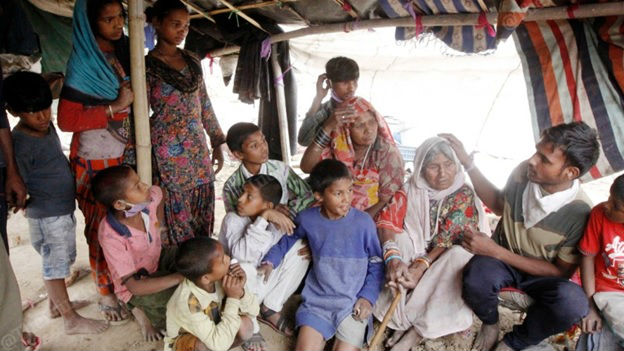 They were not provided decent dwelling by the brokers or agents who facilitate their migration. They either live by street platforms or in a corner in their work place. In some instances, 5 or 6 individuals join together and take a private accommodation. If they are employed in a bigger organization, they might be lucky enough to get 7 by 7 feet hut or metal sheet dwelling.
They have no occupational protection, guarantee or legal rights offered by constitution. In villages of UP and Bihar, the birth registration is at abysmal 16% and hence they neither possess government documents like Aadhaar card. Once work gets completed in a location, they just move to next work location like Nomads. Since they don't have any permanent address, none of the states cares to account for them. Not just governments, but political parties ignore them too. No one cares to consolidate them under any trade unions.
About 70% of them belong to 16 to 35 years age group. Most of them haven't completed primary education and their average monthly income is within ten thousand rupees. An NGO 'Ajeevika' that works among migrant workers found that about 50% of them earn less than five thousand rupees a month.
Worries of corporates…!
This huge population who are made destitute by farming, government, political parties and constitution and wander like nomads in alien lands are the bounty of our development scheme managers
'Have to work for 12 hours a day and should be ready to work for more hours if required, but payment would be decided only by the employer, they are not supposed to demand PF, ESI, insurance, travel allowance etc.! If they meet with an accident and happen to lose limbs or even lose their lives, they will have to simply accept what the employer magnanimously offers! None should talk about their rights on union'. This is what the investing corporates mean by demanding 'peaceful protective investment milieu' from the governments!
Only the lousy living standards of migrant workers help to satisfy this demand of 'peaceful and protective investment milieu' of corporates. Availability of more workers is inversely proportional to the salary need to be paid per worker, is the simple formula of the corporates. Nidhi Ayog guilelessly reflects this very same sentiment through its statement 'rate of migration of rural population (90 lakhs per annum) to urban locations need to be accelerated'.
The reason stated for not providing salary for 7000 migrant workers during lockdown period by Adani port management of Chennai is 'they will run away, and we will face shortage of labourers'. Railway's making Aadhaar mandatory for ticket reservation, threat by police to transport them back to their work location, forcing tear gas on the labourers who revolt demanding transportation arrangement to get back to their villages, Solicitor general's blatant lie that none is walking on the highways of India with hunger in Supreme court, smart investigation and arrest of the people who smuggle themselves through 'enclosed containers' by police never stem out of the concern for those people or save them from Corona virus infection, but to prohibit running away of 'slaves'
What are we going to do?
It is essential to reduce the production cost to capture the world market. Capitalism always try to achieve this by reducing the labour cost. Capitalism preserves this band of migrant labourers as modern bonded labourers, akin to reserve paramilitary unit. Labour force from developing and backward nations are systematically reared to this end.
One nation one ration scheme, 5 KG free rice and wheat per family once every three months, 1000 rupees per family as compensation, free insurance scheme are the schemes of the government to ensure these bonded labourers stay alive and serve their masters. Modi's dream of 5 trillion economy, rupees 20 lakh crore economic relief package are all only centred on welfare of corporates. Because of all these initiatives, the number of migrant labourers is only going to increase.
The solution for ailing economy and farming sector alone can provide real solution for the issues faced by migrant labourers. But all the political parties are staging a drama to make people believe providing food packet and water bottle and facilitating their transportation to native place would resolve all their issues. By propagating hatred against the migrant labourers that they are encroaching the land and grabbing the opportunities meant for sons of soil, few 'ethnic-centric political parties' camouflage the evils of corporate centric economic policies.
Organizations like RSS, which upholds barbaric philosophies and practices 'slave of corporates' attitude could never ever solve these issues. Marxist movements whose philosophy embraces the amalgamation of 'science for society' and social science alone can provide solution for social issues such as these.
The migrant labourers today are none but poor farmers yesterday. Are we going to enrol farmers from micro and small farming sector, businessmen of MSME and unemployment graduates of today as well in this workforce tomorrow? Or we are going to join the group of people who are going to revolt against the hideous, dangerous economic policies of Modi and bring about a change that this country greatly deserves? Future of this nation hinges on the decision we are going to make…
Written by Theni Maran
Translated by Ramu.Palaniappan
---
You can send your articles to This email address is being protected from spambots. You need JavaScript enabled to view it.
---