At least 8,000 families in Kashmir have lost their loved ones to enforced disappearances at the behest of the Indian armed forces. But the state refuses to acknowledge the problem and take action.
Growing up, I did not know what rape was, but I knew that it was something horrible that could happen to me. I also knew that I had to be scared of men in uniforms as they could rape me. Left alone in a car while my mother stepped out to get groceries, I remember shuddering at the sight of an army vehicle and locking all the doors and windows, doing all that a 10 year old could do to protect herself, at the risk of suffocating.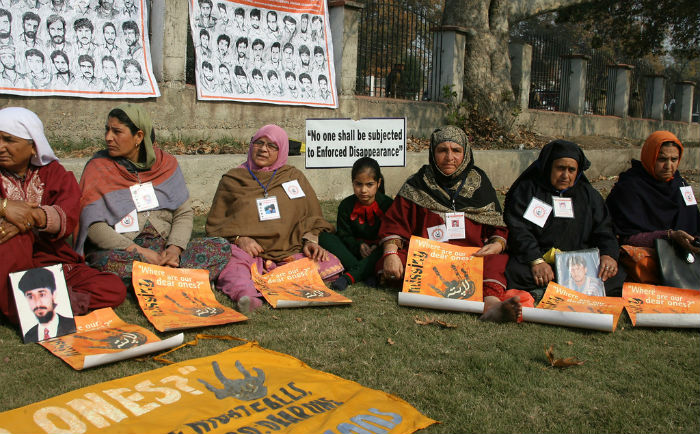 Such is the grip of fear over the people of Kashmir, and even children are not immune to it. Being the most militarized zone in the world, Kashmir has witnessed killings, enforced disappearances, torture cases, rapes and other brutalities by the Indian armed forces over the decades.
August 30 marks the International Day of the Victims of Enforced Disappearances. According to the United Nations, an enforced disappearance occurs when people are arrested, detained or abducted against their will by the state, or groups and individuals acting on behalf or with support from the state; followed by a refusal to disclose the whereabouts of the person.
In Kashmir, there have been more than 8000 cases of enforced and involuntary disappearances between 1989 and 2009, according to the Association of Parents of Disappeared Persons (APDP), a collective of family members who campaign against enforced disappearances and are in search of their loved ones. The government, however, pegs the number of enforced disappearances at 4,000. This discrepancy in the number of enforced disappearances has been highlighted by the Office of the UN High Commissioner for Human Rights (OHCHR) in its first-ever report on the status of human rights in Kashmir released in June 2018. However, the Indian government rejected the report. "Enforced disappearances are a weapon of war. They are used to neutralize armed resistance against the state and their sympathizers. It is a global problem and not restricted to a specific region. Disappearances not only silence opponents but also create uncertainty and fear in the wider community," says Parvez Imroz, a human rights activist who has extensively worked on researching and documenting enforced disappearances through his organisation, the Jammu and Kashmir Coalition of Civil Society (JKCCS). "Since the Spanish civil war in 1936, enforced disappearances have taken place worldwide and are not restricted to non-democratic countries, but also used by democratic countries to suppress political dissent", says Imroz.
According to the Rome Statute of the International Criminal Court, when an enforced disappearance is committed as part of a widespread or systematic attack directed at any civilian population, it qualifies as a crime against humanity, depriving an individual of their fundamental rights. Enforced disappearance violates an individual's right to liberty, right to freedom from torture, right to a fair trial, right to equal protection and right to presumption of innocence.
Families of those who have been subjected to enforced disappearances also suffer economically because in most cases, the breadwinner of the family is targeted. Wives and children of the disappeared especially suffer from mental health conditions caused by uncertainty around the victims' whereabouts and their own future.
The wives of the disappeared persons, referred to as 'half-widows', are exempted from state welfare schemes such as the widow pension scheme. At the same time, they are also excluded from the ownership of property by patriarchal customs in South Asia, including dominant interpretations of Islamic law that mandate that a woman gets her share of the property only when her husband is declared dead.
From Parveena Ahangar, whose wait for her son gave birth to the Association of Parents of Disappeared Persons, to Mughlee who died waiting for her son, nearly 200,000 relatives of victims of enforced disappearances have been working tirelessly to trace their missing ones. For the family and friends of people who have allegedly been abducted by the Indian military and paramilitary forces, the mental anguish is unending. "Burial and cremation resolve the internal conflict, but disappearance creates open-ended distress; even a traumatic death is less distressful. While the death of someone is like a scar, disappearances are like chronic non-healing ulcers affecting the psychology of the people and suppressing their will," says Srinagar-based psychiatrist Dr. Majid Shafi Shah.
The United Nations adopted the International Convention for the Protection of All Persons from Enforced Disappearance in 2006 as a legally binding instrument to prevent enforced disappearances. Although India has been a signatory to the convention since 2007, it has not ratified it even now, 11 years later. The Prevention of Enforced Disappearances Bill, 2017 was introduced in the Rajya Sabha in December 2017.
In the absence of a law, families often lodge "missing persons" complaints with the police to trace those who might have been subjected to enforced disappearance. The crime categorizations commonly used in the record books include "abduction", "kidnapping" or "wrongful confinement". To top that, controversial laws like the Armed Forces (Jammu & Kashmir) Special Powers Act of 1990, the Disturbed Areas Act of 1976 which was extended to Jammu and Kashmir in 1992, the Jammu and Kashmir Public Safety Act of 1978 and Unlawful Activities (Prevention) Act of 1967 grant impunity to more than 700,000 personnel of the Indian armed forces. While the presence of armed forces in popular culture is associated with a sense of safety, in Kashmir, armed personnel create an environment of fear and insecurity.
In 2005, APDP unearthed the widespread existence of graves-with-no-names. In Baramulla alone, the total number of such graves is 940. On July 10, 2008, the European Parliament passed a resolution lending support for the investigations into the discovery of mass graves and enforced disappearances. "But the Indian state cited lack of technology, expertise and human resources as the reason for not conducting the investigation, even though the European Parliament had offered financial assistance to take it forward," says Kartik Murukutla, a lawyer associated with APDP.
In 2009, International People's Tribunal on Human Rights and Justice in Indian-Administered Kashmir released a second report in which 2,700 mass graves were found and investigated in Baramulla, Bandipora and Kupwara districts of Kashmir. The Jammu and Kashmir State Human Rights Commission (SHRC) in 2009 took suo moto cognizance of the report, and a special investigation team (SIT) led by a Senior Superintendent of Police was constituted to conduct an enquiry. The SIT, in its report, confirmed the presence of 2,730 unidentified bodies buried across 37 sites in the three districts of north Kashmir. "To stop the misuse of powers under AFSPA, the Public Safety Act and the Disturbed Areas Act, it is extremely important that wherever a person is killed, whether he is a militant (or innocent killed during cross-firing) his or her identification profile should be maintained properly," the report said.
The only formal response from the Government to the SHRC was in the form of an Action Taken Report [ATR] dated 13 August 2012, denying the existence of the unmarked graves and saying that the unidentified bodies buried in the unmarked graves belong to foreign and local militants. The Ministry of Home Affairs refused to accept the recommendations of the SHRC. Besides, they also said they don't have enough laboratories to carry out the investigation process.
In November 2017, the SHRC once again asked the Jammu & Kashmir government to investigate at least 2,080 unmarked mass graves, this time in the Poonch and Rajouri districts of Jammu. But there has neither been a probe nor an Action Taken Report from the government. The state's inaction prompted the JKCCS to file a petition in the SHRC in August this year, asking the SHRC to approach the High Court to seek implementation of its 2011 and 2017 orders. The SHRC will next hear the case on September 17, 2018.
The government's continued refusal to comply with the SHRC's recommendations gives impunity to and protects the perpetrators of violence. It also reflects the state's reluctance to acknowledge the very existence of enforced disappearances, a culpable offence. For thousands of families looking for closure and justice, such a response from the state only aggravates their grief. It further deepens the sense of distrust for generations of Kashmiris who live in the constant fear of being raped, murdered or tortured for speaking up against the oppression and impunity and what many in Kashmir would say 'occupation of the region'. It is time for the state to hold the armed forces accountable, repeal laws that give them impunity, and investigate the mass graves as ordered by the State Human Rights Commission.
Disappearances Convention
The International Convention for the Protection of All Persons from Enforced Disappearance came into effect in 2010. It aims to prevent enforced disappearances, uncover the truth when they do happen and make sure survivors and victims' families receive justice, truth and reparation.
The Convention is one of the strongest human rights treaties ever adopted by the UN. Unlike other crimes under international law, such as torture, enforced disappearances were not prohibited by a universal legally binding instrument before the Convention came into force in 2010.
The Convention provides a definition of the crime of enforced disappearance and outlines necessary state action in order to both prevent the occurrence of the crime and to allow for the investigation and prosecution of those who perpetrate it.
Implementation of the Convention is monitored by the Committee on Enforced Disappearances (CED). At the time of ratifying or acceding to the Convention, or even later, a state may declare that it recognizes the competence of CED to receive and consider communications from or on behalf of victims or other states parties. The CED also provides authoritative interpretations of the Convention.
***
ENFORCED DISAPPEARANCES
Overview
Victims of enforced disappearance are people who have literally disappeared; from their loved ones and their community. They go missing when state officials (or someone acting with state consent) grab them from the street or from their homes and then deny it, or refuse to say where they are. Sometimes disappearances may be committed by armed non-state actors, like armed opposition groups. And it is always a crime under international law.
These people are often never released, and their fate remains unknown. Victims are frequently tortured, and many are killed or live in constant fear of being killed. They know their families have no idea where they are and that there is little chance anyone is coming to help them. Even if they escape death and are eventually released, the physical and psychological scars stay with them.
The Problem
Tool of terror
Enforced disappearance is frequently used as a strategy to spread terror within society. The feeling of insecurity and fear it generates is not limited to the close relatives of the disappeared but also affects communities and society as a whole.
A global issue
Once largely used by military dictatorships, disappearances now happen in every region in the world and in a wide range of contexts. They are commonly carried out in internal conflicts, particularly by governments trying to repress political opponents or by armed opposition groups.
Who is at risk?
Human rights defenders, relatives of those already disappeared, key witnesses and lawyers seem to be particular targets.
Agony and danger for families
Family and friends of people who have disappeared experience slow mental anguish. Not knowing whether their son or daughter, mother or father is still alive. Not knowing where he or she is being held or how they are being treated. Searching for the truth may put the whole family in great danger. Not knowing if their loved one will ever return often leaves their relatives living in limbo.
Men most targeted, women lead the struggle
Globally, the vast majority of victims of enforced disappearance are men. However, it is women who most often lead the struggle to find out what happened in the minutes, days and years since the disappearance – putting themselves at risk of intimidation, persecution and violence.
On top of this, the disappeared person is often the family's main breadwinner, the only one able to cultivate the crops or run the family business. This is then made even worse by some national laws that don't let you draw a pension or receive other support without a death certificate.
Arbitrary detention
Many victims of enforced disappearance have been arbitrarily arrested or detained – in other words, arrested or detained without a warrant of arrest.
Torture
A disappeared person is also at a high risk of torture since they are placed completely outside the protection of the law. A victim's lack of access to legal remedies puts them in a terrifying situation of complete defencelessness. Victims of enforced disappearance are also at heightened risk of other human rights violations, such as sexual violence or even murder.
***
AGONY OF BEING IN THE DARK
The family members, relatives and friends of the disappeared are suffering the untold agony of not even knowing the fate of their dear ones: Are they still alive, somehow somewhere? Or if dead, which is the most probable fate, how did they meet with their fatal end? A mother not knowing what happened to her son, a wife not knowing what happened to her husband, a daughter not knowing what happened to her father and everyone hoping against hope that someday somehow the missing would reappear alive… to be dead is rather better than to be bereaved and to be bereaved is really better than to be in the dark about the fate of one's beloved.
***
"The mass disappearance of those who surrendered at the end of the war is a clear indication of the institutionalization of the practice of enforced disappearances in Sri Lanka. The state's concealment of the fate, whereabouts and information of the disappeared person triggers criminal responsibility."
Amnesty International
"Sri Lanka has one of the world's highest number of disappearances, with a backlog of between 60,000 and 100,000 alleged disappearances since the late 1980s. Given the lack of accountability for these cases, Amnesty International has noted that there is no shortage of examples of thwarted justice in Sri Lanka."
- Zeenish Imroz & Zulkiflah Shakeel
(The writers are second year media students at Government College for Women, Srinagar, and are presently interning with Video Volunteers. This article was originally published in Fortnightly Magazine 'Abel', August 2020)
---
You can send your articles to This email address is being protected from spambots. You need JavaScript enabled to view it.
---