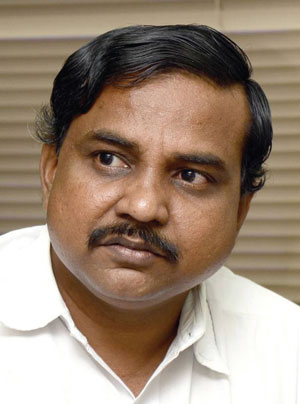 About the release of National Education Policy – 2019...
One has to look at the educational policy laid down by the K. Kasturirangan Committee in a continuation of the T.S.R. Subramanian Committee formed during the last regime. Without translating into any languages other than Hindi and English during these six months, this draft submitted to the Government in December 2018. Does this government think that non-English and non-Hindi speakers should not comment on this? Moreover, how to comment on this within a month? At least, the government should publish a draft in 22 languages listed in Table 8 and give a minimum of 6 months duration to provide the opinion.
What are the risks of this policy other than the three-language formula?
They are planning to make a fundamental change. They start formal education from the age of three, which is a wrong approach. They are saying, primary education begins from L.K.G. to 3rd grade. They are saying examination will be conducted at the end of this primary education, after that examination in the 5th and 8th grades. Such examinations are violence against children. Eight seasonal exams will be conducted from 9th grade to 12th grade. They change this to intermediate education.
Having said that, this system of education helps students develop their thinking skills; they are also saying that this school education is not eligible to enroll in college. If you want to join the college, write the competency test conducted by the National Examinations Agency (NTA). Placement in college is based on that score. If this educational policy develops students with thinking skills, why should students not be admitted to colleges on that basis? Why another competency test? Their goal is to filter students from the 3rd grade onwards. They are recommending vocational training during school education. These arrangements are to prevent all parties from attending college.
Similarly, this educational policy aims to disrupt education, as it incorporates government and government-aided colleges that do not have adequate construction facilities with universities and change the duration of the degree course to 4 years.
What does this educational policy say about curricula and textbooks?
As for the textbook, they will create a textbook at the national level. States can add some more if they wish. This education policy's aim is to create a 'one India, one education, one textbook, and one examination', which removes the rights of states to formulate educational policies and textbooks. This is against the federal philosophy. In a country like India, with more diversity, it will result in the destruction of language and cultural identity.
How much importance is given to Sanskrit in this policy?
There is much more importance given to Sanskrit in this educational policy. They say that it has contributed immensely to the development of India's languages and its unity in diversity. This is an unacceptable argument. In a country where there are different language groups, how Sanskrit could have contributed to the development of all languages? They are saying that they want to create all possible opportunities to teach Sanskrit effectively from school to college education. This is against Article 14 of the Constitution of India. How is it possible to give this much importance only to one language? This educational policy includes destroying other languages, transforming Sanskrit into the cultural identity of India and making everyone to speak Hindi.
To what extent social justice will be affected?
This education policy is against social justice. Nothing is mentioned about the reservation. They talk about reservation only when there is a discussion about the college of education. Elsewhere, there is talk of 'merit' only. This educational policy gives no guarantee that the reservation policies followed in the respective states will continue.
How to see this education policy as a whole?
This education policy is set in accordance with the terms of the document signed under the Public Service of the World Trade Agreement. It is not in view of the Constitution of India. It is in the view of marketing educational services.
Interview given by Prince Gajendra Babu
Translated by Devi Kalaiselvi
(This interview was originally published in a Tamil Magazine 'Karunchattai Thamizhar' on 15-Jun-2019)
---
You can send your articles to This email address is being protected from spambots. You need JavaScript enabled to view it.
---