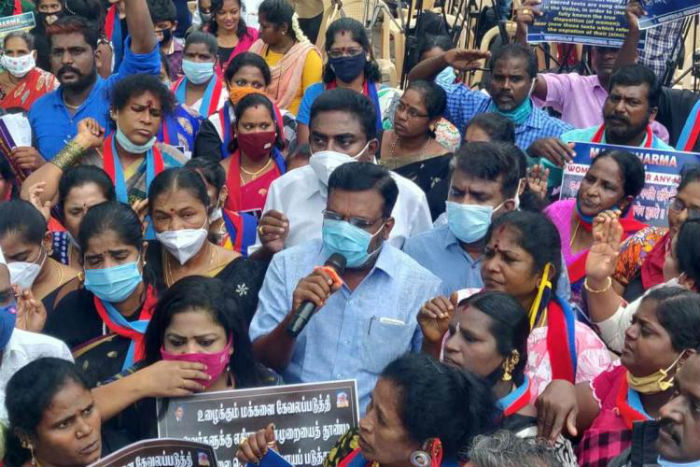 We, the undersigned, individuals and women's organizations committed to gender justice would like to stand by Thiru. Thol. Thirumavalavan in his critique of the Manusmriti. This is our collective statement. We are appalled at the accusation made against him that he had denigrated Hindu women and the subsequent case that has been filed against him. In this context, we would like to affirm his critique of the Manusmriti.
At the outset, we would like to state that the Manusmriti has been the target of founded and consistent critique by individuals and movements from the early 20th century. Critics included Jotirao Phule, Pandit Iyothee Thass, M C Rajah, EVR Periyar, Dr Ambedkar, Dharmananda Kosambi and several others associated with the anti-caste and democratic rights movements. Since the inception of the women's movements in this country, women too have been in the forefront of the campaign to denounce it as a document that justifies and insists on the enslavement of women and the so-called Shudras, who comprise largely the working and productive communities of this country.
Chapter 9 of the Manusmriti is particularly objectionable since it makes it evident that the author of this text had no regard or respect for women, and in fact stated quite clearly that women were not to be trusted, that they were promiscuous and would throw themselves at any man, that their nature was low, and that they cannot access the shastras, and that they ought to be controlled and kept in check by their fathers, husbands and sons.
It has become customary for apologists who view this as a divine Hindu text to point to stray quotations that praise women or call attention to their indispensability. To any student of the text, it would be evident that the author of the Manusmriti sought to praise women from the so-called twice-born castes, particularly Brahmin women so that as good wives and mothers, they can be honoured for what was expected of them: the maintenance of the caste order.
Since that time, many Hindu women, and those born Hindu, but who are agnostics and non-believers have criticized the text's low view of women and the so-called Shudras. Dr Ambedkar, speaking in the legislative wing of the Constituent assembly had drawn attention to how this text is opposed to liberty, equality and fraternity and hence constitutional values.
It is astonishing that Hindus would like to claim this text and argue that those who criticize it are degrading women. This text does not serve the cause of the religion they hold dear.
We, therefore, welcome efforts to criticize the text and view acts such as consigning it to flames as a legitimate aspect of anti-caste struggles. We would also like to state here that this symbolic act is not to be read as a censuring act; we are not asking for a ban on the book, and in fact, would like people to read it to see how its author holds more than 90% of society and all women in contempt.
· V. Vasanti Devi, Former Commissioner, Tamil Nadu State Women's Commission
· V. Geetha, Feminist Historian and Writer
· AIDWA - TN
· NFIW - TN
· Women's Collective, Chennai
· Penn Thozhilalargal Sanagam (Women Workers' Union)
· Manithi
· Swaraj Abhiyan Tamilnadu
· Ms. Kalpana Kannabiran, Professor & Director, Council for Social Development, Hyderabad
· Dr. A.D.Reavathy, Assistant Professor of Philosophy, Pachaiyappa's College, Chennai
· Ms. Christina Samy, National Vice President, Swaraj India
· Adv. Lucial, Working Women Movement
· Ms.N.Uma Maheswari, Assistant Professor, Lady Doak College, Madurai
· Ms. Arockiamary, Tamil Nadu Women Movement
· Ms. Kavitha Muralidharan, Independent Journalist
· Adv. Selva Gomathy, SOCO Trust, Madurai
· Ms.Cynthia Tiphagne, Women Activist, Madurai
· Dr. Anita Tiphagne, Women Activist, Madurai
· Ms. Anusha Hariharan, PhD Scholar, Chennai
· Ms.Archanaa Seker, Chennai
· Ms. Kameswari, Women's Collective, Madurai
· Ms. Saumya Uma, Academician
· Ms. Josephine Joseph, Social Researcher