A few months back, I went to a Cinema hall in Thanjavur, to watch a cinema, a recent release, after reading the good online reviews. I got the tickets too. It was almost time for screening, and an attendant came and told me, Sir, Please go and collect the money (ticket) at the counter as there is no show today. I got shocked as my eagerness of watching a thriller got shattered, asked him, why so? Since the tickets sold are less than twenty in numbers, we cannot screen the movie. When will you screen this again? Not sure, Sir, he replied. I collected back the money and threw away my dream of watching that movie, as there is no certainty of being screened in the near future. I was really surprised seeing the milieu pertinent to watching cinemas in the cinema halls in this social media era, in Tamil Nadu.
We have reached, from a battleground like a scenario in front of the cinema halls, to a situation that there is no surety of watching even after getting tickets. The reasons could be attributed to the advent of digital cinema, change in the entrainment pattern of the people, YouTube, streaming services (OTT) like Netflix, Amazon Prime, SunNXT, etc and why not, Tamil Rockers.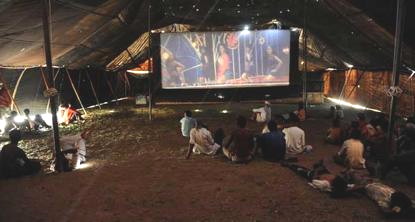 I can still remember one incident, happened somewhere in the early 1970s - when I was too young - pertinent to going for a Cinema. We were staying in a village in Trichy district of Tamil Nadu, where my father and mother were working as teachers. The elders and some VIPs of that village took the people of the village, a sizable in number, in two bullock carts for watching a movie screened in Turing talkies in a nearby small town, as there were no Turing talkies in that village. It was a very joyful event for the villagers, as watching a cinema in a Cinema Hall, was a pleasure of all pleasures for them.
When I was studying 4th Standard, one evening, my father came running with a handful of coins and informed us that we should get ready at once to go for a cinema "16 Vayathinile" (At the age of 16). My sister, aged around two years, sleeping on the cradle (Thotti in Tamil), jumped out of it, on hearing the sudden surprise news, - as moving going moments were the happiest moments in those times even for kids too - luckily into my hands. Everybody hurriedly got ready and rushed to the movie Hall and watched one of the trendsetter movies of the Tamil Cinema, without even realizing that.
When guests visited our house, during those days, one of the inevitable items in our hospitality was to take them to a cinema. The best marriage treat or gift, for the newly married couple, in those days, was sending them to Cinema. Any success, like pass in SSLC exam or getting a seat for higher studies or a job, would be treated with the Cinema, the best possibility of attaining satisfaction. On the other hand, failure would also be embraced with Cinema only. There were a lot of love failure movies to welcome the ones who got breakup (a present time usage) and console along with the love failure songs embracing them.
In my hostel days during schooling, there was something called a free night, by which we were permitted to go for cinemas in the evenings. It would come on every fortnight Saturday. We used to long for that as it was the only outlet to vent out our stress due to studies. Such practices were there in colleges too, in those times. The weekend entertainment was a cinema for the students and the society in general.
The maximum entertainment, probably, a commoner can get in those days, was movie-going except during the festivals times. Even during the festivals, like Diwali, the ultimate enjoyment was watching the new releases – watching them in the first day first show was a great achievement and those who achieved that would be treated like heroes.
There was no TASMAC, No satellite TV, No serials, No Cell phone, No I phone, No Earphone, No Facebook, No Twitter, No WhatsApp, No Netflix, No AmazonPrime, No weekend parties and there was only one thing "Cinema in the Cinema hall". The cinema, present days, has lost its luminescence and its associated world of pleasures. We, in the forties and fifties, live by those nostalgic moments associated with cinema, the pleasure of all pleasures of those times.
- M. Joseph
---
You can send your articles to This email address is being protected from spambots. You need JavaScript enabled to view it.
---