It was during fifties, right from a tiny hamlet to big metros in Tamil Nadu (South India), the hotel names were prefixed with the caste name. It was not as Chettiar hotel, Mudhaliar café, Nadar mess etc., but as "Brahmanal Hotel" which were spread nooks and corner throughout Tamil Nadu. At that time, 'Periyar' E.V.Ramasamy strongly opposed this caste system and also carrying the caste name in the name boards of such hotels. He was very furious to witness such caste spreading its awkward tentacles in our system. He could not just brush away the idea as it simply referred to name only but believed more than that.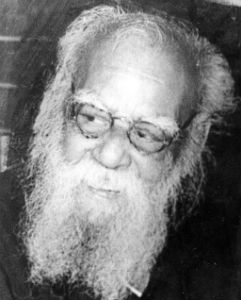 He submitted detailed petition to the government and the governor. He insisted government that while giving license to hotel, the applicant should first undertake to eschew caste name in the name boards as a precondition to license. But the government seldom took any action and merely stood as a mute witness. On seeing this, Periyar made a clarion call to his followers in his 'Viduthalai' news paper fixing a date for smearing the name "Brahmanal" in all the name boards of such hotels. He appealed to all his followers not to indulge any such violence during such smearing campaign and to be arrested without any protest at the time of police intervention.
While Periyar was so stubborn in his stand, the high caste people gave a different explanation to this. They wanted to sideline and dilute the issue by saying that the name "Brahmanal" never meant to specify the caste but extending a specific invitation to those who prefer vegetarian food. Periyar stoutly denied this way ward explanation of the high caste. He insisted if that caste name preferred was meant for vegetarian food then they could prefix the word "vegetarian" but never the caste name. Rajaji strongly opposed Periyar's suggestion and his anti Brahmin slogan. Rajaji contented that Brahmins could cook tasty vegetarian food and thereby substantiated his argument for prevailing the caste name in the name boards. It is sad to learn the narrow perception of Rajaji in dealing this caste issue, who was holding once the post of governor general during British ruling, acted as the then chief minister of state of Madras and above all a close relative of our father of nation Mahatma Gandhi known for his social reform, to behave like this glorifying the caste.
Finally it was decided to convene several meetings throughout the state and Periyar conducted an exclusive meeting at Salem resulting an unexpected change in this issue. He explained this in his Viduthalai news paper as below: "Just two days before when I camped in Yercaud I received a letter from Salem hotel owner's association. After we declared our smear campaign they urgently convened a meeting to get a consensus to wipe the name of Brahmanals in all the hotels at Salem. Hence no need to proceed further at Salem".
Periyar persistent effort had started yielding slowly. But the Chennai hoteliers were very stubborn and nonreluctant. Periyar again made his call to his fellow members. He organized a specific band of followers to remove the caste in the name boards and they commenced their journey from Salem to madras. Periyar invited that band while in transit at Dindivanam and delivered a speech.
The followers organized their protest in front of all the hotels at Madras. Majority of the hotel owners removed the caste name in their name board. But the owner of Murali Brahmanal Café at Triplicane protested this proposal despite Periyar followers retorted by staging a continuous protest in front of the hotel daily. Finally the hotel owner silently gave up his stubbornness and changed his hotel name to "Murali's ideal coffee and meals hotel"
Those were the days our women folks were proudly known for their caste free names. But now a days to our dismay the name is appended with their caste name. Specifically It is very prevalent in the cinema industry where the heroines are using their caste name like Navya Nair, Mega Nair, Lakshmi Menon, Paravathy Omana Kuttan, Janani Iyer, Aparna Pillai, Megna Naidu, Swetha Menon, thus the list is endless. However, It is a great solace to learn that none of them are native of Tamils.
(Original text courtesy - Ungal Noolagam Jan 2014, written by Selva Kathiravan)
Translated by Prema Prabha (This email address is being protected from spambots. You need JavaScript enabled to view it.)
---
You can send your articles to This email address is being protected from spambots. You need JavaScript enabled to view it.
---