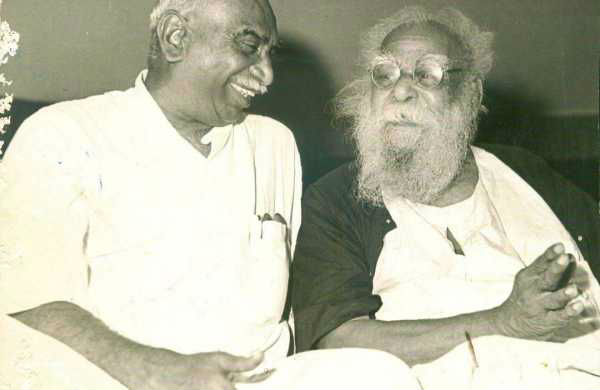 How come Periyar who left the Congress party saying, "I will defeat Congress" later got close to Kamaraj, leader of the Congress? What is the reason? Because he followed the footprints of Periyar. Though Kamaraj belonged to the national movement, he was meant for the progress of the Tamils. Likewise Periyar, he too stormed out of the hazards posed out against the rights of Tamils. Both are similar in feelings and actions. Even from the days of school education,
Kamaraj had a huge fillip over Periyar and opposed to superstitious practices in blasphemy or mantra tantra.
Pitambar Iyer was a famous magician of his area when Kamaraj was a schoolboy. Kamaraj observed him for a long time and later demonstrated all his magical deeds, in front of his schoolmates. When he was 21, he organised a conference in which Periyar participated. He miserably failed as a school kid and at that time was sent to Kerala to his maternal uncle's house. He somehow slipped off from there, to attend the Vaikom protest lead by Periyar.
Kamaraj wasn't just a nationalist in political practice rather the true Tamil in all sensibilities. In 1953, states were made independent on linguistic identity. Andhra Pradesh was excluded and separated but other three, Kerala, Tamilnadu, Karnataka were not separated. Efforts were made to keep them intact as one region or state and called Dakshin Pradesh. Periyar staunchly opposed it, of such an amalgamation. But there are voices nowadays that Periyar has sold out Tamil interests and was against the feelings of Tamils. 'Periyar was a Kannadiga and mortgaged Tamil interests for Kannadigas and Telugu people' were also the saying. If he was so, he needed only a Dravidian region and he would have voiced for Dakshin Pradesh which he was against vehemently. Only on Tamil sentiments, he opposed it, "When Dakshin Pradesh would be a reality, Tamil opportunities in the job, education everything could have been shared or taken away by Malayalis and Kannadigas, they would become our masters. Tamil would be a second citizen"
To make a decision on this, Jawaharlal Nehru organised all chief ministers meet in Bangalore. Periyar sent a telegram stating that 'blood both' will be the result if it happens and with a similar mood Kamaraj passed this information to Nehru. Though Kamaraj belonged to a national party, he was not opposed to their linguistic separation of States or regions. Both Periyar and Kamaraj have a similar thought process about Tamil interests.
When Rajaji tried to implement the caste-based education 'Kulakkalvi', Kamaraj opposed it to tooth and nail and just because it was a Congress government project he did not support it. Now, it is also named as 'New education policy' that the school children had to go do their caste-based practice, of an avocation part-time, and other part to be meant for school. When BJP came to power, in 2014, it made some changes in the constitution of rights of children and child labour. Children aged 14 and above can have a caste-based job that is the job familiar to their families after their school hours and on holidays. Rajaji implemented Kulakkalvi. Trends are different nowadays. Urbanisation has given them exposure to various avocations; many families work through outsourcing. The original law is against child labour. Union government tries to manipulate it with an idea 'children can help their parents;' This is called Kulakkalvi, metamorphosized into traditional education.
Rajaji's education plan was named as Kulakkalvi by Periyar. This became a fixed name later. Periyar organised a meet against Kulakkalvi in Chennai. A Periyarist named Needamangalam A. Arumugam along with a band of his party workers kick-started the campaign rally from Needamangalam and walked down the distance to Chennai. Periyar openly decried, "Keep petrol and torch, also a dagger in hand. I will declare the date… the agraharam should be torched". Though he made a warning… he didn't fix the date. The army opposing caste-based education reached Chennai. Meanwhile, Rajaji left the chief minister's seat, and Kamaraj became the CM. The army opposing Kulakkalvi met Kamaraj at the Saint George fort for which he vouched to take a quick step. He then took a positive step in 4 days, he abolished the act. Periyar was much elated and praised him to the core.
"Five or Eight percent education widely found among Tamils which later turned out to be 31%, this is just due to Kamaraj's deed" Periyar opined.
When Brahmins were against reservation by stating, 'no place for the talented', Kamaraj retorted it saying that we all know that talent and quality is just a ploy. Periyar rightly brought a pamphlet opposing what is called talent and ability which is found only in certain sections of people...
Kamaraj was also on an idea that IAS must be conducted in Tamil – in our mother tongue. Nowadays we can write all the UPSC Central government exams in English or Hindi. When a benchmark of 22% pass in English syllabus in IAS exam is a must as a rule was introduced, as well as for promotions by UPSC and the central government, people from the north opposed it, 'why should we qualify in English?' was their plea… but here we are left with no choice. We cannot have a central exam in our mother tongue; we have to depend on English.
Though I belong to a national party, I am not a 'yes man' to the Delhiite was the adage of Kamaraj to Rajaji.
Rajaji, who supported Pakistan's separation, was against 'The Quit India Movement' declared by Gandhi. At that time, he estranged himself from the Congress party, and then he left the party too. Later Congress was about to capture power, assuming this he tried to rejoin Congress. He met Abul Kalam Azad in Delhi, influenced him and became an important member in Tamil Nadu Congress Committee. All these happened without the knowledge of Kamaraj. The Tiruchengode district committee made a resolution to accept Rajaji becoming Congress member. Whereas in Thiruparankundram, on the presidium of Congress committee with Kamaraj, it formulated a meet and cancelled the said resolution. Later all Indian Congress committee made its decision and confirmed his membership. Then Annadurai wrote, "rose the line, the Mount submitted; never worry Kamaraj.. the army of black shirts will wipe your tears".
It became history when Kamaraj turned out to be the chief minister, in his ministry, there was no single Brahmin component. Only later R Venkatraman became one. Normally chief ministers possess home portfolio, but he gave it to Kakkan, an MLA from the oppressed section. For the board of endowment, he appointed PR Damodaran, another Dalit member. In the previous governments, led by Rajaji, there were five Brahmins in the cabinet. Out of the 205 legislators, Kamaraj gave eight places only for Brahmins.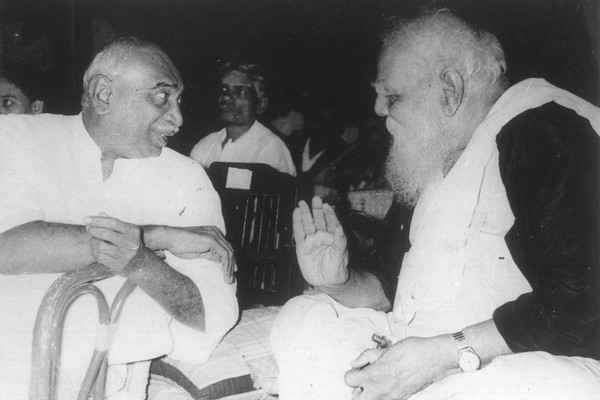 Praising this, Periyar added, 'even if it is me, I would have given 20 participants for Brahmins, but Kamaraj is superior to me."
Tamils occupied all leading positions in Kamaraj's ministry and administration. N.D. Sundaravadivelu became the director for the department of education instead of another one, who had his research qualifications in the United States, and was a kin to Kamaraj. He denied a position for him and proffered it to Sundaravadivelu.
I am reminded of an incident, a senior official had to be promoted rightly for a position which was hindered by the son of V.O. Chidambaram, the former patriot... Patriot's son V.O, Subramanyam asking it for someone who was close to his kinship. Subramaniam was also in an assumption that his kin was denied a position because he was a Christian. He later approached Kamaraj stating that 'though he was a Christian; by caste, he was a 'Nadar'. This made Kamaraj vicious, and he replied, "never mention caste" saying this he drove him away. In fact, that particular officer's normal promotion was postponed for another six months.
When Anna was taking treatment at the US, he tried to meet Nixon, the then president who was not granted permission. When Nixon visited India, he tried to meet Kamaraj. But Kamaraj denied meeting him stating, "when you are not interested in meeting the chief minister of our state, of a nation, I am no more interested in meeting you"
His rule was the rule of Periyar. Rajaji decried it as, 'a rule evading God' and he wrote an article in a similar topic in Kalki, a Tamil journal on 8.12.1961. He was perturbed much by Kamaraj's approach and administration both Periyar like. Then after 20 days, Kamaraj made an address on December 31st. "should not poor people get a day's food, three times daily; some could not even tolerate this. Should not they get an education? When I do this, Congress must vanish, they think, they say God will take care of those born on earth; will it happen anytime? Will gods satiate the hunger and thirst of them? It must be done by governments." His speech was clear - now you can understand the agony of Rajaji.
At Thiruvanmiyur, Chennai, at that time a washer men's conference was held, and Rajaji as a speaker in it revealed, "you all should do your work still better, then will be your growth. When you stop this and get an education, and go for other jobs, who will do all such things?". Rajaji was having this kind of Brahminical mindset only throughout his life.
Periyar used to baptize children at his meetings. Periyar would ask one rupee for giving a name to your child. "Give me one more rupee… I will give your child a better name" saying this, he would name the child, Kamaraj.
In 1967 election, Kamaraj got defeated to DMK. Periyar started supporting DMK on those days. Later in a declaration in his journal Viduthalai on 11.1.1968, he wrote, "whenever there is an inception of an event of education, stop invoking god, start praising Kamaraj".
In 1969, during Nagercoil constituency midterm polls, he gave his support for Kamaraj. He was against the DMK candidate opposing him. He never felt since DMK was supported by him, all DMK candidates must get his support too. It was Periyar who was in no doubt on Kamaraj's all deeds.
When DMK was in power, Anna was set out for the US on a personal Health mission. Kamaraj vouched him, "There won't be any trouble to the DMK rule until he returns". Even after DMK coming to power, 'no criticism for six months' - was his observation. That politics in those days was well-mannered.
The nude sanyasis of RSS had agitated a violent protest against cow slaughter which could have even ended into the death of Kamaraj. First Puri Sankaracharya began a fast on this. In 1966, they torched the house of Kamaraj and unleashed violence to the most in Delhi. Previous to three days of the agitation, this was the main discussion of the All Indian Congress Committee. Kamaraj was an all India committee leader, and he spoke, "why should they protest in Delhi, they could do it in Chennai? If they have the guts, they can conduct it in Chennai, let Periyar will answer them".
In 1966 Feb. 7th, at Marina beech when Rajaji made the address, "If a black crow from Tamil Nadu to Delhi is stoned to death, the other crows will fly away on their own" he mentioned Kamaraj as such.
At Delhi, when Kamaraj's house was attacked, after five days Kamaraj started getting threatening letters. "During cow slaughter agitations you got through, but we have other days where we can settle scores. You are not going to live long." Swadesamithran and other dailies had on 13.11.1966 published this news. RSS in its official news bulletin on 1.11.1966 had made a publication thus: after three months some greater tragedy is going to happen. A great leader or, the chief leader of a state might even die out."
Yes, a network of Brahmanism had tried itself to swallow up, targeting the life of Kamaraj. Periyar made a compilation, 'Kamaraj - the chronology of an attempt to execute him". All Congressmen on Kamaraj day celebrations will put garlands on his images. But Periyar wrote in support of him antagonizing his enemies. He wrote about his achievements and distributed them into pamphlets.
Watch your palm, the lines…
There was an instance which could be kept in mind for Kamaraj's administrative skills. In those days, there was a Chief Minister's quota system meant for admission of MBBS students. Nowadays, we get much demand from the known, party people, kith and kin for procuring one such admission. Otherwise, it would be sold for money. In those days that was not the case. The medical secretary asked Kamaraj, "whom to select sir? As we have many applicants…". There would be a huge bouquet of such applications asking for a medical seat under Chief Minister's quota. "Among the applications, choose the ones sent with a thumb impression in parent's signature section, rather of those people who have put their signature" was his reply - that way he had chosen to encourage those with no educational background to be given priority.
The chief address delivered in Tamil for the first time
Kamaraj was always committed to his language. When Morarji Desai was a prime minister, he wrote a letter to E.K. Nayanar, the Kerala chief minister in Hindi for which NAYANAR replied in Malayalam. Morarji was in anguish and asked, "how can I understand this if it is in Malayalam?" "When you write in Hindi, I could not understand it", Nayanar replied.
During the time of all Indian Congress convention, the north Indian delegates made the address in Hindi. Gundu Rao from Karnataka made it in Kannada. Kumari Anandan from Tamil Nadu made the address in Tamil. This created mayhem in the convention. Later Kamaraj called and asked Nedumaran, what happened in the meet, Nedumaran replied about the happenings. Nedumaran was the one who made the address in Tamil. It was much appreciated by Kamaraj, as the right deed, which was documented in Nedumaran's book.
Kamaraj knows English very well, unlike others say that he doesn't have knowledge in English. In Buvaneshwar Congress meet, he told Nehru, "my chief address will only be in Tamil, you may keep a translator if anybody is objected to that". In the all Indian Congress convention, he made the first address in Tamil, such is his prowess.
After 1967 defeat, Kamaraj asked an ardent follower of Kamaraj, an engineer from Salem, "who is the most intelligent person in Tamil Nadu?" and then he replied for that too. "Periyar is the one. When I went to Delhi to take responsibility in all Indian Congress, he made a remark, 'It is an attempt to commit suicide'."
Kamaraj though belongs to a national party, is the man of his state, a sensible Tamil to the core who fought for Tamils. Kamaraj is the descendant of the Dravidian movement. Let us take all such history to the public.
(From the speech delivered by Kolathur Mani, leader of 'Dravidar Vidhuthalai Kazhakam' movement, on the eve of Kamaraj's birthday celebrations on July 15, 2017 at Chennai)
Translated by R. Balakrishnan
---
You can send your articles to This email address is being protected from spambots. You need JavaScript enabled to view it.
---