Backdrop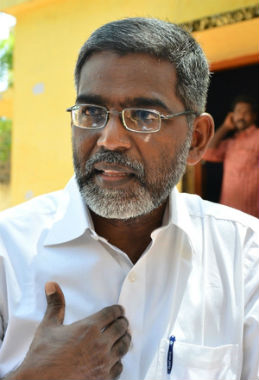 One Vicky Nanjappa has written an article entitled "IB alerts government over 'mischievous' NGOs" in rediff.com on June 9, 2014. The following excerpts sum up the main arguments of the article based on the classified IB report:
"Many out of the total 85,000 NGOs operating in the country are using foreign funds to indulge into a lot of mischievous activities to hamper social and economic development; the Intelligence Bureau has alerted the Union home ministry in a report."
"The most obvious interference from an NGO was found at the Kudankulam nuclear plant in Tamil Nadu. The protests that erupted against the plant had puzzled several intelligence agencies. The IB had then submitted a report to the then MHA about a US-based that was allegedly orchestrating the villagers' protests. However, the home ministry under the United Progressive Alliance government at that time had made a statement about the same and left it at that. With a new government in place, the IB has once again raked up the issue and wants stringent action against such NGOs."
"These NGOs have been set up with the help of funds from the US, UK, Germany and other countries only to ensure that some of the developmental projects run into troubled waters, the report points out."
"Earlier these NGOs created rifts on the basis of caste discrimination, religion and human rights. Today they have been tasked to stall major projects by staging protests."
"These NGOs work along with some unions who are paid a major chunk of money to stage protests, the report notes. The money on offer is so lucrative that these unions never come to the discussion table and this has been a very strange trend as more often than not one does not realise what they are protesting for, the report notes."
"The report states that the conversion racket is immense and huge sums of money are being pumped in from the foreign countries through some NGOs to lure people into conversion."
'Such issues are bound to create a social divide as a result of which there is constant tension and this is very counter-productive to the growth of a region which is marred by conflict,' the IB report states."
Part II
Now Priyadarshi Siddhanta, Assistant Editor, The Indian Express, New Delhi, has emailed me saying: "we have read through a report prepared by an Indian government agency, which has referred to your role n anti-nuclear protests. …Specifically, we would like to seek your comments on the following paras excerpted from the report:
[1] "An enquiry of Udayakumar had revealed a deep and growing connection with the US and German authorities. In July 2010, Udayakumar received an unsolicited contract from The Kirwan Institute for Study of Race and Ethnicity at the Ohio State University USA as a consultant on Group, Race, Class and Democracy Issues through NGOs. He was paid $ 21, 120 upto June 2011 in a US bank account in his name and was contracted to earn another $ 17, 600 upto April 2012 for fortnightly reports."
[2] "...As a result, Udayakumar's contact in Germany, one Sonntag Rainer Hermann (German national) was deported from Chennai on February 27, 2012. Hermann's laptop contained a scanned map of India with 16 nuclear plants (existing or proposed) and five uranium mine locations marked prominently. The map also included contact details of 50 Indian anti-nuclear activists hand-written on small slips of paper with Blackberry PIN graph. The map was sent via email to five prominent anti-nuclear activists, including Udayakumar."
My Response:
It is a ridiculous and libelous claim that I was contracted through NGOs and I was submitting "fortnightly reports" to them. In fact, I worked as an off-campus Research Fellow in the International Program of the Kirwan Institute for the Study of Race and Ethnicity, at the Ohio State University, Columbus, OH, USA for several years. The Director of the Kirwan Institute was one Professor john a. powell (he does not use capital letters in his name), a reputed scholar in civil rights, who had been my employer at the Institute on Race and Poverty, University of Minnesota-Minneapolis, USA between Fall 1997 and Spring 2001. I had worked with him there as a Research Associate and Co-Director of Programs and that was why he chose me for the Kirwan assignment. I travelled to the Ohio State University campus in Columbus, Ohio a few times also. For the Kirwan Institute, I did several research and writing projects on globalization, racism, minority welfare, BRICS etc. I never did any research and writing project on India's development or India's nuclear program. I left that Research Fellow job in spring 2011 when the Kirwan Institute reorganized itself under a new administration.
Similarly, Sonntag Rainer Hermann is NOT my "contact in Germany". He was an acquaintance from Nagercoil, my hometown in Tamil Nadu. He was a hippie-type staying in a cheap hotel here in Nagercoil and participated in our anti-nuclear events. I did not receive any information or maps or monetary helps from him, nor did I give him any. If he had done something illegal or dangerous why did the Indian authorities deport him hurriedly without taking any legal action? I asked this question even when he was deported in February 2012.
In my humble opinion, Indian authorities must begin to believe that "ordinary citizens" of India such as farmers and fisher folks have a mind of their own and can take an intelligent stand on issues such as setting up a nuclear power park or other such dangerous projects in their backyard. Those of us who stand up, speak up and try to protect our poor and illiterate people's land, water, air, sea, food security and nutrition security should NOT be considered and insulted as foreign stooges, money launderers, or smugglers. The Indian authorities should acknowledge the simple fact that we do what we do because we love this country and its peoples. If this is how we --honest, responsible and law-abiding citizens-- are treated, abused and harassed, this would only send wrong lessons to our youth and promote extremism and terrorism in this country.
The IB report tends to blame all the Hawala transactions, religious conversions, caste clashes, terrorism, impeding developmental activities, and crippling the national economy on the NGOs and their activities. This augurs ill for our country that has pluralistic ethos and democratic politics. I am afraid this Fascist presupposition of the IB report is a precursor for stringent actions against individuals, groups, people's movements and minorities. As I have been singled out in this report and mentioned by name, I fear for my life and for my family's safety and security. Please do the needful.
- S. P. Udayakumar, Ph.D. (This email address is being protected from spambots. You need JavaScript enabled to view it.)
Image courtesy: Frontline
---
You can send your articles to This email address is being protected from spambots. You need JavaScript enabled to view it.
---